Why Viewers Are Up In Arms After Machine Gun Kelly's 2022 AMAs Win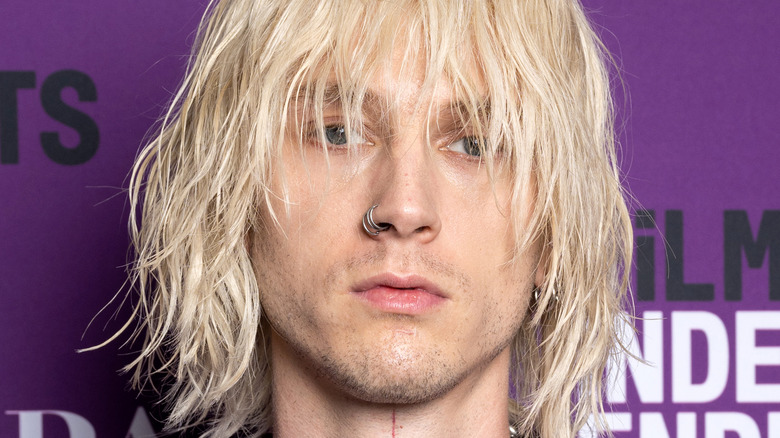 Amanda Edwards/Getty Images
Machine Gun Kelly has been hard at work launching a career in rock after establishing a foothold as a rapper. It's apparently a touchy subject for the artist, who lashed out at music critics for claiming he left rap to pursue rock. MGK had a blunt statement for everyone: he's talented enough to do both and hasn't left anything behind. He released his 2020 rock album "Tickets to My Downfall" followed by his 2022 album, "mainstream sellout."
The artist spoke with Kevan Kenney on "Audacy Check In" and said, "If I keep doing things to prove things to people, I'm going to one, drive myself crazy and two, not make a good product. I made 'Tickets' and 'mainstream sellout' because I wanted to make them. I need to now also make people miss that sound." MGK is determined, no matter what he does, even if that includes smashing his guitar on stage and a champagne flute on his face in one night. The musician certainly has an unexpected, even shady, side. 
But MGK has been quick to justify his place in the rock genre. In March, he told Billboard, "I know it kills certain bands in that community that I got the success that I got. But I earned that s**t." He wasn't done. "Dude, I was f**king loading up the van with our drums and amps in 2010, driving to Indiana and Chicago, playing Warped Tour." Nevertheless, fans weren't totally into it when MGK won at the 2022 American Music Awards.
Twitter doesn't think MGK deserved favorite rock artist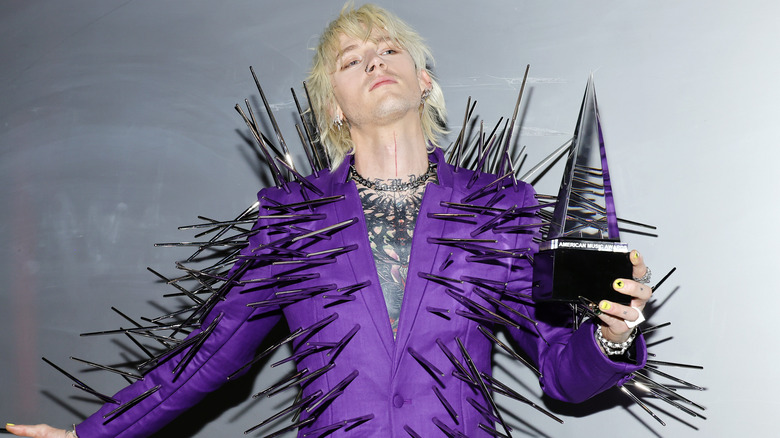 Amy Sussman/Getty Images
Machine Gun Kelly was nominated twice for the 2022 American Music Awards, one nod for ​​favorite rock artist and the other for favorite rock album, per Billboard. For favorite rock artist, MGK was nominated alongside Imagine Dragons, Måneskin, Red Hot Chili Peppers, and The Lumineers. When MGK won this category, some fans on Twitter weren't buying it. "[N]o way machine gun kelly won favorite rock artist like..." one person tweeted.
This was just the beginning of the backlash over MGK's win. "MACHINE GUN KELLY ??? OVER MÅNESKIN ?? LETS BE SERIOUS," another person complained. People seemed frazzled in general, if writing in all-caps is a clue for overly-heated emotion. Another person jumped on Twitter to say, "WHAT. HOW IS HE THE BEST ROCK ARTIST??? HIS MUSIC IS NOT ROCK.... GET OUT OF HERE NOW." Someone else referred to MGK's fellow nominees: "Wasn't deserved considering the other rock artists in that category," they tweeted. 
Yikes! MGK certainly knows how to stir the pot, even when he wins. He seems pretty sensitive to backlash, so critics better watch out. He might poke them with his spiky purple suit. "This suit is really uncomfortable to pee in. Speaking of uncomfortable, there have been some people in the rock community who've called me a tourist, but they're wrong. I'm a rocketman," he said onstage. After finishing his speech, the rocker threw the mic on the ground and unleashed some expletives for good measure.
Machine Gun Kelly claims rock music 'needed a defibrillator'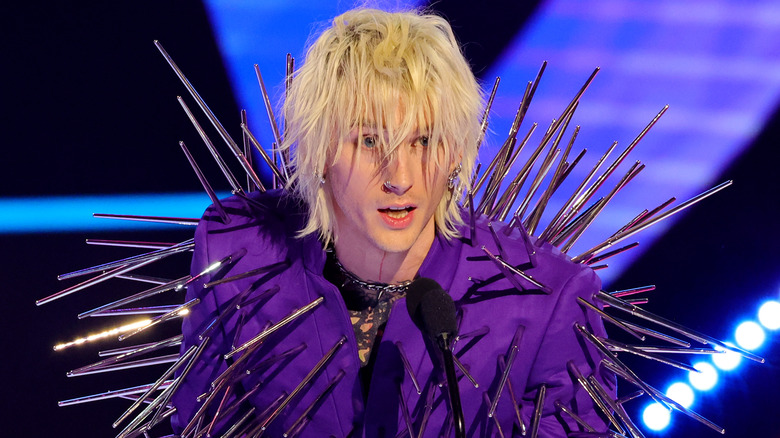 Matt Winkelmeyer/Getty Images
It seems like Machine Gun Kelly has been defending his stance as a rockstar for some time now and has ignited a few feuds along the way. Corey Taylor of Slipknot told Loudwire in 2021, "I hate the artists that failed in one genre and decided to go rock, and I think he knows who he is." Yikes! MGK shot back shortly after when he was performing at Riot Fest in Chicago. "You wanna know what I'm really happy that I'm not doing? Being 50 years old, wearing a f***in weird mask on a f***in stage," he said, per the New York Post.
At the 2022 American Music Awards, MGK was up against the Red Hot Chili Peppers, among other musicians, and the two have shared a rivalry over the past few years. In April, the RHCP's "Unlimited Love" booted MGK's "mainstream sellout" from the top of the album sales chart, per a later publication by Loudwire. So, was MGK's win at the 2022 AMA's another exchange in this long contest of who's better?
MGK feels pretty confident that he can bring a youth and innovation to rock, despite criticism he's received from longtime rockers. "[Rock] needed a defibrillator. Who cares who gives it, just as long as that motherf***er doesn't die?" he said to Billboard in March. But not everyone agrees. "[W]hoever voted for machine gun kelly to win an AMA for 'best rock artist' i need a word with you," someone tweeted.