Prince Harry Worked An Incredibly Normal Job As A Teenager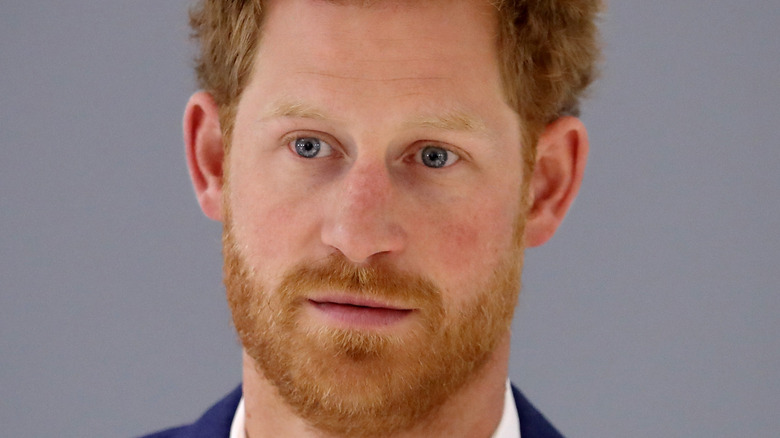 Chris Jackson/Getty Images
Although the British royal family may be known for its grandness, pomp, and circumstance — along with an occasional air of mystique — many people forget that most royals actually had ordinary jobs in their younger days. Queen Elizabeth II, back when she was a princess during World War II, was a car mechanic, and her son King Charles III, then the Prince of Wales, served in the Royal Air Force in his 20s. Prince William, now the Prince of Wales, quietly worked as an air ambulance pilot for a few years in his 30s. 
However, many might wonder what it was exactly that Prince Harry — King Charles' youngest son and the current Duke of Sussex — did in his younger years in terms of employment. As it turns out, like other members of his family, he worked more than one normal job as a teenager. These included several positions that took place far away from his homeland. 
Prince Harry once worked on a ranch in Australia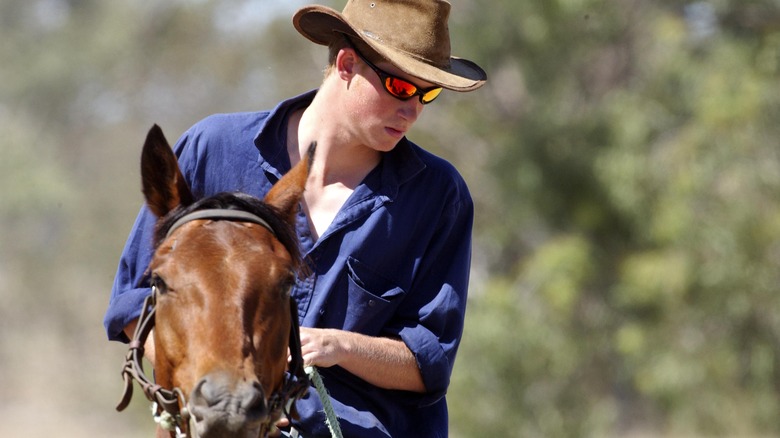 Peter Carrette Archive/Getty Images
Although Prince Harry, Duke of Sussex, and his wife Meghan Markle, Duchess of Sussex, may be known today for their many journeys across the world, it may come as a surprise to learn that in 2003, when the young prince, then 19 years old, moved to Australia to work on a cattle ranch. This came immediately after Harry graduated from Eton College and decided to take a gap year in lieu of continuing his education. 
According to the Sydney Morning Herald, Harry worked in Queensland as a jackaroo — a word originating in Queensland meant to describe a young man training to become the overseer/manager of a ranch. Of course, that didn't end up becoming Harry's destiny, as he didn't stay on the job very long. However, he did have fond memories of his time in Australia, saying at the time, "It's a great country. I have had a great time working out here, meeting people, and learning a bit about how to be a jackaroo," (per Hello!).
Before he turned 20 years old, Harry had already moved to a different country. According to Glamour, the duke's time in Australia was cut short due to the overwhelming press attention that made it too difficult to leave the house. As such, he decided to journey to Africa soon after. 
Prince Harry spent the rest of his gap year in Lesotho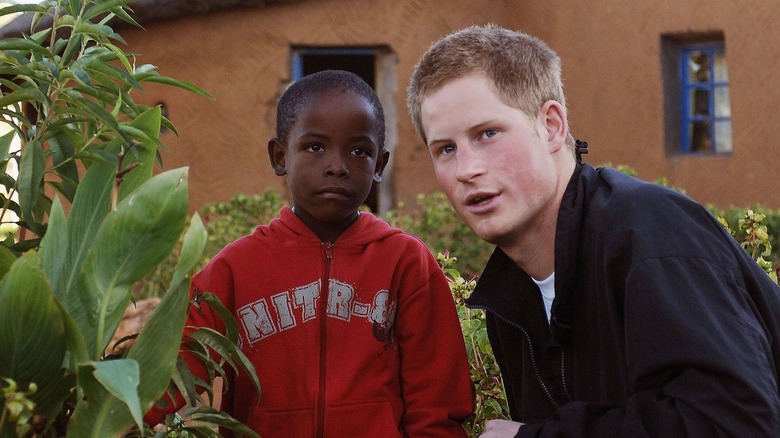 Anwar Hussein Collection/Getty Images
In the early 2000s, apart from spending time in Australia, Prince Harry, Duke of Sussex, also spent his gap year in Lesotho, where he worked with young orphans and even helped to produce a documentary called "The Forgotten Kingdom." While in Lesotho, Harry befriended Prince Seeiso, then the Crown Prince, and founded the charity Sentebale with him two years later, in 2006. Sentebale, which translates to "forget me not," is meant to help children in Lesotho and Botswana access proper health care, work with communities to build social services, and help young people achieve financial stability and independence. 
During his time in Lesotho, the 38-year-old developed a deep connection with the country and has since gone back numerous times. He returned once in 2013 for additional charity work, and again in 2015 when he reunited with his friend, Metsu Potsane, who was just four years old when Harry first met him in 2004. Three years later, in 2018, the Duke of Sussex made a "private visit" to the country where he helped open a new dining hall in the small community of Pitseng. 
In "The Forgotten Kingdom," Harry discussed how working with children in Lesotho helped him channel his late mother, Princess Diana, who was widely known for her own activism. "I believe I've got a lot of my mother in me," Harry said at the time. "And I think she'd want [me] to do this."