Who Is Quinta Brunson's Husband, Kevin Jay Anik?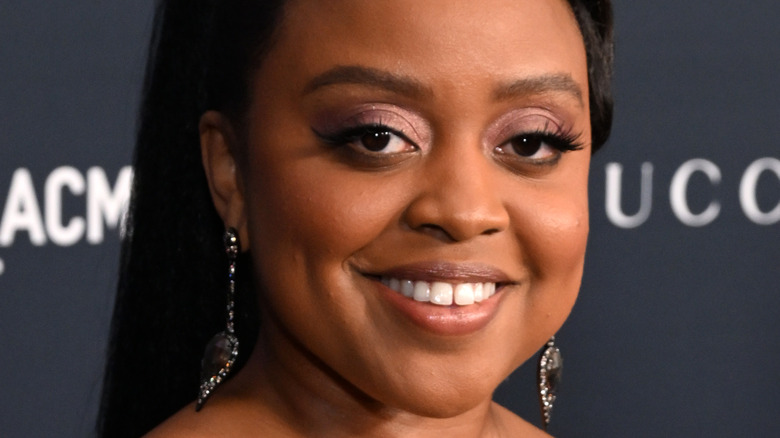 Michael Kovac/Getty Images
Writer and actor Quinta Brunson has been slaying the game for a long time, but her stardom has exploded over the past couple of years. Brunson first began her comedy career by posting skits on social media, such as her viral "The Girl Who's Never Been on a Nice Date" series. Many people also recognize the star from when she worked at Buzzfeed as a video producer. From there, Brunson appeared in big TV shows like "A Black Lady Sketch Show" and "Big Mouth" (per IMDb).
Of course, Brunson's huge mainstream success came as a part of the phenomenal cast of "Abbott Elementary." Brunson currently serves as creator, executive producer, and star of the show, which centers around the teachers of an underserved public school in Philadelphia. Not only is the show loved by audiences, but it's garnered significant critical acclaim. According to NPR, Brunson set the record as the first black woman to be nominated in three comedy categories in the same year at the 2022 Emmys.
Even though Brunson has been the name on everyone's lips lately, not many people know that the multi-hyphenate is actually married — to a man by the name of Kevin Jay Anik. 
Qunita and husband Kevin Jay Anik keep their relationship private
While we know that actor Quinta Brunson is definitely married, we don't necessarily know exactly when the couple first began dating or details about their wedding. That's because both Brunson and her husband, Kevin Jay Anik, have made a point to shield their relationship from the harsh eye of the public. According to Cosmopolitan, Anik works as a sales manager and does not have a presence on social media. 
Other than announcing the happy news that she was engaged in July 2020, the "Abbott Elementary" star has not spoken too much about the relationship. "He's a good person. That's the reason I don't talk about him a lot. I protect my home life very deeply," she explained to Variety in 2022. "I barely ever call him a husband. I call him a partner because that's truly what he is."
Brunson did give her husband a shout-out during her acceptance speech when she won the 2022 Emmy for outstanding writing for a comedy series (even if overshadowed by Jimmy Kimmel on stage). "I need to thank my wonderful husband because he's the most supportive man I've ever known," she gushed.
Kevin does not dim Quinta's light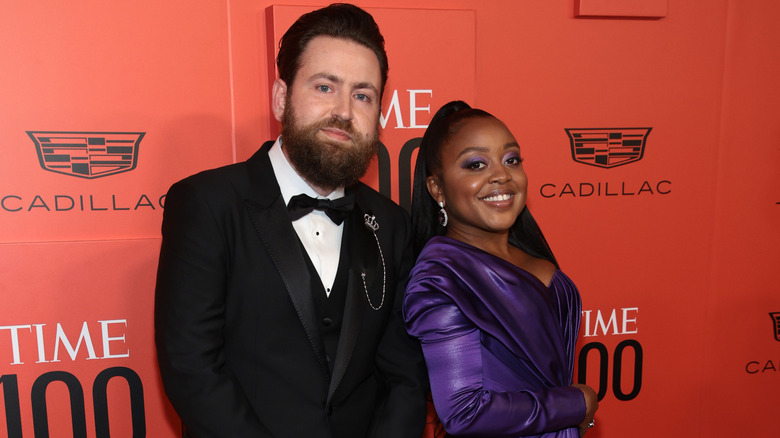 Dimitrios Kambouris/Getty Images
Kevin Jay Anik shows his support for Quinta Brunson in more ways than one. Not only is he physically there to be Brunson's date for the numerous red carpets she has attended, but he also provides immense emotional support as she navigates her newfound success. 
In Brunson's interview with Oprah Winfrey set to premiere in November 2022 (via Insider), she acknowledged how her star power has intimidated men in the past. "To be 100% fully me requires a lot of stuff that a lot of men do not have time for," Brunson explained. The "Abbott Elementary" creator opened up that previous relationships haven't panned out because they "realized there's no dimming [her]." 
However, that hasn't been the case with Anik. "My husband, that's what I mean by him being the biggest support, that there is no need to dim me at all," she revealed. "I'm fortunate to find a partner who I still feel I can be my full self with." Cue the awws!