The Social Media Signs That Signaled Skylar Astin And Anna Camp's Divorce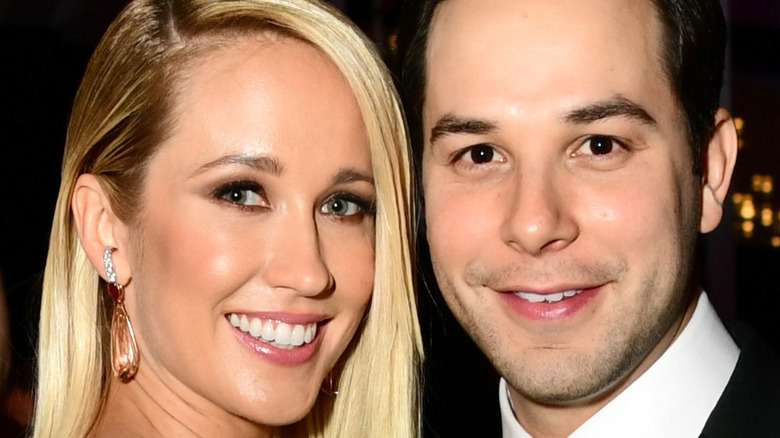 Emma McIntyre/Getty Images
No one knew when "Pitch Perfect" premiered in 2012 that it was going to have such an impact on pop culture. But it was a big hit, and its success skyrocketed some actors' careers. Skylar Astin, who played Jesse, had already been in "Spring Awakening" on Broadway but his "Pitch Perfect" role is what introduced him to mainstream audiences. Anna Camp, on the other hand, already had a main cast role on "True Blood." But "Pitch Perfect" made her known to anyone not in the adult HBO vampire crowd.
Despite the fact that the two actors didn't have many scenes together, Camp told Glamour in 2014 that they hit it off on set (via Yahoo!). Even though Astin was dating someone else and Camp had just gotten through her divorce with Michael Mosley, they decided to go on one date. Camp told E! News in 2017 that she of course wasn't going into filming thinking that she'd find her future spouse there, but that's exactly what happened. The two got married in mid-2016, per E! News. However, they ended up divorcing by 2019, and the signs were on social media.
Camp and Astin had unfollowed each other on Instagram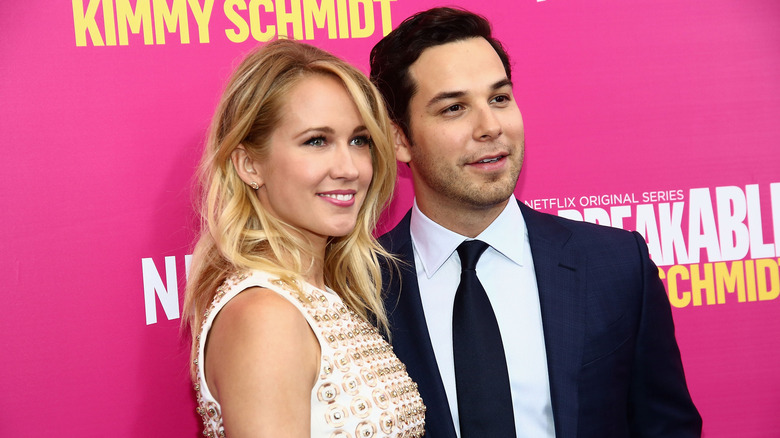 Astrid Stawiarz/Getty Images
Just as Anna Camp sang her husband's praises before their divorce, Skylar Astin did the same for his then-wife. "I knew the second I met her that I wanted to know her, and I just wanted to be in her life. I knew that," Astin told PopSugar in 2016. "I never saw an end of wanting to be in her life, so to say that it's love at first sight, there's some truth to that. I think that I just can't imagine my life without her, so there's nothing I'd rather do than marry her."
Times change and so do feelings and news of Astin and Camp's divorce in April 2019 shocked some fans. However, People did a deep dive into their relationship and found some telltale signs they were broken up months before they actually announced it. As the site reported, Astin's last "loving" post about Camp was in January 2019, right around New Year's. Camp's came almost a month after Astin's and was a gallery of Astin and Camp dancing.
Unfollowing an ex is one of the biggest signs of the death of a relationship, and as People reported, they did that as well. In February 2019, Camp walked the red carpet for the film premiere of "Isn't It Romantic" alone, another subtle sign that trouble was to come. And Camp's wedding ring was not visible in posts she made following February 2019.
Anna Camp was able to find happiness after the divorce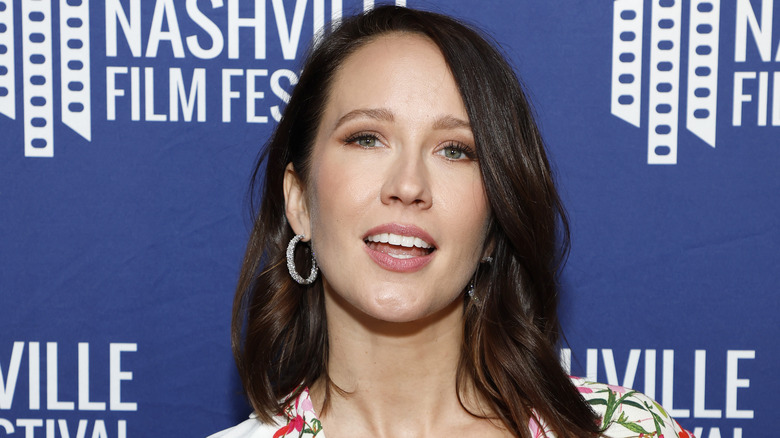 Jason Kempin/Getty Images
Anna Camp has not been silent since her divorce with Skylar Astin. A few months after the split went public, at a TCA press tour, Camp told a group of reporters about her life since they divorced. "It's been really scary and liberating at the same time," Camp said (via People). "I feel more me than I ever have... It's a vulnerable place to be, but it's also very empowering. I feel really grounded. The decisions I've been making have been for the best." She spoke to Entertainment Tonight a month later and said that she feels "kinda free for the first time in a very long time..." She expressed that she was "excited" about the "journey" to come. "I feel like I'm stronger than I thought that I was, and that is also very empowering for me, and I think that's translating into my jobs and the work that I'm taking, so also into my personal life," she said.
And to her Instagram followers, Camp posted an end-of-the-year post in December 2019 and thanked her supporters. "2019 was a hell of a year and this photo was taken during a pivotal and vulnerable time of that year," she wrote, commenting on the photo attached to the post of a glammed-up Camp. "Scared, lost, but feeling full of courage and hope." Per People, as of August 2020, Camp and boyfriend Michael Johnson adopted a puppy together.