Why Skylar Astin Doesn't Go By His Full Name
Kathy Hutchins/Shutterstock
Fans will probably know Skylar Astin best for his years playing the talented Jesse Swanson in the "Pitch Perfect" movies. Astin appeared in the first two movies in the franchise and loved the gig so much he's made it clear he'd very much be down for a fourth, despite not appearing in the third instalment. "A fourth 'Pitch Perfect'? Hey, I mean, you know they know where to find me. I'm on board, of course!" he admitted to PopCulture in May 2021. And he's pretty keen to get back on set as quickly as possible, too. "I mean, I would like to do it next month, but I think that there's no world in which it doesn't happen in five years. I wouldn't want fans to have to wait that long but you know, since it's a collegiate movie, there's nothing like a reunion to see where people are," he shared.
But while Astin made quite the name for himself in the "Pitch Perfect" movies (where his romance with his now former wife, Anna Camp, blossomed) as well as for appearing on Broadway in "Spring Awakening," did you know that's actually not his real full name? Yep, it turns out the actor decided to join the ranks of the likes of Marilyn Monroe, Brie Larson, and Katy Perry by making use of a stage name.
Skylar Astin shortened his name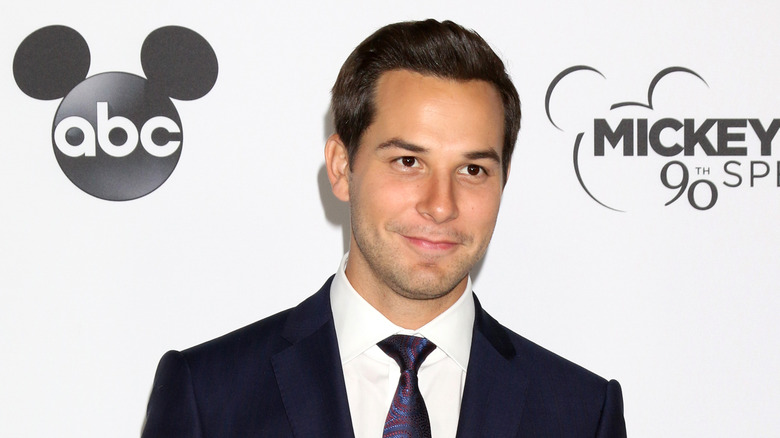 Kathy Hutchins/Shutterstock
Say hello to Skylar Lipstein, because that's Skylar Astin's actual first and last name. It turns out Astin is actually the star's middle name rather than his surname, as he made the decision to go with a stage name when he was a teenager after a little nudge from an industry person. Astin explained the decision to Movieline back in 2012, revealing, "When I was 15 I think my first agent just kind of did it for me. I'm not ashamed, I'm not embarrassed, but she said it was just less specific to one thing and she kind of chopped it off. But forever to my friends I will be Skylar Lipstein."
He later told NME in 2012 that the person who gave him the moniker was none other than youth talent agent Nancy Carson. It's no surprise Astin took her advice, either, as Carson also helmed the young careers of the likes of Hollywood besties Ben Affleck and Matt Damon (though those two stuck with their birth names, of course). That new name coupled with his undeniable talent and the support of Carson then led to him heading to New York for roles, and he eventually got what's considered to be his breakout gig, appearing in the musical "Spring Awakening" alongside the likes of Lea Michele (who also uses her middle name as her last name, by the way) and Jonathan Groff.
Skylar Astin still uses his full name privately
DFree/Shutterstock
Though we know him best just as Skylar Astin, the actor still uses his full name privately. When he sadly split with his "Pitch Perfect" co-star wife Anna Camp in 2019 (the two were married for around three years), the now former couple's divorce papers saw him listed by his full legal name, Skylar A Lipstein. It appears Camp didn't take her now ex-husband's name even in her private life, though, as she was listed simply as Anna Camp.
It sounds like Astin's teenage decision to pick a stage name also has nothing at all to do with him wanting to distance himself from his family. The "Zoey's Extraordinary Christmas" star has made no secret of how close he is with his kin, telling Pop Culturalist in 2021 that they always make sure they spend special occasions like Hanukkah together. "I've always believed that the holidays are what you make of them. Even with my family all being older now, we still always find the time to celebrate Hanukkah. Whether it's on the actual day or a makeshift celebration where we're all getting together to make it a special moment," he shared. "No matter where you are, as long as you're with family and the people that matter the most to you, that's your holiday," he added. Aww!