What Is Tom Brady's Relationship With Bruce Arians Really Like?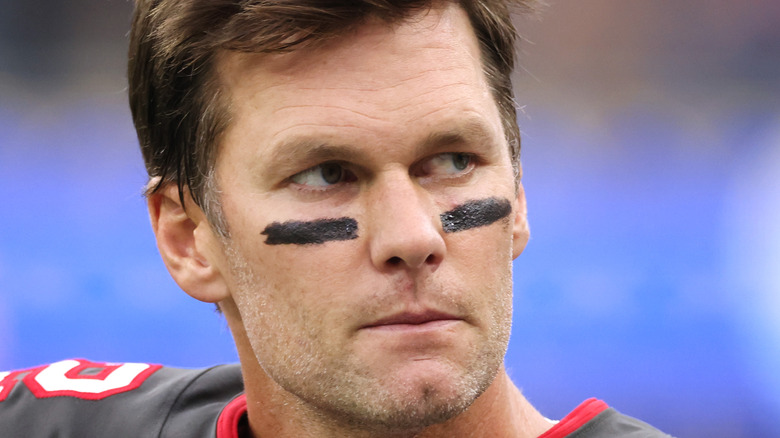 Harry How/Getty Images
Tom Brady has certainly had a very interesting few months in the headlines. Now that his divorce from Gisele Bündchen has been finalized, the quarterback has been focusing on things that seem to matter the most in his life: football and family. Back on October 25, Brady solidified his future with the NFL by making it clear that he's not going anywhere anytime soon. However, the University of Michigan alum has given fans reason to worry about him, mostly because he uncharacteristically missed a training camp, has been looking different lately, and has seemingly disappointed some with his less-than-stellar performance this season. 
After the Tampa Bay Buccaneers suffered a hard loss to the Carolina Panthers, many of his critics couldn't help but wonder what might be going on with the man who's better known as the greatest quarterback of all time (according to CBS Sports). That said, Brady isn't going to let a few bad plays get the best of him. He said during his "Let's Go!" podcast, "I know a bunch of teammates that we all count on one another to be at our best and to work hard and to put the team first. And that's what you commit to and that's what you want your teammates to commit to as well."
However, it seems like the 45-year-old is now dealing with yet another big rumor, and this time it has to do with his relationship with his former coach, Bruce Arians.
Tom Brady and Bruce Arians are reportedly getting along just fine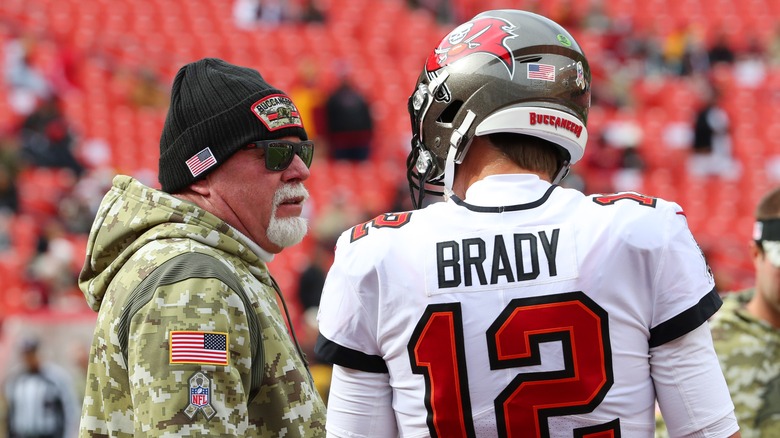 Steve Jacobson/Shutterstock
Tom Brady and Gisele Bündchen's split may have shocked people in both the sports and entertainment worlds, but that doesn't mean all of the NFL star's relationships are down in the dumps. According to Sports Illustrated, there were some reports claiming that Brady and former Tampa Bay Buccaneers Head Coach Bruce Arians didn't see eye-to-eye, both on the field and off. This led some to believe that the quarterback wanted to transfer to the Miami Dolphins because of the supposed rift. There were even rumors back in February that Brady felt "undermined" by the head coach, per NBC Sports.
Luckily, the former Patriot set the record straight after there was speculation that suggested he and Arians were on the outs. "He and I have a great relationship. A part of why I chose here was because of Bruce ... He knows how I feel about him and that's the most important thing, and I know how he feels about me," Brady said (via Twitter). So, how does Arians feel about all of this? Well, it seems like both he and Brady are on the same page, at least when it comes to putting all of the rumors to rest.
Bruce Arians says there's no truth to any of the rumors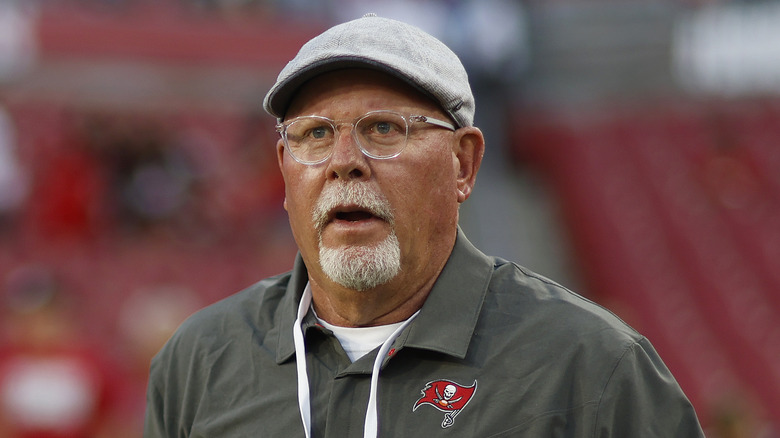 Mike Ehrmann/Getty Images
For his part, Bruce Arians dismissed the rumors of strife between him and Tom Brady as "bulls***," as detailed by the New York Post back in February. That all came after Rich Ohrnberger suggested in a tweet that whatever love was between Arians and Brady had faded away. Ohrnberger wrote in a now-deleted tweet, "The retirement announcement wasn't because of the trouble seeing eye to eye on the offensive game planning, but the relationship was souring."
Then again, Brady has also denied plenty of rumors in the past, especially when it came to his marriage to Gisele Bündchen. With that in mind, the quarterback has said that you can call him anything — just don't call him a quitter. On his "Let's Go!" podcast back on October 25, he said (via People), "I've never quit on anything in my life. I made a commitment to this team and I love this team and I love this organization." Well, if there's anything that fans have learned about Brady, it's that no matter how many people come and go in both his personal and professional lives, his love for the game will always remain the same.