Jimmy Kimmel Reveals He'll Address 'Serious Subjects' At 2018 Oscars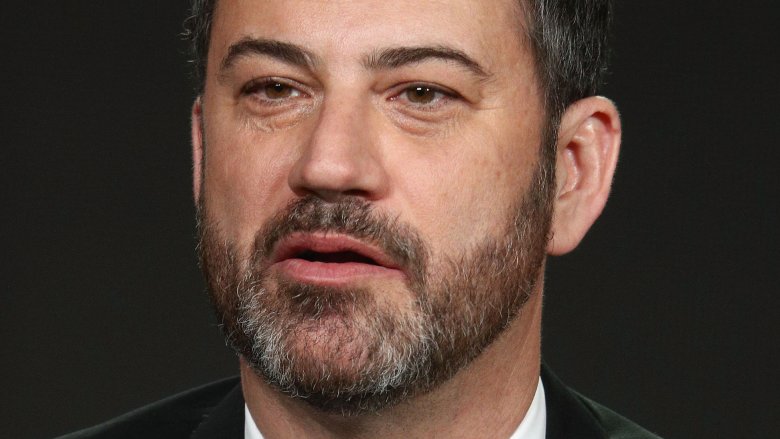 Getty Images
Don't expect the Jimmy Kimmel Live! host to shy away from politics this weekend.
On Tuesday, Feb. 27, 2018, Jimmy Kimmel revealed that he plans to tackle "serious subjects" at the 2018 Oscars during an interview with Good Morning America (via ABC News).
"A lot of people are going with this line of reasoning where they say people in show business shouldn't speak out about politics. And yet...they elected Donald Trump the president of the United States," Kimmel began, adding, "So, I think that argument has pretty well jumped out the window."
While he doesn't think "you can go too far," the 50-year old comedian added, "I'm still doing a comedy show and I need to be funny and entertain my audience, but I also think that we've matured enough...to the point where we can accept late-night talk show hosts speaking about a serious subject. I think that it's almost necessary now."
However, Kimmel, who became a surprising healthcare advocate in 2017, admitted that he's less likely to address the #MeToo and Time's Up initiatives. These movements were popularized following the multiple sexual misconduct allegations that have rocked the entertainment industry since Harvey Weinstein's scandal in the fall of 2017.
"This show is not about reliving people's sexual assaults," the late-night host said. "It's an awards show for people who have been dreaming about maybe winning an Oscar for their whole lives. And the last thing I want to do is ruin that for someone who is, you know, nominated for, you know, best leading actress or best supporting or best director or cinematographer, or whatever, by making it unpleasant."
Kimmel added, "I'm not going to...stop any bad behavior with my jokes."
As Nicki Swift previously reported, Kimmel will be returning to host the ceremony for the second year in a row. This year's nominations were announced in January, with Guillermo Del Toro's The Shape of Water in the lead with 13 noms. With Gael García Bernal, Mary J. Blige, Keala Settle, and more gearing up to perform the year's nominated songs, a number of A-listers — like Sandra Bullock, Lupita Nyong'o, and Dave Chappelle — will take the stage to present awards.
The 90th Academy Awards will air live on Sunday, March 4, 2018, at 7 p.m. EST on ABC.