Insider Spells Out Ivanka Trump's True Intention Of Getting Involved In Her Dad's Campaign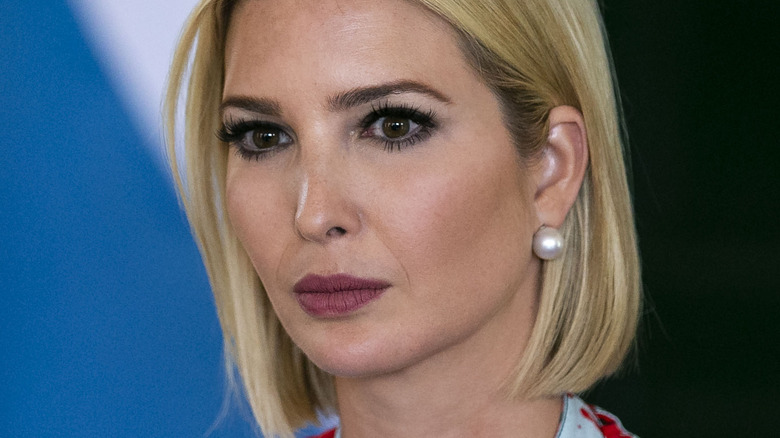 Bloomberg/Getty Images
When Ivanka Trump decided to publicly dump her dad, she did it as gently as possible. Soon after Donald Trump announced his third bid for the presidency, Ivanka revealed that she would not be hitting the campaign trail with him again. "I love my father very much. This time around, I am choosing to prioritize my young children and the private life we are creating as a family. I do not plan to be involved in politics," she told Fox News. But after sticking it out from the start of Donald's first presidential campaign to the bitter end of his White House stay, why has the former first daughter forsaken him now?
Well, if you ask Twitter, all you have to do is follow the money — specifically, the $2 billion investment that her husband, Jared Kushner, secured from Mohammed bin Salman, Crown Prince of Saudi Arabia, not long after Donald bid adieu to the presidency. Per The New York Times, the payday was not a good look; it came from the man who ordered the murder of journalist Jamal Khashoggi. Like Ivanka, Kushner served as an adviser to Donald during his administration, a role that gave him access to world leaders such as bin Salman.
 CREW found that Ivanka and Kushner's outside cash flow also enriched them to the tune of up to $640 million while they worked for the former president, but according to some sources, Ivanka's campaign decision isn't all about the money.
Ivanka Trump is done with the drama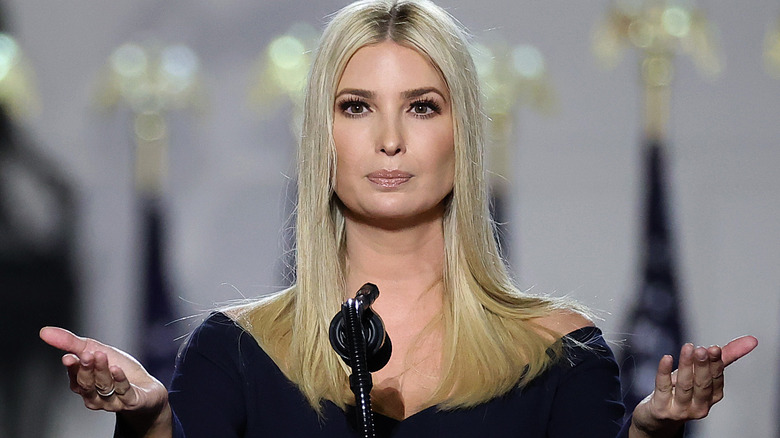 Chip Somodevilla/Getty Images
An insider told Us Weekly that it was the messy end of Donald Trump's presidency that made Ivanka Trump decide that she was through helping him with his political career. "She saw firsthand how vicious and toxic the backbiting was and still is, and by the time came for her to step away she couldn't do so fast enough," said the source. "Her priority is to pursue a calm, low-key life now."
When Ivanka got involved with her father's first presidential campaign, her very first job was to convince him to tone down the misogyny and convince voters that he wasn't a misogynist. Per Vox, she realized the need to do some damage control after Donald attacked Megyn Kelly with his infamous "blood coming out of her ... wherever" comment. So her work wasn't exactly conducive to the relaxed lifestyle she reportedly desires now. Vanity Fair provides a glimpse inside her post-White House world in a wealthy Florida neighborhood: She's hanging out with her new pal Pitbull, surfing, practicing breathing exercises, and taking trips with her family and friends.
But a source told the New York Post that Donald hasn't given up on getting Ivanka to give up the sweet life for him. When the Trump family gathered together for Tiffany Trump's wedding at Mar-a-Lago, Donald reportedly begged Ivanka to stand with him when he announced his campaign. "But so far she's resisting his entreaties and holding firm," said the insider.