Miley Cyrus And Selena Gomez Didn't Always Get Along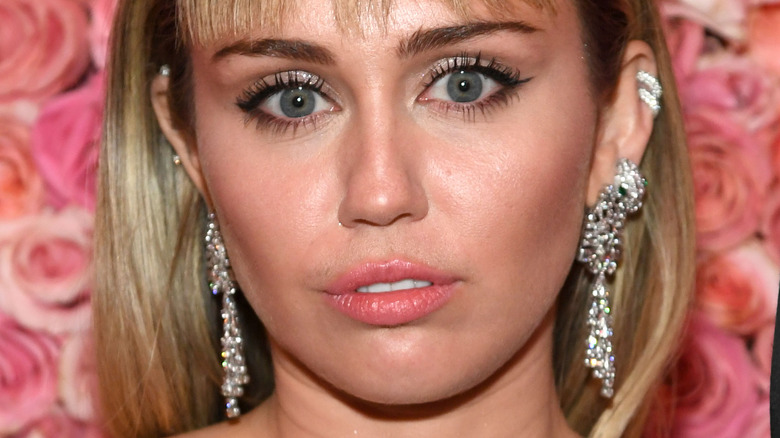 Kevin Mazur/mg19/Getty Images
Disney Channel stars of the early to late 2000s were basically Disney royalty at the time. The era of legendary series like "Hannah Montana," "The Suite Life of Zack & Cody," "That's So Raven," and "Wizards of Waverly Place" created pop culture legends, for better or worse. Stars like Miley Cyrus, Demi Lovato, the Jonas Brothers, and Selena Gomez became triple threats, even if they have negative things to say about their time with the mouse today. And with that many teens in one place behind the scenes, hookups, breakups, and high school drama were bound to break out. Cue the Cyrus and Gomez feud rumors that still followed them around until recently. 
Cyrus was obviously the lead of her hit show and Gomez was the star of hers. While totally different in subject matter, the two ran in the same circles and allegedly dated the same boy at one point. This, along with other events, fueled feud rumors for years, creating a rift between the "Black Mirror" star's side and the "Only Murders in the Building" star's side of friends, including Cyrus' friendship with Lovato. However, what might have been the petty teen drama of their youth is now strictly behind them.
Miley Cyrus and Selena Gomez shared a famous ex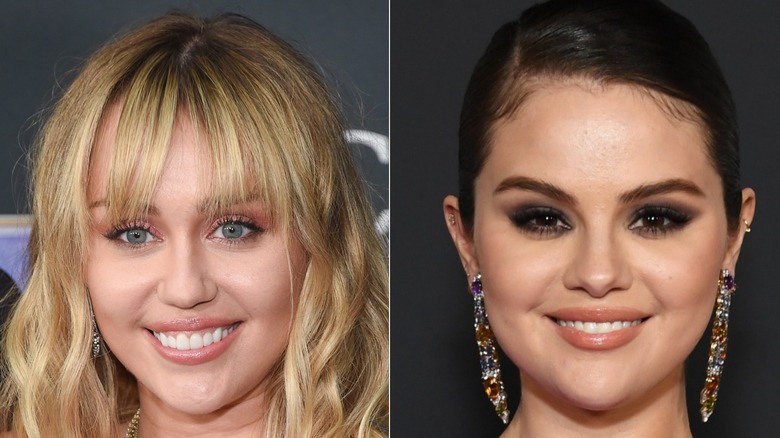 Jon Kopaloff/Getty & DFree/Shutterstock
Thinking back to the good ole days of the late 2000s, when Limited Too and skinny jeans reigned supreme, Miley Cyrus and Selena Gomez were staples in pop culture, even though their relationship was reportedly fraught. No, this isn't just based on the fact that Gomez played Hannah's rival, Mikayla on "Hannah Montana." As People reported, Cyrus told Seventeen in 2008 that she and Nick Jonas were in a relationship from the moment they met and he was her "24/7" for two years. On the flip side, Gomez told Seventeen in 2011 that she thought she was in love at age 15 and many thought she was referring to Jonas, who she also allegedly dated. 
Even though it was never confirmed that the two had a feud because of Jonas, there are other reasons why fans thought things were strained between Cyrus and Gomez. If you were a millennial that lived through this feud, you might remember that Gomez and Demi Lovato filmed many vlogs, including one silly YouTube video. At the time, Gomez and Lovato were best friends and inseparable in the media, having both gotten their start on "Barney & Friends." Cyrus and her backup dancer, Mandy Jiroux, reenacted the video in a way that some fans thought wasn't very flattering, but People reported as "good-natured." Again, Fox News reported that Cyrus and Jiroux's actions were deemed as mocking, though Cyrus told Extra that it was just for fun. 
Miley Cyrus and Selena Gomez have seemingly reconciled
Despite rumors of a feud and that not-so-friendly YouTube video, the actors stand by their claim that they never had a rift. Gomez told W Magazine in 2016 that there was never a feud. "We both liked the same guy when we were 16," Gomez said, according to E! News. She then brought up a previous Disney dating scenario involving Aaron Carter. "It was just a Hilary Duff–Lindsay Lohan thing: 'Oh, my God, we like the same boy!' We are now completely settled in our own lives."
Years later, in 2019, Cyrus corroborated this claim about the imaginary feud. "I just always grew up collaborating with Selena [Gomez] and Demi [Lovato], and there was never competition," Cyrus told Capital FM. "When you are authentically yourself, no one can be you, so you're never worried about someone stealing your place."
To further squash rumors, Gomez appeared on Cyrus' early pandemic Instagram show, "Bright Minded." As PopSugar reported, the two got into meaningful conversations about mental health, Gomez's depression and rehab visits, and her bipolar disorder. As recent as this year, the two seem to be on good terms. Per Billboard, Gomez called Cyrus "one of [her] oldest friends" in her "Saturday Night Live" monologue and did a spot-on impression of the "Hannah Montana" star. In response, Cyrus tweeted pictures of herself in bed with tea and a tank top that said, "Hell Yeah I'm Miley Cyrus," a nod to Gomez's impersonation.