What Happened To Dodi Fayed's Father, Mohamed?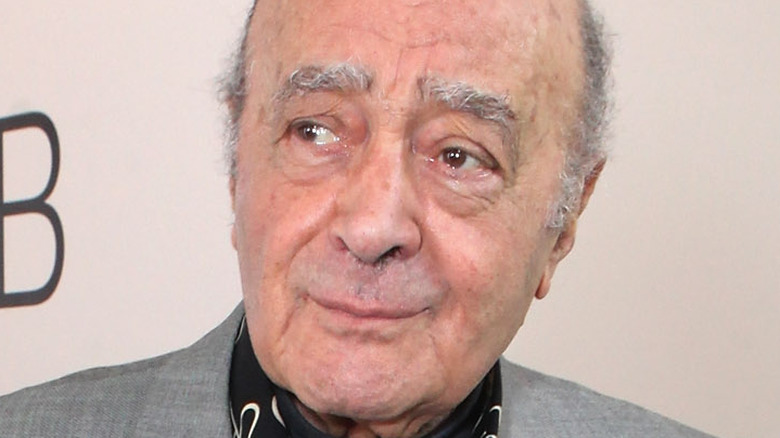 David M. Benett/Getty Images
Mohamed Al-Fayed came from a poor Egyptian background, but he always dreamed big. The BBC reports he was the son of an impoverished schoolteacher and had four siblings. Mohamed developed an obsession with British high society from a young age. He worked hard to be accepted into royal circles, but soon learned new money is too tacky for the aristocracy's tastes.
How Mohamed amassed his fortune is cloaked in mystery. He worked as an "importer" for Saudi arms dealer Adnan Khashoggi and as an advisor to the Sultan of Brunei. Mohamed even became friends with François "Papa Doc" Duvalier and allegedly swindled him out of £153,000. According to The Telegraph, the Haitian dictator ordered his Tonton Macoute death squad to return Mohamed to him "dead or alive."
Needless to say, he was a controversial figure. That's not usually an issue for the royals, though. Prince Charles' charity was in serious hot water following accusations he'd promised a Saudi billionaire British citizenship and an honorary title in return for a huge cash payment. However, the Los Angeles Times reports that no matter how hard Mohamed tried to be accepted, he was continually shunned by the elite. He purchased Harrods luxury department store and the Fulham soccer team. Mohamed bought and restored Edward, Duke of Windsor's house and gifted its contents to the royals. But, still no dice. 
Even after his son, Dodi Fayed began dating Diana, The Princess of Wales, Mohamed remained persona non-grata. So, what happened to Dodi Fayed's father?
Mohamed Al-Fayed played cupid to Dodi and Princess Diana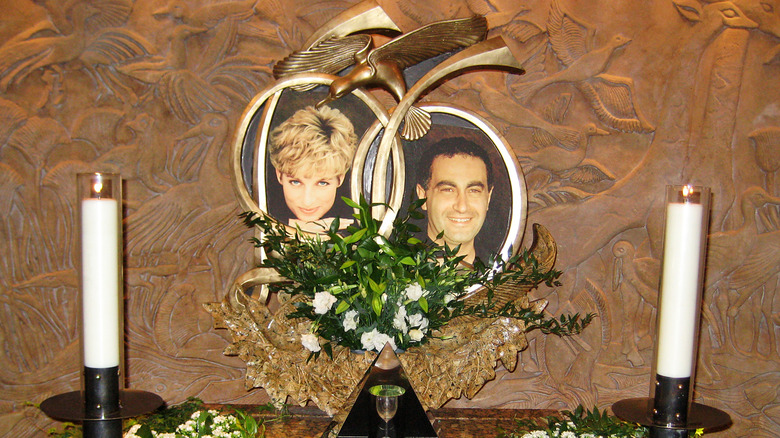 Giannis Papanikos/Shutterstock
Mohamed Al-Fayed eventually became synonymous with the royal family, but not in a way either would have dreamed. The Los Angeles Times reports Mohamed's attempts to woo British society were met with disdain. He was denied citizenship twice despite multiple investments and charitable donations. He was vilified as "morally and personally repugnant" and an "ill-mannered self-seeker." In fairness, the former, at least, is probably true (per Channel 4). However, Mohamed spotted the perfect opportunity after Prince Charles and Princess Diana divorced.
Harper's Bazaar reports he invited Diana and her sons for a vacay in the South of France in 1997. He also brought his son, Dodi Fayed, along for the ride. Diana had just split from Dr. Hasnat Khan, and Dodi was reportedly engaged to model Kelly Fisher. Still, sparks immediately flew, and shortly after, a photo of the couple making out like bandits was splashed over the tabloids. Just weeks later, they were both dead.
Per AP News, following dinner at the Ritz in Paris, Diana and Dodi were in a horrific crash. Their car reportedly drove at 121 mph in a 30 mph speed limit through a tunnel, attempting to evade paparazzi when it flipped and smashed into a wall. Prosecutors claimed the driver was three times over the legal blood alcohol content limit, although several witnesses denied he'd been drinking. Dodi and the driver died immediately. Diana and her bodyguard were unconscious but alive. However, she died two hours later.
Mohamed Al-Fayed is forever linked to the British royal family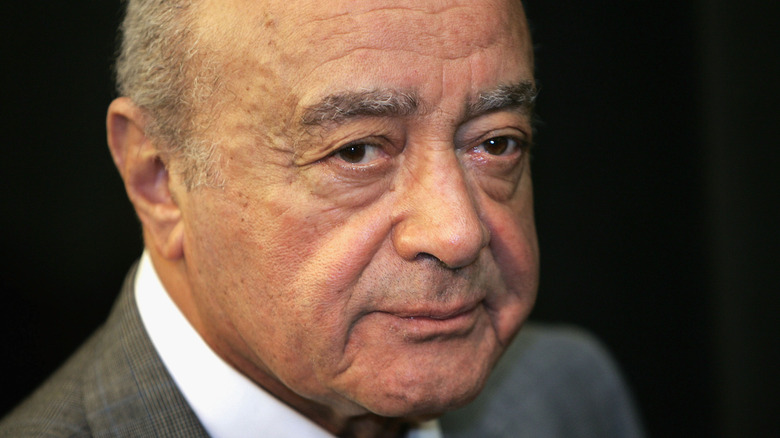 Peter Macdiarmid/Getty Images
Mohamed Al-Fayed's love for the royals quickly turned to hatred. He transformed Harrods' basement into a shrine to Princess Diana and Dodi Fayed. A life-size bronze statue of the couple was made and displayed. "I have named the sculpture 'Innocent Victims,' because for eight years I have fought to prove that my son and Princess Diana were murdered," Mohamed explained (via The Guardian). Others named it "tacky," and it was removed when he sold Harrods in 2010.
The grieving father continued his fight. Time reported Mohamed was determined to uncover "the truth" and launched a legal war firing off a slew of lawsuits. He hatched a conspiracy theory about the crash, insisting the royal family ordered the couple's death. "Dodi and Diana had been murdered, definitely," Mohamed told "60 Minutes Australia" in 1999. When asked about their motive, he said it was because the royals didn't want the stepfather of the future British King to be an Egyptian-born Muslim.
Mohamed claimed the royals demanded global spy agencies collude in a "massive conspiracy" to eliminate Diana and Dodi and then cover up the crime. He claimed the CIA had bugged their phones and used satellites to "know where they are, every step, and pass all that information to MI6." In 2008, Mohamed finally "accepted" the official version of events — kind of. "I'm leaving the rest for God to get my revenge, but I'm not doing anything anymore," Mohamed announced (via Reuters).