Why Jennifer Garner Thought Working With Hugh Jackman Was Horrifying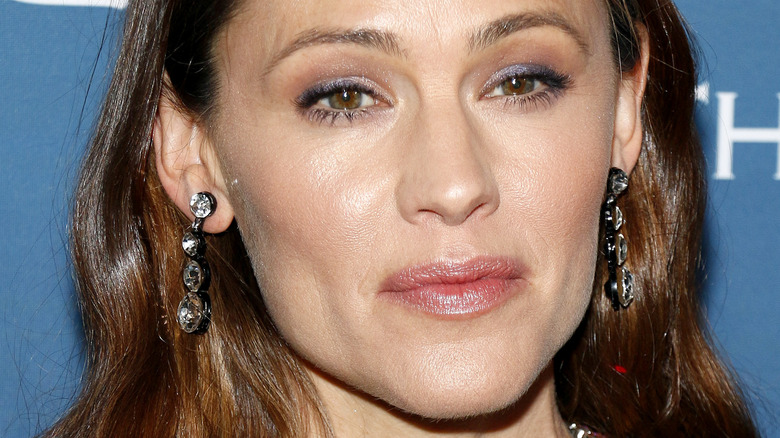 Tinseltown/Shutterstock
It goes without saying that Jennifer Garner is one of the most beloved actors in Hollywood. The "Alias" and "13 Going On 30" star has a bit of a reputation for being one of the sweetest stars in the game, garnering (get it?) praise from pretty much every A-lister she's ever worked with. Heck, even her ex-husband Ben Affleck's new wife, Jennifer Lopez, had nothing but sweet things to say about her. "[She's] an amazing co-parent, and [her and Affleck] work really well together," the "Marry Me" star said in a rare comment about her namesake to Vogue in November.
So, with Garner's sweet nature preceding her, you'd probably think that she doesn't have a bad word to say about anything or anyone, right? Well, erm, not exactly. It turns out that Garner didn't actually have the best time working with another notoriously nice A-lister, as she's been pretty candid about a seriously awkward moment she had on the 2011 movie "Butter." Step forward, Hugh Jackman.
Jennifer Garner hated her sex scene with Hugh Jackman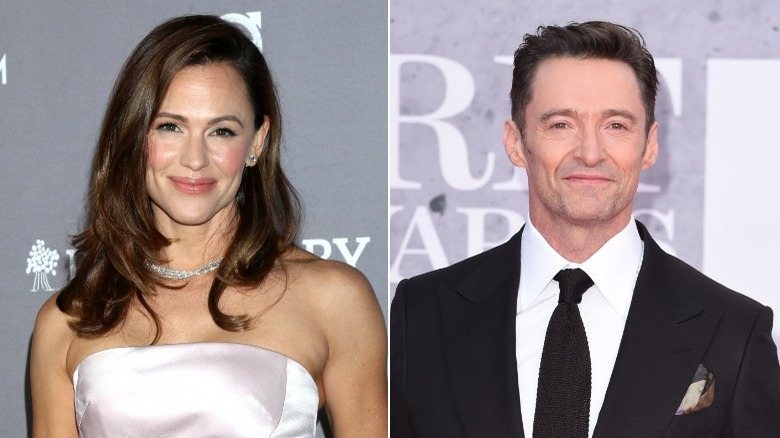 Kathy Hutchins & Featureflash Photo Agency/Shutterstock
Shooting a sex scene no doubt has to be a bit of an awkward experience for even the most seasoned actor, but we're guessing maybe has its perks when your partner in the scene is super handsome like Hugh Jackman. Right? Well, apparently not so much if you ask Jennifer Garner.
The star dished on the scene to E! News, admitting she felt uber uncomfortable as the two only had to vocalize their, erm, passion, as it was all off-camera. "Of course, it was like the first day we worked together. It's always like that. It's always like, 'It's nice to meet you, now let's moan and groan,'" she admitted. The star also confessed that she was doubly mortified because she's such a fan of Jackman's, adding, "It was so horrifying." Yeah, that does sound pretty darn awkward.
But it turns out it was no walk in the park for Jackman, either. "It's kind of humiliating as we discovered he couldn't record us both at the same time, so one had to perform, then the other performed," he recalled of the scene, per The Hamilton Spectator, revealing he was pretty happy Garner bit the bullet and went first because he was too embarrassed. It sounds like it was all just as horrifying as it sounds too, as "The Greatest Showman" star added, "I don't think I've ever been more embarrassed in my life."
Hugh Jackman is still a fan of Jennifer Garner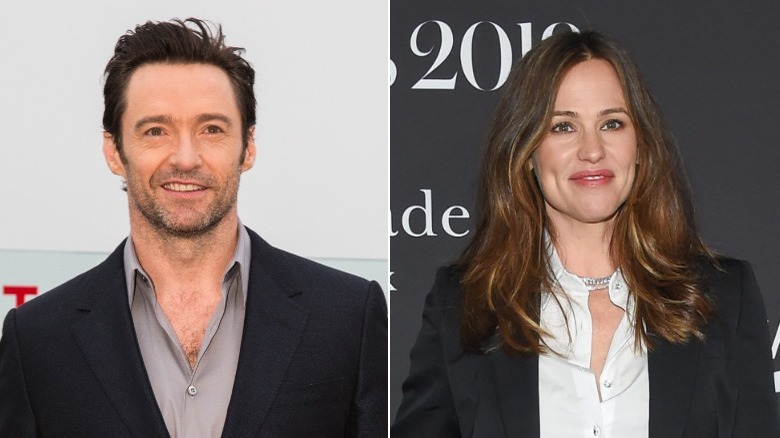 magicinfoto & DFree/Shutterstock
Thankfully, though, it sounds like the awkward moans didn't ruin Hugh Jackman and Jennifer Garner's friendship despite both admitting they didn't have the best time recording that notorious scene. In fact, over a decade after the movie was released, Jackman even dragged his former co-star into his playful feud with Ryan Reynolds. Jackman posted a snap on Instagram in March to promote Reynolds' movie "The Adam Project" which also just so happened to star Garner as Reynolds' character's mom. In the photo, Jackman posed with Reynolds and Shawn Levy, but joked in the caption, "I wanted to take a photo with @jennifer.garner but got stuck with these two."
Jackman also appears to have a close friendship with Ben Affleck as well, as Entertainment Tonight Canada revealed that the latter turned to the former for advice when he landed the role of Batman. Jackman, of course, is a superhero veteran from playing Wolverine. "Ben is poised to crush it. I'm really happy for him. I'm so happy he got the part," Jackman told the outlet in 2013, admitting he'd personally recommended a trainer to the "Armageddon" actor, who was still married to Garner at the time. "I think he will crush it, and I'm really excited to see what he does. He's ready for it. I love Ben — he's super smart, very talented, and he will be around for a long time. I think people are gonna to love it."