The Cheesy Pick-Up Line Cameron Mathison Used On His Wife When They First Met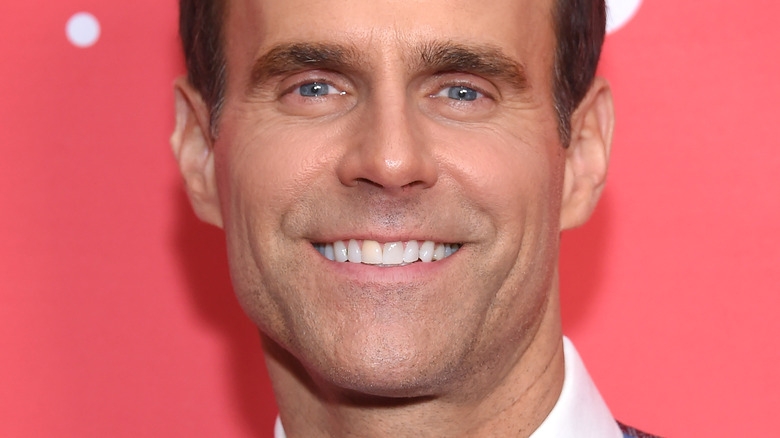 DFree/Shutterstock
Cameron Mathison will always be best known for portraying charming con artist Ryan Lavery on "All My Children." Mathison debuted on the ABC soap in 1998 and, aside from a year-long sabbatical, stayed on until the network cancelled the daytime staple in 2011, per Entertainment Weekly. After taking a break from the juicy, dramatic world of soap operas, Mathison found a home on Hallmark as both an actor and a host. Since 2013, Mathison has appeared in 16 movies for the network (via QC Approved). He also hosted "Home & Family" for Hallmark from 2013 to 2021.
As a fixture in both the soap opera and Hallmark world, Cameron Mathison is no stranger to steamy on-screen courtships. However, in real life, the "General Hospital" star's heart belongs to one woman: his model wife Vanessa Mathison. The couple have been married since 2002. And according to Mathison's interview with Soap Opera Digest, things moved pretty fast. Despite being "full-time, part-time partiers," Vanessa shocked him one day when she shared with him she felt her purpose was to be a mom. "First it was like, 'Guess I'm buying a ring!' And then it was like, 'Guess we're having kids!" Mathison shared, adding that they were married and pregnant about six months after the conversation. Since then, the couple has had two children — Leila and Lucas Mathison. And while Cameron's on-screen persona is often suave and debonair, he used a rather cheesy line to hook Vanessa in the beginning.
Cameron Mathison asked his future wife if she wanted to run lines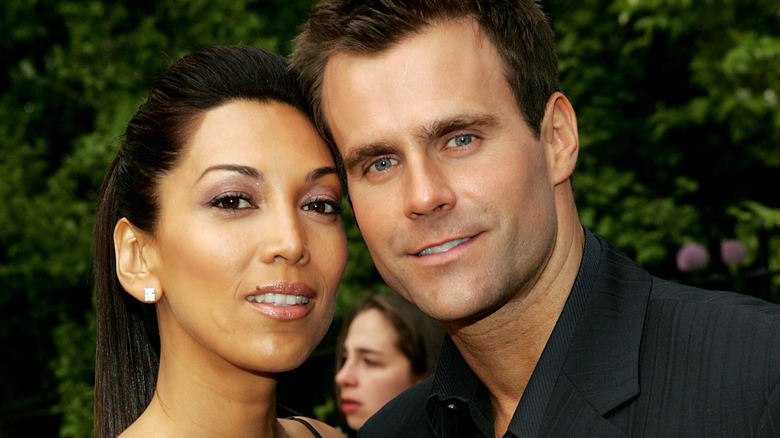 Paul Hawthorne/Getty Images
This past spring, Vanessa Mathison made her acting debut — which was a 55th birthday present, according to Soaps In Depth — when she appeared on "General Hospital," which Cameron Mathison himself joined in 2021. To promote her appearance, the couple chatted with ET Online and dished about the cheesy line that Cameron used to woo her back in the day. "At that time I was studying acting, so one of Cameron's cheesy lines —I always tease him about this — was, 'Well, if you ever want to run lines, you can come over and we can run lines together,'" Vanessa shared. Earlier in the interview, Vanessa also shared that this opportunity was "an absolute dream come true," although she admitted being nervous. And, as for how Vanessa got through it? Well, she leaned on her famous hubby, of course. 
"We locked eyes and I did not want to stop looking into Cameron's eyes, because he was just my safe space," said Vanessa. At the time of the interview, Vanessa was only slated to appear in one episode of "General Hospital." However, she has since appeared in three episodes (via IMDb). And while her hope of making future appearances has come true, she has yet to get her other wish: filming a love scene with her husband. "I think it could be kind of fun," shared Vanessa. "We would have to run lines and practice a lot."
Cameron and Vanessa Mathison really enjoyed working together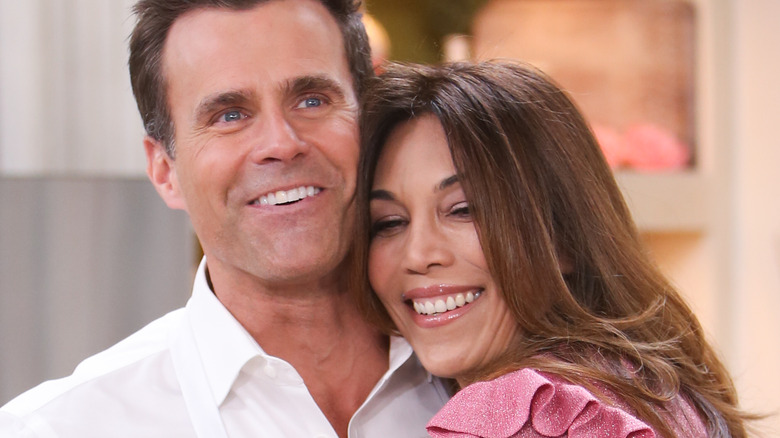 Paul Archuleta/Getty Images
It's not always easy to work with your spouse — famous or not. However, the Mathisons seem to have really enjoyed the experience. "I'm blushing... I'm blushing watching [the scene]," shared Cameron during an interview with Daily Blast Live. "It feels different watching Vanessa and I on screen in front of America." When asked if Cameron was a "better scene partner" or "better in real life as the husband," Vanessa gave a diplomatic response. "They're both fun to flirt with, they're both amazing, what can I say," she shared. She also expressed that the opportunity to act with Cameron in the fictional town of Port Charles had her living her "best life."
One reason that the experience was so positive could be attributed to Vanessa's genuine love for "General Hospital." "My wife has actually always been a fan of General Hospital," Cameron shared during an appearance on the Dishing With Digest podcast. "In fact, when she met me — when we met in a gym in New York — she had no idea who I was. I was a decently-popular character at the time on All My Children — no idea who I was. She only watched General Hospital."