How Many Grandchildren Does Todd Chrisley Have?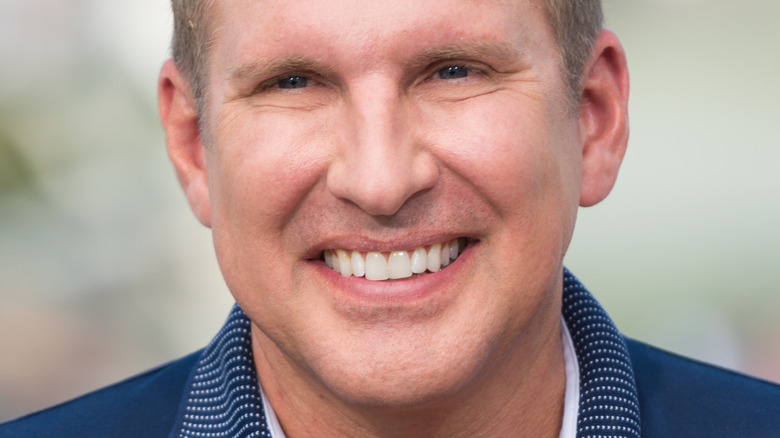 Noel Vasquez/Getty Images
Todd Chrisley and his rambunctious family members were mainstays on reality television until their fleet of shows were canceled. The family first appeared on USA Network's "Chrisley Knows Best" in 2014 and have since branched off into other television ventures. Todd's children, Savannah Chrisley and Chase Chrisley, also starred in their own spinoff show "Growing Up Chrisley." However, following Todd and Julie Chrisley's convictions for tax evasion and bank fraud – and subsequent sentencing — the family's reality shows were canceled. According to Deadline, NBCUniversal has axed "Chrisley Knows Best" and "Growing Up Chrisley" (though no official statement has been released as of this writing). E! has also halted plans to air a Todd-lead dating show called "Love Limo."
Despite the family's seemingly sudden fall from grace, their time on reality television was filled with drama, heartbreak, and a host of messy disputes. And while most fans are familiar with Savannah and Chase, Todd's relationship with his eldest children — and his grandchildren — may still be a mystery to some.
Todd Chrisley has two grandchildren
Todd Chrisley appears to have an ever-evolving relationship with his oldest two children, Lindsie and Kyle Chrisley. When "Chrisley Knows Best" first premiered in 2014, all of Todd's five children were featured on the popular program. According to Radar Online, Lindsie left the show following a disagreement with her father in 2017. Per the outlet, the altercation centered around the inclusion of Lindsie's marriage to ex-husband, Will Campbell. Lindsie and Campbell share one child, Jackson, who they welcomed in 2012.
Kyle seemingly disappeared after Season 1 — but his daughter, Chloe, remained. Kyle previously opened up about his strained relationship with his father, and suggested that Todd was only interested in caring for Chloe in order to flaunt her on the show. "My dad showed no interest in Chloe at all until the show," Kyle told the Daily Mail in 2014. "And until it was pointed out that having a mixed race child and getting her and all that would be good for his demographic." Despite the messy feud, Chloe has remained in Todd's care. His sentencing, however, has changed that.
Chloe Chrisley will be cared for by Savannah Chrisley
Following Todd and Julie Chrisley's sentencing, Kyle Chrisley took to Instagram to share a Bible verse about the importance of having grace for others. "Do not judge, or you too will be judged," the message read (via Page Six). "For in the same way you judge others, you will be judged, and with the measure you use, it will be measured to you." And while it appears as if Kyle resolved his feud with his father, the former "Chrisley Knows Best" star made no mention of whether he planned to fight for custody of Chloe, as Todd is headed to prisons.
However, Savannah Chrisley — Todd's youngest daughter — plans to oversee the care of the youngest Chrisley children. On the November 21 episode of her podcast, "Unlocked with Savannah Chrisley," the reality star revealed that she has taken custody of her brother Chase, and her niece, Chloe. "I come home Tuesday, and I have custody of a 16-year-old and a 10-year-old, and we spend our first Thanksgiving not as a family," Savannah said. "I've never been away from my family for the holidays." She continued by asking fans to "have some grace" amid her family's legal controversy.