Which Songs Did Miley Cyrus Write About Liam Hemsworth?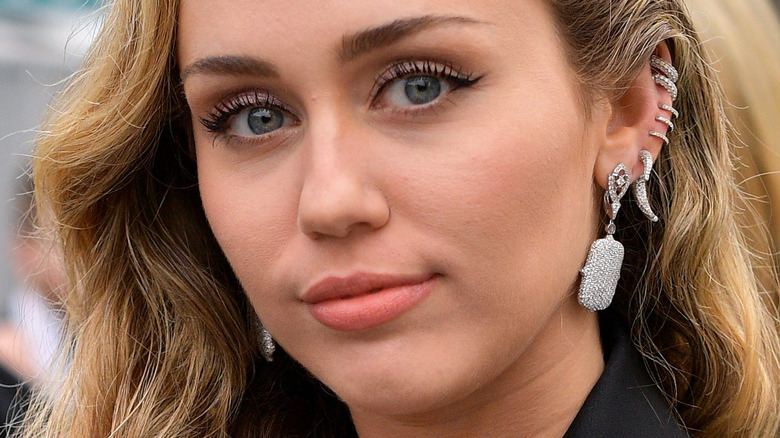 Matt Winkelmeyer/Getty Images
Miley Cyrus has always been a vulnerable songwriter and musician. She has constantly pulled from past relationships to inspire her music. Her relationship with fellow Disney star Nick Jonas helped create the iconic song "7 Things" (via Us Weekly). However, Cyrus' relationship with Liam Hemsworth inspired the musician to write multiple songs about him (via Us Weekly).
Hemsworth and Cyrus first felt sparks while on the set of the 2009 film, "The Last Song," in which they played each other's love interest (via Cosmopolitan). Their relationship has been a constant rollercoaster of emotions, featuring multiple breakups and engagements. In 2012, the couple celebrated their first engagement. Cyrus shared with People, "I'm so happy to be engaged and look forward to a life of happiness with Liam." Unfortunately, it didn't last long because they called it quits in 2013.
Three years later, the couple confirmed their engagement was back on (via Cosmopolitan). The two remained by each other's side for two years before officially saying, "I do," in December 2018. By August 2019, the couple confirmed their breakup on social media. A source told Entertainment Tonight, "Liam loved Miley so much, but in the back of his mind, he always knew life with her would prove difficult because she never seemed ready to settle down." Cyrus is not shy about sharing her feelings, and with everything she went through with Hemsworth, the artist expressed herself in the best way she could: through song.
Miley wrote several heartfelt songs to Liam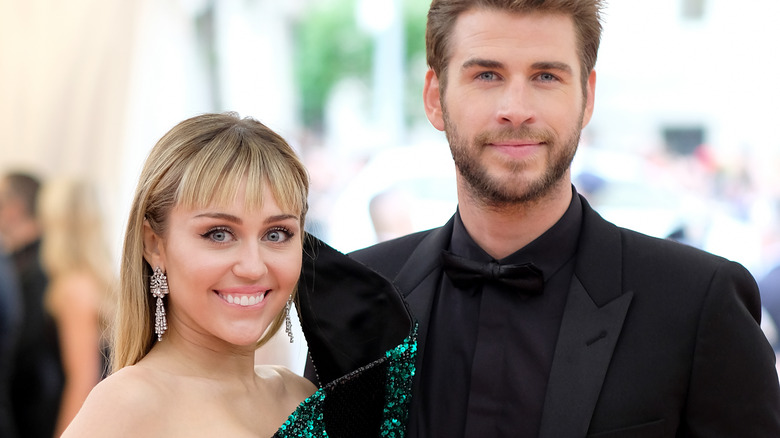 Dimitrios Kambouris/Getty Images
While it may seem like a lot of their relationship was faced with turmoil, there were some good moments for Miley Cyrus and Liam Hemsworth. Cyrus beautifully captured these moments in her songs "Adore You," "Malibu," and "I Would Die for You."
"Adore You" was one of the first heartfelt songs dedicated to Hemsworth (via PopCrush). The song features emotional lyrics about the couple and how much love Cyrus has to give to Hemsworth. Some lyrics include, "I love lying next to you / I could do this for eternity / You and me / We're meant to be / In holy matrimony." Cyrus released this song when the couple was separated, but clearly, she still had immense feelings for the actor (via Cosmopolitan).
In 2017, Cyrus released "Malibu," another song dedicated to the actor. Cyrus spoke to Billboard about how regardless of what she does, people will always talk about her and Hemsworth. So, she decided to take matters into her own hands and share exactly how she felt about him. PopSugar also revealed Cyrus shared that "Malibu" is "definitely about love." Her song "I Would Die for You" is also reportedly about Hemsworth and their relationship (via PopSugar). The ballad is filled with lyrics about the couple's love. Cyrus sings, "I have your heart / I don't need a ring." During the time of these released songs, Cyrus and Hemsworth were at a high in their relationship.
Breakups and heartaches fill Miley's songs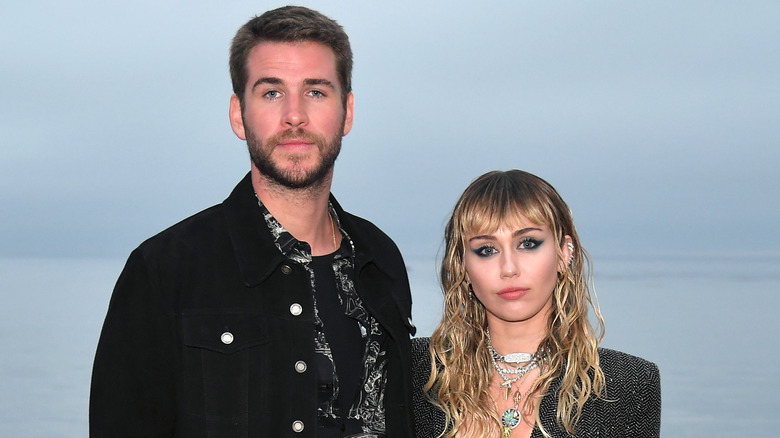 Neilson Barnard/Getty Images
Having a relationship in the public eye can be extremely difficult. Unfortunately, Miley Cyrus and Liam Hemsworth faced scrutiny about their relationship. It's no secret the couple had their fair share of ups and downs (via Cosmopolitan). As much as Cyrus may want to forget about the troubling times with Hemsworth, her music helps to get those feelings out.
"Wrecking Ball" was one of the most famous songs about their relationship. During this time, Cyrus was hurting from her recent breakup with her former fiancé. PopSugar reports the singer ranted about Hemsworth, calling him a "piece of s***" at one of her shows. Cyrus yelled, "Enjoy hearing this song for the rest of your life." In 2019, after another breakup with Hemsworth, Cyrus wrote the track "Slide Away" (via PopSugar). The heartbreaking song details how Cyrus had to move on from the relationship as the two had grown apart.
When Cyrus released her album, "Plastic Hearts," she revealed to Howard Stern how she had written a specific lyric in the song "WTF Do I Know" to Hemsworth (via PopSugar). The lyrics, "I don't even miss you," were about her ex. She told Stern, "Sometimes, you miss people more than others, and sometimes, things get easier." While Cyrus has had some great moments with Hemsworth, it looks like she wrote more about the difficulties in the relationship with songs like "Someone Else," "Drive," and "Week Without You" (via PopSugar).