What Tiffany Trump Really Does For A Living Now After Finishing Law School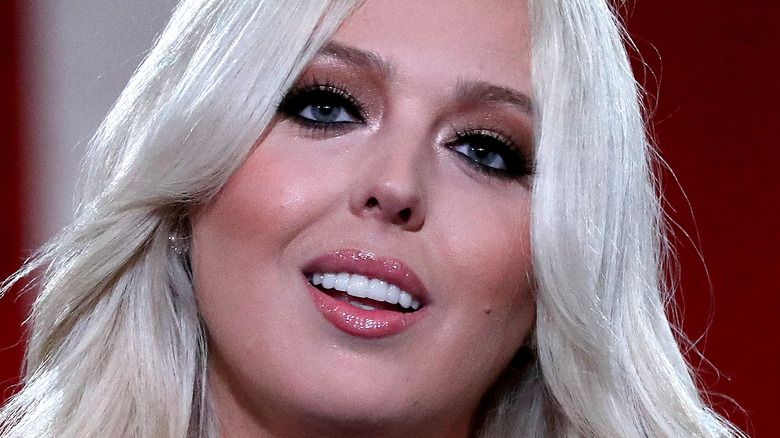 Chip Somodevilla/Getty Images
In May 2020, Tiffany Trump added J.D. to her resume after graduating from Georgetown Law School in May 2020. Tiffany, Donald Trump's daughter with his second wife, Marla Maples, isn't the first Trump to become an alum of the Washington, D.C., institution. Tiffany's older brother, Eric Trump, graduated from Georgetown with an Economics degree, Time reported. Ivanka Trump attended Georgetown for a year before transferring to The Wharton School of the University of Pennsylvania, her father's alma mater, Refinery29 noted.
But Tiffany is the first in her family to claim the title of lawyer, a feat Donald celebrated with a tweet that raised plenty of eyebrows. "Great student, great school," the then-president wrote. "Just what I need is a lawyer in the family. Proud of you, Tiff!" Before joining Georgetown, Donald's fourth child was at the University of Pennsylvania, where she earned a degree in sociology, Slate noted. Until college, Tiffany lived across the country from the rest of the family.
Donald was married to Maples for just a few years, and Tiffany was mostly raised in California by her mother, according to The New York Times. Tiffany's enrollment at the Ivy League school allowed her to be closer to her dad, Business Insider pointed out — and its location might also have indicated her career ambitions. While there are plenty of clues regarding what Tiffany envisioned for herself, she has yet to show how she plans to materialize her goals.
Tiffany Trump has shown interest in joining the family business
Tiffany Trump opted not to take the bar exam the October after her graduation, OK! magazine reported. Instead, she became more involved in Donald Trump's unsuccessful 2020 presidential campaign, even giving a speech during the August Republican National Convention, according to CNN. Tiffany's career goals after earning her law degree were never clear.
In 2016, when she was applying to law school, Tiffany told ABC News' George Stephanopoulos that she was interested in joining her family's business. "I like to bring a different kinda skill set to the company," she explained. But as of 2022, Tiffany continued working at Georgetown. According to her Twitter bio, Tiffany heads the university's Cyberlaw Society and serves as a research assistant for Shon Hopwood, who works to promote prison reform. Tiffany joined Hopwood's team in 2018, in her second year of law school, Vanity Fair reported.
Tiffany showed an interest in the subject during her undergrad years, exploring the country's judicial system in her sociology thesis, according to The Daily Pennsylvanian. "[Tiffany] found that ... if you are a minority or are really economically disadvantaged, then you're really going to have less of a chance of really having your rights respected just as a human being and as a U.S. citizen," her adviser, Hocine Fetni, said. Tiffany also cited the issue in her RNC speech. "If you believe in criminal justice reform, there is only one president that passed The First Step Act," she said.
Tiffany Trump has been busy planning her wedding to Michael Boulos
It is unclear whether Tiffany Trump will follow in her older half-siblings' footsteps and join one of the Trump family's businesses. According to OK!, she may have put her law career on hold amid Donald Trump's uncertain political future, suggesting she may be waiting for the right opportunity to arise. But that doesn't mean Tiffany has been enjoying plenty of free time. With a photo taken at the White House in January 2021, Tiffany announced her engagement to Michael Boulos, a billionaire heir she met while vacationing in Mykonos, Greece, with Lindsay Lohan, according to People.
"It has been an honor to celebrate many milestones, historic occasions, and create memories with my family here at the White House, none more special than my engagement to my amazing fiancé Michael!" she wrote on Instagram. On November 12, 2022, Tiffany and Boulos' wedding was held at Mar-a-Lago in Palm Beach, Florida, Vanity Fair reported. "The most magical day," she captioned a series of Instagram photos.
Before Tiffany enrolled at Georgetown and jumped into academics, Tiffany dabbled in music, releasing the single "Like a Bird" in 2011, according to the Broward Palm Beach New Times. A few years later, Tiffany also showed an interest in pursuing a career in modeling, making her debut at New York Fashion Week in February 2016, Yahoo! reported. She changed her mind quickly, given she enrolled at Georgetown in the fall of the following year, according to Time.