What Went Wrong Between Jane Fonda And Ted Turner?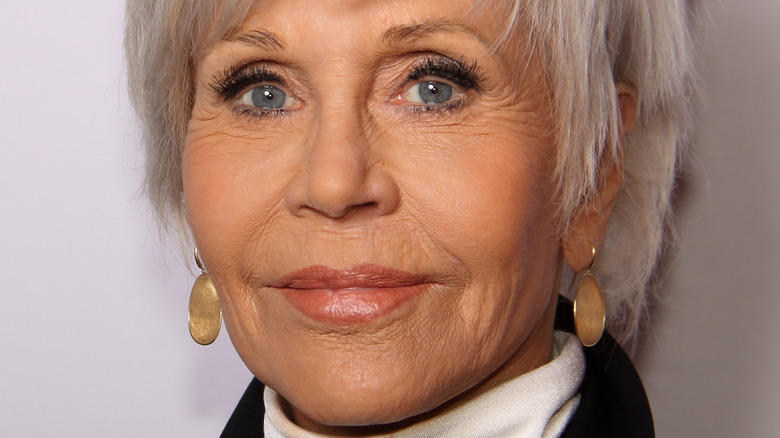 Serge Rocco/Shutterstock
Jane Fonda's career has consisted of acclaimed on-screen performances, a best-selling workout program, and dedicated activism efforts. Fonda has also garnered attention for her marriages, which were marked by adventure and turmoil. Her first husband was French director Roger Vadim, whose promiscuity perpetuated Fonda's fears and insecurities. In "Jane Fonda: The Private Life of a Public Woman," author Patricia Bosworth wrote, "She was suddenly aware of how much he had objectified her — how much he had exploited her ...She was tired of playing the passive, perfect wife and mistress."
Fonda divorced Vadim in 1973 and married activist-politician Tom Hayden that same year. While they bonded deeply over their mutual passion for social justice, they broke up in 1990. Numerous reasons have been cited for their split, with Bosworth writing about his controlling nature, per the Daily Mail. But Fonda ultimately expressed gratitude for Hayden. In a 2018 conversation with The New Yorker, she said, "And then Tom — I needed someone far wiser and more knowledgeable than I was about movement-building and politics and all of that. And he had this depth of knowledge, and he gave me structure and guidance, and I learned so much from him that I am forever grateful for."
Hayden wasn't Fonda's only husband who she has shown appreciation for, though. Fonda's third husband, Ted Turner, who Fonda called her "favorite ex-husband," attended her 80th birthday celebration, per The Atlanta-Journal Constitution. Since they were on great terms following their divorce, what caused the downfall of their marriage?
Jane Fonda said her marriage to Ted Turner was 'irretrievably broken'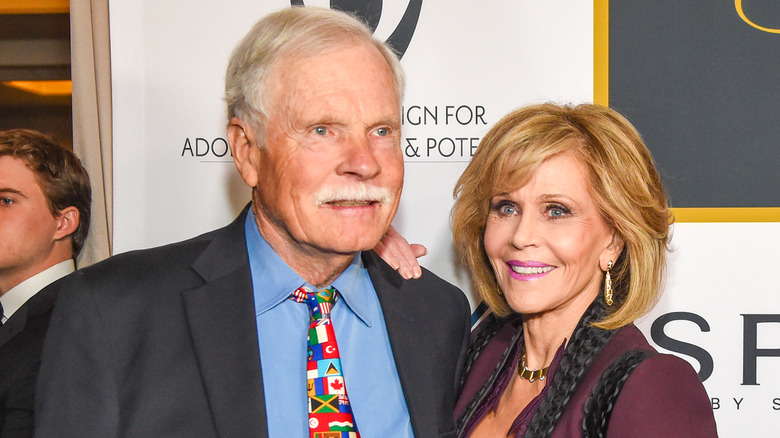 Rick Diamond/Getty Images
Following a 10-year marriage, Ted Turner and Jane Fonda finalized their divorce in May 2001. According to E! News, Fonda claimed their marriage was "irretrievably broken." However, in separate statements, they both wished each other well. Turner and Fonda had their own reasons for calling it quits. In an interview with The New Yorker (via E! News), Turner declared that his marriage deteriorated when Fonda became a Christian. On the other hand, Turner's need for attention caused some problems for Fonda. She told the magazine, "He needs someone to be there 100 percent of the time. He thinks that's love. It is not love. It's babysitting."
While Turner did admit that Fonda's conversion to Christianity was a surprise, his memoir "Call Me Ted" told another side of his story. "It wasn't because she had become Christian," he wrote. It was because she didn't speak to him about it (via Today). According to the outlet, lack of communication was a pattern in their marriage and was complicated by their time apart. On top of that, Turner's reported infidelity was a major problem for Fonda. In her memoir "My Life So Far" (via Fox News), Fonda was aggravated when she discovered he had a "nooner" with a woman a month into their marriage.
Jane Fonda and Ted Turner have fond memories of their marriage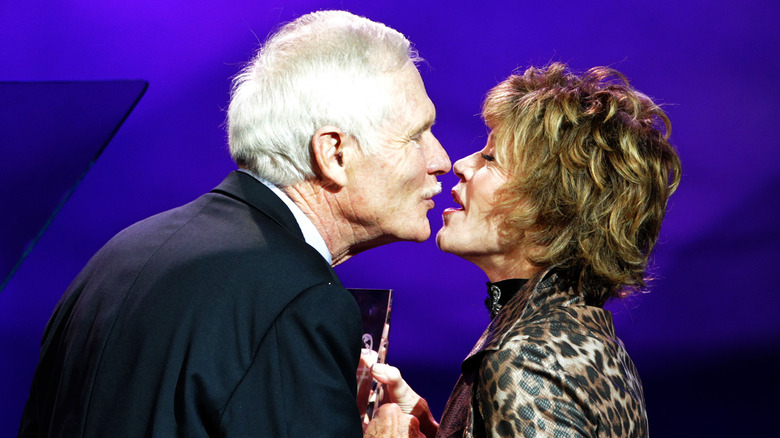 Frederick M. Brown/Getty Images
Despite their marriage difficulties, Jane Fonda and Ted Turner looked back fondly on their relationship. In separate interviews with CNN, they each gave their take on their former significant other. Fonda shared, "We had a great time for 10 years. I am so happy I got to spend 10 years with him." Turner's tune was more sorrowful as he confessed that she was actually the love of his life. He explained, "When you love somebody and you really love them, you never stop loving them, no matter how hard you try."
In a 2021 piece by Harper's Bazaar, Fonda further elaborated on her relationship with Turner. Fonda appears to be a novelty seeker most interested in men leading vastly different lives from her. In that regard, Turner was the perfect fit. She shared, "When I married Ted — I mean, marrying Ted is like marrying 15 people — you have to learn how to hunt, so I did. You have to learn how to fly-fish, so I did. He liked me to dress sexy, so I did. And so forth. I wanted to." There was plenty of excitement amid stepping into Turner's world, as Fonda revealed, "Why be with Ted Turner if you're not going to allow yourself to be absorbed in his reality and learn from it? And I'm glad I did."