The Truth About Jane Fonda's Ex-Husbands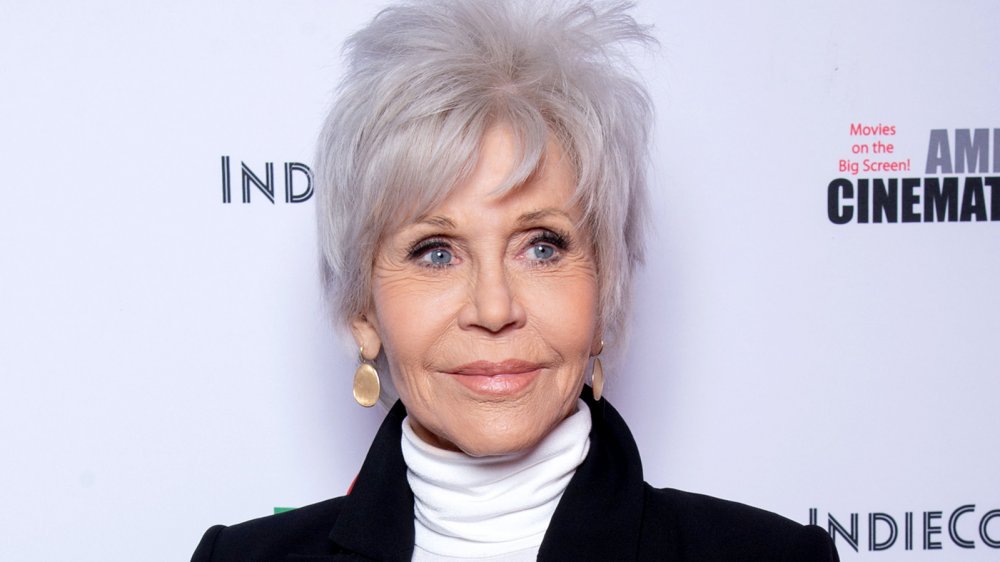 Amanda Edwards/Getty Images
We may receive a commission on purchases made from links.
Whether it's steeped in her embrace of the counterculture of the '60s and '70s and ensuing activism as "Hanoi Jane," or her current role as a standard-bearer on the front lines of climate change, Jane Fonda is considered a beacon to many when it comes to feminist empowerment and utilizing one's privilege for societal good. Even so, this wasn't always the case. Fonda's early activism as a female celebrity was looked down upon by the "silent majority" for years, and her pioneering efforts also existed in tandem with her mental health struggles, an eating disorder, her battle to overcome childhood trauma, and unhealthy relationships. These overlapping, inescapably conjoined spheres would serve as the foundation for Fonda's lifelong, disharmonious synthesis: the wish to do good for others without doing good by herself. 
Some of Fonda's turmoil could be attributed to the power differentials within some of her past relationships — mainly, her three marriages, all of which ended in divorce. So what's the story behind Jane Fonda's ex-husbands and how they helped shaped her outlook on not only her own life, but on the current socio-political climate today? Let's take a look.
Jane Fonda's open marriage to Roger Vadim fueled gossip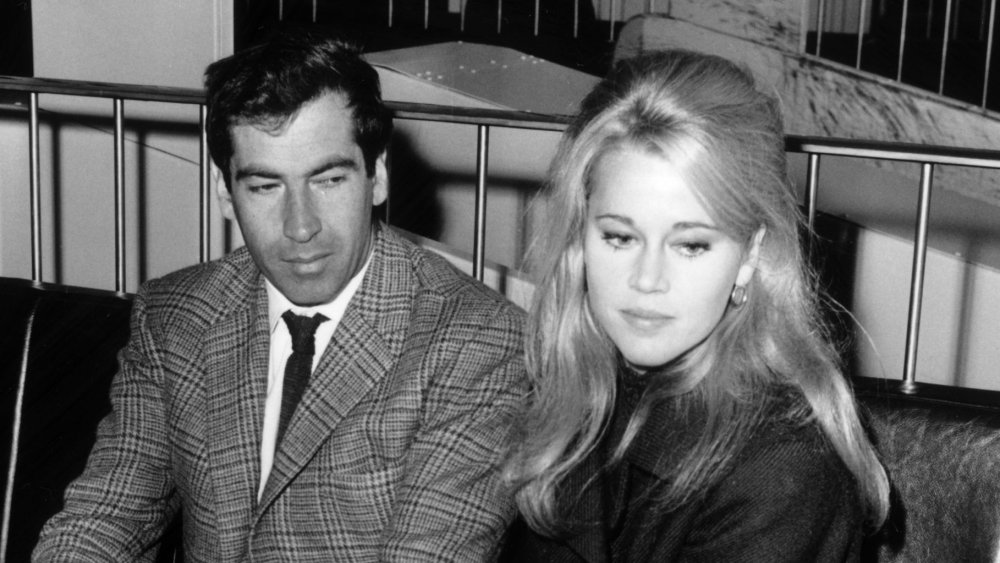 Evening Standard/Getty Images
By the time Jane Fonda married her first husband, French director Roger Vadim, the twenty-something had already lived a life filled with more experiences and adventures than many people twice her age. Though her upbringing had been, on the surface, full of glamour and glitz as the daughter of socialite Frances Ford Seymour and actor Henry Fonda, it was also filled with emotional (and reportedly some physical) abuse. After dropping out of Vassar College, Fonda embarked on a career in modeling, studied acting under the tutelage of the famed Lee Strasberg, and had already earned a Golden Globe by the time she wed her first husband in 1965. Unfortunately, Vadim reportedly viewed his wife's many accomplishments as detractions. 
Vadim was about ten years Fonda's senior and allegedly considered himself quite evolved when it came to sexual relationships outside of monogamy, according to Patricia Bosworth's lauded biography Jane Fonda: The Private Life of a Public Woman. Vadim reportedly told Fonda early on in their relationship that "jealousy is bourgeois," and that he did not view having sex with other women as cheating. Under the guise of egalitarian, ethical polyamory, Vadim allegedly practiced sexual coercive control. 
Jane Fonda grew 'tired of playing the passive wife'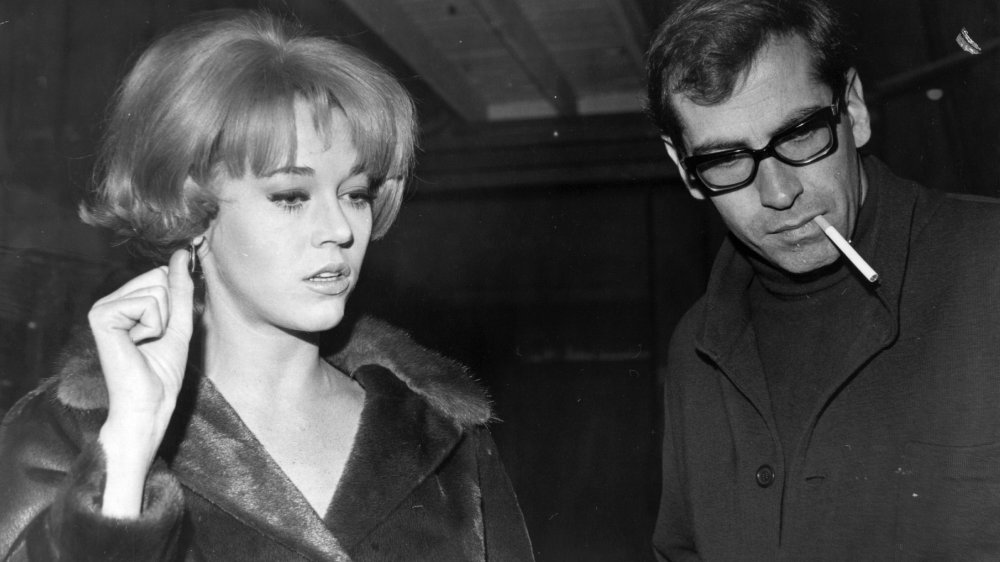 Keystone/Getty Images
According to Patricia Bosworth's biography on the life on Jane Fonda, the actress' first husband, Roger Vadim, practiced non-monogamy in an unethical fashion, allegedly instilling insecurity in Fonda. According to Bosworth's book, Jane Fonda: The Private Life of a Public Woman, Fonda did not object to Vadim's behavior because "she feared she might lose him — and the thought of life without her gentle and charismatic lover filled her with terror." Bosworth claims Vadim coerced Fonda into passive, submissive roles in their romantic relationship and pressured her to support his extramarital affairs. He also allegedly urged her to participate in threesomes, group sex, and her own sexual relationships outside the marriage — circumstances Vadim would reportedly recount in graphic detail. 
In the book, Bosworth describes Vadim's behavior as coercion for the sake of his satisfaction disguised as sexual freedom. Eventually, Fonda began to turn her attention towards global politics, specifically the conflicts in Cambodia and Vietnam, because "she was tired of playing the passive wife and mistress, and wanted her life to have more significance," Bosworth writes.
Fonda divorced Vadim in 1973, after eight years of marriage, but by then, she was already diving into a new relationship with the man who would become her second husband, politician and activist Tom Hayden. 
Social justice united Jane Fonda and Tom Hayden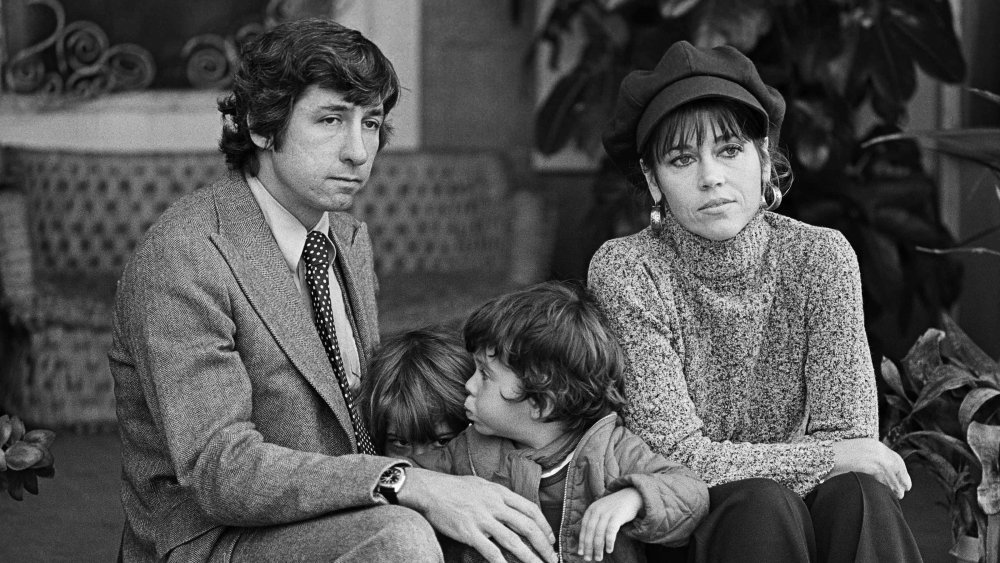 George Rose/Getty Images
Jane Fonda's next marriage to American activist and politician Tom Hayden didn't fare much better for the award-winning actress. They tied the knot in 1973, only three days after Fonda's divorce from her first husband, Roger Vadim, was finalized. Hayden and Fonda were married for 17 years.
The pair reportedly met while protesting the United State's involvement in Vietnam. Already famous for being part of the Chicago Seven (a group of seven people made famous for protesting the 1968 Democratic National Convention and accused of inciting rioting), Hayden and Fonda built their relationship upon a shared commitment to social justice causes. Together, they produced the critically acclaimed 1974 antiwar documentary Introduction to the Enemy, which featured the couple traveling throughout Vietnam during the denouement of U.S. involvement and occupation. Their collaborations also forayed into the more artistic: Their production company, IPC Films, was responsible for a swathe of cinematic gems, including Coming Home, The China Syndrome, 9 to 5, and On Golden Pond. 
'Beauty and the beast' split after 17 years of marriage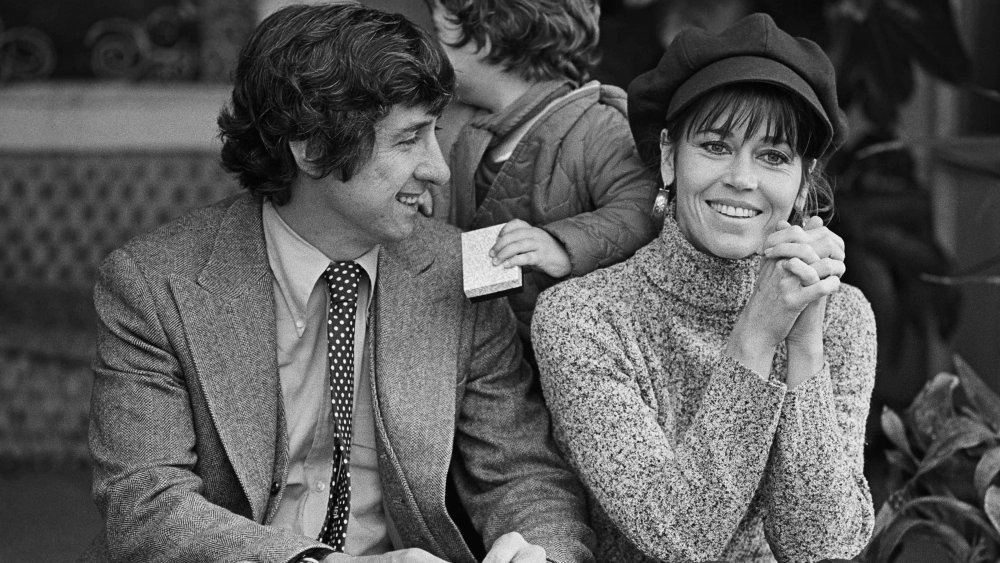 George Rose/Getty Images
Jane Fonda and Tom Hayden split in 1990, and according to The Fondas author Peter Collier, there may have been multiple problems that undermined the union. He "theorizes that Hayden's alleged womanizing took its toll on the relationship, or that maybe he got tired of "beauty and the beast" jokes, reported Entertainment Weekly. (Hayden was purportedly seen as a physical mismatch for Fonda's Hollywood good looks.)
Fonda recalled the memory of their relationship fondly in a 2018 interview with the New Yorker, two years after Hayden passed away from a lengthy illness. "I needed someone far wiser and more knowledgeable than I was about movement-building and politics and all of that," she recalled. "And he had this depth of knowledge, and he gave me structure and guidance, and I learned so much from him that I am forever grateful for.
Aside from their shared collaborations, biographer Patricia Bosworth opined that Hayden was, like Fonda's ex-husband Roger Vadim, a controlling partner. He allegedly forbade her to use common luxuries such as a laundry machine or dishwasher. "Once, when she did something that displeased him — she was receiving too much attention — he encouraged her to discuss her short-comings in front of him and other friends," reported the Daily Mail. "And Jane meekly obliged."
Ted Turner and Jane Fonda union was 'fractured' from the start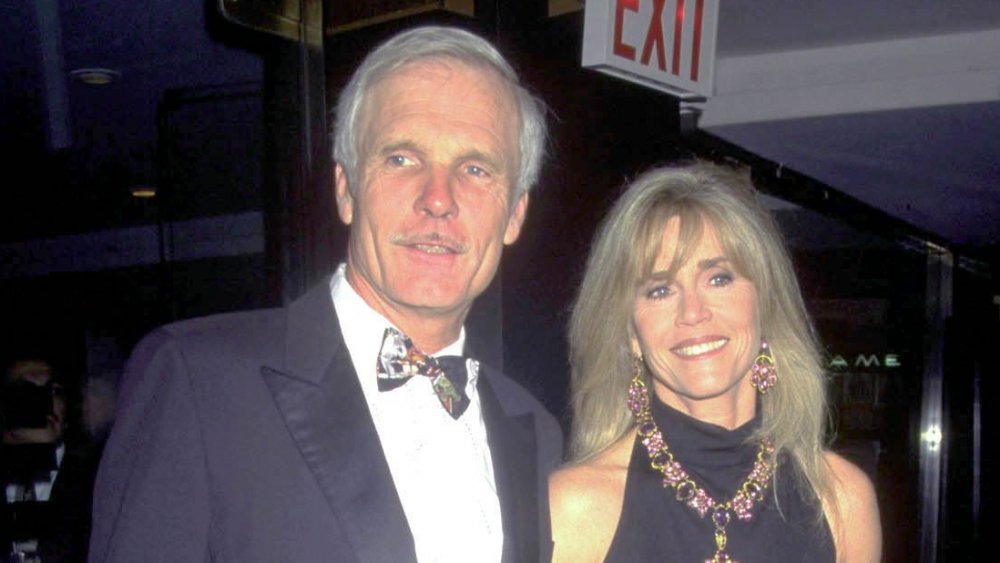 Diane Freed/Getty Images
Jane Fonda's next marriage in 1991 seemed like an extreme pivot from her relationship with ex-husband Tom Hayden (and to a degree, from her first husband Roger Vadim). This time, she joined forces with billionaire media mogul Ted Turner, the founder of the Cable News Network — more commonly known as CNN. While Turner and Fonda seemingly bonded over their shared political passions and interests, Turner possessed none of Hayden's supposed disdain for the finer things in life. Regardless, what ensued during Fonda and Turner's ten-year marriage was, like her previous long-term partnerships, plagued with problems.  
According to The Telegraph, Fonda's marriage to Turner was "fractured" from the beginning, with Fonda herself describing an altercation in which she hit Turner over the head with a telephone after discovering he had reportedly cheated on her a month after their wedding. Though physical abuse can never be justified, Fonda's daughter, activist Mary Williams, claimed in her own 2013 memoir that Fonda was "eaten alive" during her partnership with Turner. Williams also asserted that her mother's decision to divorce in 2001 was "spurred on by Fonda's conversion to a 'feminist, spiritual interpretation of Christianity." 
Despite their rocky relationship, both Turner and Fonda are purportedly still friends to this day. 
Jane Fonda learned to love herself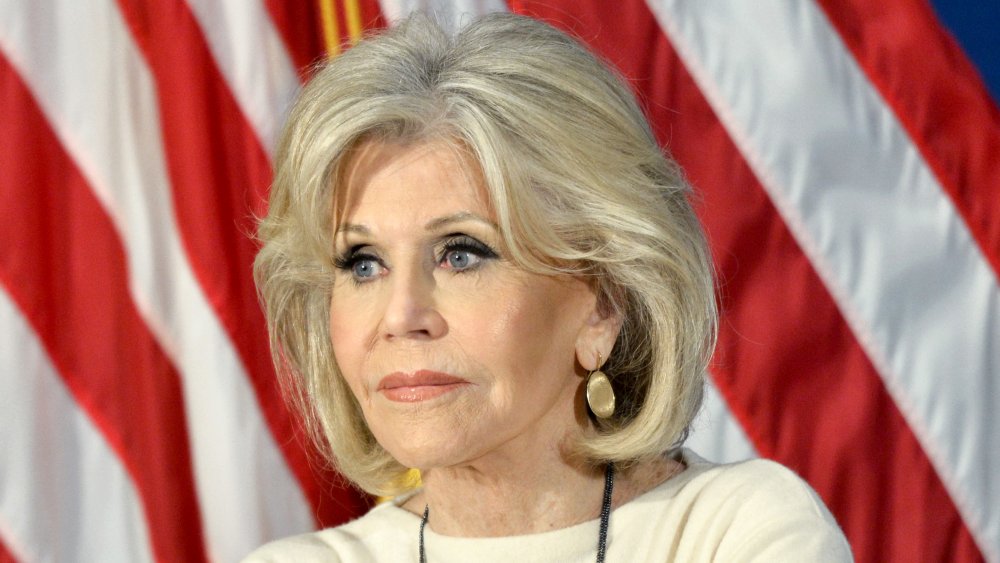 Shannon Finney/Getty Images
Looking back on her long-term relationships with men, an experience she detailed in her 2006 memoir My Life So Far, Jane Fonda stated that she came to realize at the age of 62 that most of her romances, if not all of them, were steeped in a desperate attempt at self-validation. The Grace and Frankie star attributed this tenet to a de facto way of life she had learned from her emotionally destructive relationship with her mother, socialite Frances Ford Seymour, and in turn, her mother's relationship with Jane's father, Henry Fonda.
"All my life, I have been a pleaser, and I have had to be with a man, an alpha male," she said, per The  Globe and Mail. "I married three men who were each powerful in their own ways. After realizing she did not need to seek self-validation through these relationships, Jane felt a sense of freedom she had never experienced before. "Some men have a hard time realizing that the woman they're married to is strong and smart and they have to diminish that, because it makes them feel diminished," she told the CBC. "Too bad we have defined masculinity in such a way that it's so easily shamed."