Inside Ellen DeGeneres' Friendship With Jay Leno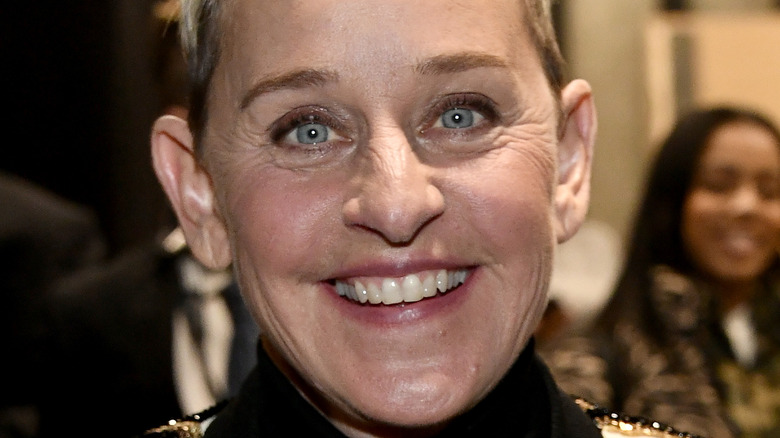 Frazer Harrison/Getty Images
Ellen DeGeneres and Jay Leno each have had great success in their field as top talk show hosts and veteran comedians.
Since getting her start in the '80s as an actor, DeGeneres has been a prominent fixture on television thanks her top-rating "The Ellen DeGeneres Show," which she hosted from 2003 up to 2022. The show earned the Louisiana native a whopping 61 Daytime Emmy Awards — from Outstanding Talk Show Host to Outstanding Entertainment Talk Show — throughout its 19-year run (per IMDb). For his part, Leno became a late night legend after hosting NBC's "The Tonight Show" for over two decades — from 1992 through 2009. After being succeeded by Conan O'Brien, Leno returned to the post in 2010, but he ultimately handed the reins over to Jimmy Fallon for good in 2014, per People. Currently, Leno hosts the Emmy-winning web series "Jay Leno's Garage" — which has landed a primetime spot on CNBC and is on its seventh season — and is the host of the syndicated comedy game show, "You Bet Your Life."
Having been part of the same industry for decades, not many fans would be surprised to learn that DeGeneres and Leno are great friends. But what do we know about their friendship? Let's take a look. 
Ellen DeGeneres and Jay Leno met in the 1980s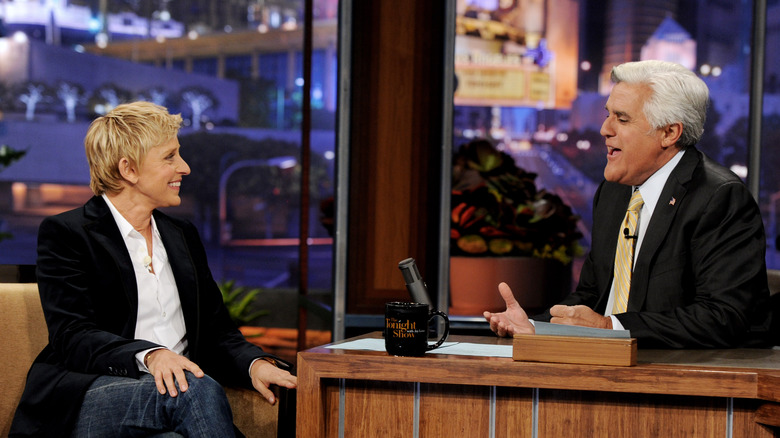 Kevin Winter/nbcuniversal/Getty Images
Ellen DeGeneres has been friends with Jay Leno for over four decades. The two stars met in the '80s at a comedy club in San Francisco when DeGeneres was just starting out as a comedian, according to Daily Mail. Reminiscing about the first time she met Leno, DeGeneres said, "It was a big deal that I was working with Jay Leno, and I was on the poster with him and he signed it with 'See you at the top!' It made me feel like, 'Oh my God he thinks I'm going to make it to the top!" For his part, Leno said he always thought that DeGeneres was really funny. (He even compared her to comedy icon Phillys Diller once.) "Comedy is comedy," said Leno, who went on to note how he hated the term "comedienne" when referring to female comedians. "Funny is funny, which is what I like," he said. 
During his time hosting "The Tonight Show," Leno had DeGeneres on as a guest on multiple occasions — and per ET, he'd also appeared on her daytime talk shows a few times as well. In 2014, Leno went on "The Ellen DeGeneres Show" to talk about his decision to leave "Tonight" after more than two decades. "I mean, I was always a road comic. This was my day job. So it was like, 'Oh, it just lasted 22 years," he said. He also caught up with DeGeneres during a guest appearance on "Ellen" in early 2022. Asked if he misses hosting, he said, "No, I stopped when it was just about right. ... It was fine. 22 years, perfect. That was just the right amount of time."
Jay Leno supported Ellen DeGeneres amid toxic workplace allegations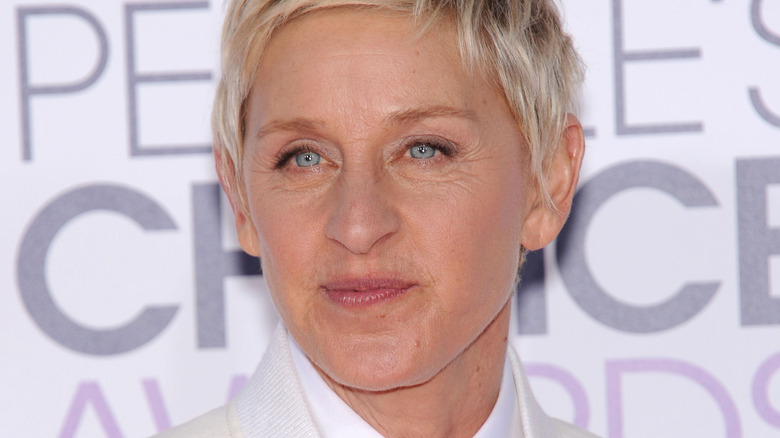 DFree/Shutterstock
In 2020, Ellen DeGeneres faced immense media scrutiny over bombshell claims that she fostered a toxic work environment at "The Ellen DeGeneres Show." The accusations — which included reports of sexual harassment, discrimination, and bullying — prompted the show's producers to launch an internal investigation and DeGeneres to issue a public apology. It also led to three executive producers being fired. "I learned that things happen here that never should have happened," said DeGeneres, via The New York Times. "I take that very seriously. And I want to say I am so sorry to the people who were affected." "The Ellen DeGeneres Show" officially came to an end on May 26, 2022, after nearly two decades and a successful 19-year run.
Amid the backlash against her, several celebrities such as Ashton Kutcher and Diane Keaton expressed their support for DeGeneres publicly. "I haven't spoken with @TheEllenShow and can only speak from my own experience. She & her team have only treated me & my team w/ respect & kindness," tweeted Kutcher. Meanwhile, Keaton said she has always enjoyed her time at "The Ellen Show." "I'VE SEEN HOW THE AUDIENCE EXUDES HAPPINESS AND GRATITUDE. SHE GIVES BACK TO SO MANY INCLUDING ME," the actor adds. And joining the chorus was Jay Leno, who dismissed the allegations against DeGeneres as mere "hearsay." He also described DeGeneres as a kind and generous friend. "I don't discard a 40-year friendship on hearsay. The Ellen I know has raised over $125 million dollars for charity and has always been a kind and decent person," he said. "I fully support her."