Kylie Jenner Gives Fans A Closer Look At Her And Travis Scott's Son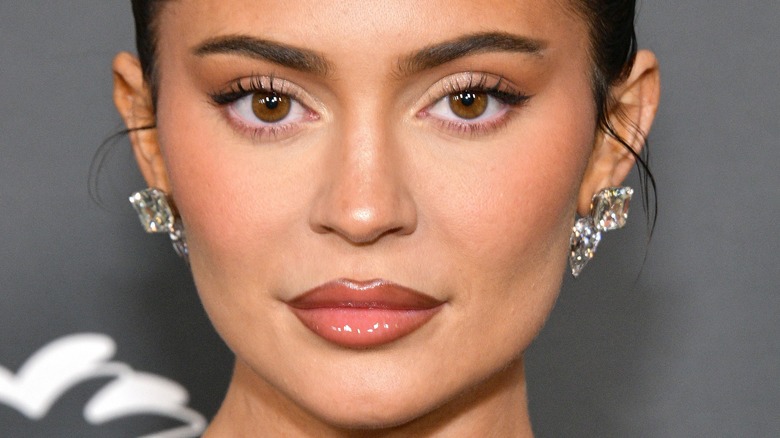 Araya Doheny/Getty Images
The hoopla surrounding the birth of Kylie Jenner and Travis Scott's son doesn't appear to be letting up anytime soon. The couple welcomed their second child in February, with Jenner sharing a black and white photo of her newest addition on Instagram along with the caption "2/2/2022." Weeks after the child was born, it was revealed that Jenner and Scott named the baby Wolf Jacques Webster, but the two have since decided to switch his name.
"FYI our son's name isn't Wolf anymore," the entrepreneur wrote in an Instagram story in March (via CNN). She added, "We just really didn't feel like it was him. Just wanted to share because I keep seeing Wolf everywhere." Despite their change of heart, the baby's name is still legally Wolf, according to Jenner. The Kylie Cosmetics founder revealed the news to fans during the Season 2 finale of "The Kardashians," and suggested that she may reveal Wolf's new name during the next season of the family's reality show. 
Now, Jenner is finally giving fans a closer look at her son with in her latest Instagram post.
Kylie Jenner posts more photos of her son
Kylie Jenner has remained relatively mum about the birth of her second child with Travis Scott, who they previously called Wolf. Since the baby's birth, Jenner has only ever shared slight glimpses of him online. The reality television star has been more open about showcasing her eldest child, Stormi, than she has been to sharing snaps of her and Scott's young son. However, on October 5, the reality star posted a slideshow filled with images on her Instagram account, and one of the photos shows her son and Stormi in nearly identical outfits, though the picture is closely cropped on their feet. Now, the 25-year-old is giving fans another look at her possibly soon-to-be-publicly-named son just a few months shy of his first birthday.
On November 28, Jenner shared a photo dump from her time in recent weeks and surprisingly included several images of her second child. In two photos, the youngest of the Kardashian-Jenner clan is seen frolicking with her son in a field, although she carefully hides his face from the camera. In another photo, Jenner is seen walking next to Stormi, with the as yet unnamed baby in tow.