Christina Haack Breaks Down Claims That She Can't Post Her Youngest Son On Social Media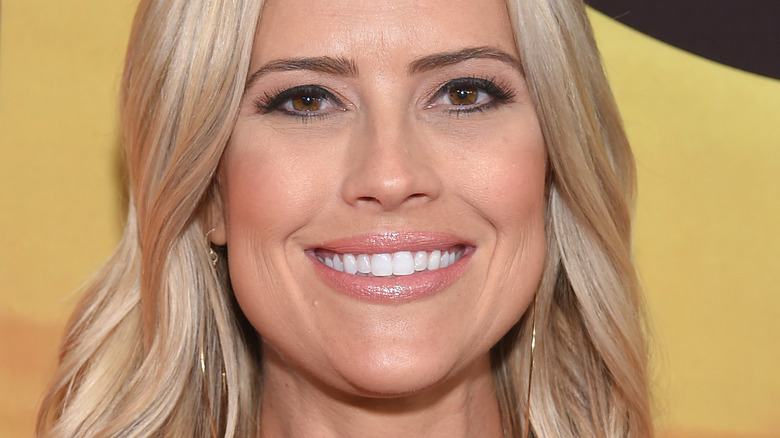 DFree/Shutterstock
Christina Haack and her ex-husband Ant Anstead are dealing with a messy situation. The former couple started dating in October 2017 and were together for a year before pulling off a surprise wedding in December 2018, per Insider. Within months, they took their relationship to the next level and gave birth to a baby boy in September 2019. However, a year after they welcomed their son, the two decided to call it quits. While they appeared to be co-parenting very well at the time, things took a turn for the worse. 
In April, Anstead took matters into his own hands and involved the court in trying to get full custody of their child. According to documents obtained by TMZ, the television personality alleged Haack was an unfit mother and noted she only spends "9 full days each month" with Hudson. He also brought into a question a time their son had a sunburn and how the "Flip or Flop" star didn't address the medical issue properly. In another situation, Anstead also claimed that his ex-wife allegedly dropped off their son without revealing that her family had recently been diagnosed with COVID-19. "If this was really about Hudson, as he says, this should have been handled privately with a private judge or mediation, as myself and my attorney have suggested," she told Us Weekly.
As their legal battle continues, Haack is opening up more about her issues with Anstead. 
Christina Haack fires back at Ant Anstead's claims about their son
Christina Haack shared a family photo on social media and fans quickly pointed out something very usual with the post. The television personality was pictured alongside her husband Joshua Hall and her three children, but what stood out the most was that an emoji was placed over son Hudson's face. Haack explained that a judge never said she couldn't post her son. However, she has decided to not do so because she is tired of the false allegations. "I CHOSE and choose not to post Hudson because I was exhausted with Instagram being used as a tool against me." she wrote on her Instagram Story (via Us Weekly). "This has nothing to do with ads, people need to wrap their heads around the fact that none of this actually has to do with advertisements," she continued. "This is about CONTROL." 
According to Ant Anstead's filings, he added that Haack was exploiting their son on social media for money and attempted to stop her from using Hudson in any paid ads, per ET. Therefore, she made the decision to no longer share her son to prove that those claims are untrue. "Sucks YOU can't show YOUR sons face but it's ok for him makes no sense at all," one fan wrote. "It's just sad we can no longer see Hudsons face along with his siblings," another commented. 
It's unclear what will happen, however Haack will no longer share her son with the world.