What Really Happened To Christina Hall's Wedding Ring From Ant Anstead?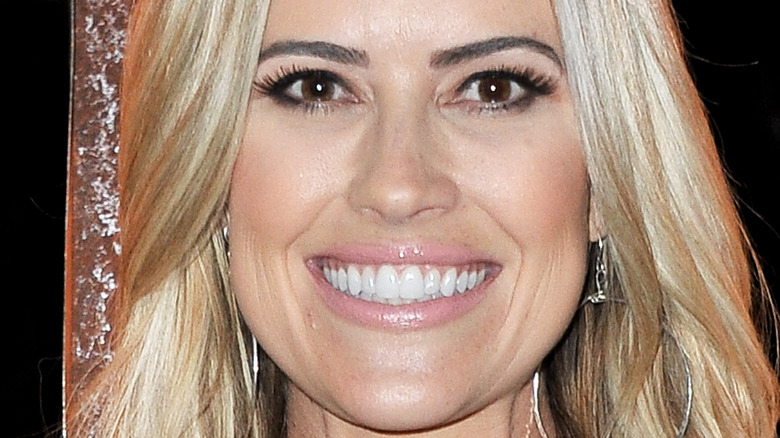 Allen Berezovsky/Getty Images
Christina Hall (who you may also know as Christina Haack before she wed Joshua Hall) married her second husband, Ant Anstead, in December 2018, and the two seemed as happy as could be as they blended their families together (Christina shares two children with her former husband, Tarek El Moussa). Speaking to People on her romantic wedding day, the "Flip or Flop" star confirmed she'd be changing her name (she was then known as Christina El Moussa) to reflect her relationship, gushing, "It has a nice ring to it, doesn't it? Christina Anstead. We couldn't be any happier!"
But this one wasn't meant to be, and the now ex-couple, who welcomed son Hudson together in September 2019, announced they were going their separate ways in September 2020. "Ant and I have made the difficult decision to separate," she wrote in a statement shared to her Instagram account, which has since been removed, per People. "We are grateful for each other and as always, our children will remain our priority. We appreciate your support and ask for privacy for us and our family as we navigate the future."
But what happened to the former couple's assets in their split? And more importantly, where did her stunning wedding ring end up?
Christina Hall kept her wedding ring after divorcing Ant Anstead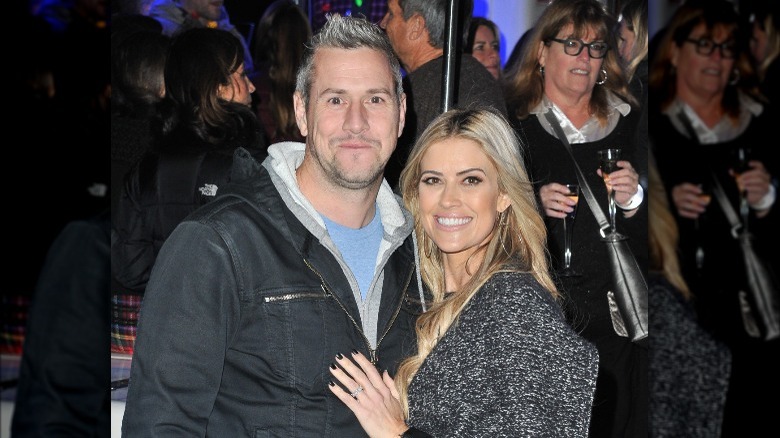 Allen Berezovsky/Getty
It turns out Christina Hall, at least initially, held on to the wedding ring her now former husband Ant Anstead placed on that special finger in 2018. In legal documents obtained by TMZ in July 2021, it was revealed that Christina kept the ring, as well as two cars, a Range Rover and a Bentley, in their divorce.
Those items are sure to add up for the house flipper, as her wedding ring alone is sure to be pretty pricey. Christina's fans got a good look at her diamond encrusted ring back in 2019 when People shared close up photos of the stunning jewelry piece, which was reported to feature a whopping 16 emerald cut diamonds on a platinum band. The ring was from Randall Scott Fine Jewelry & Watches and is thought to weigh an impressive 8.5 carats.
It wasn't confirmed exactly what happened to Anstead's wedding ring, which was a more simple black band sans diamonds, though TMZ confirmed he kept a complete hold of his businesses as well as seven cars, including a Range Rover and a Land Rover.
Does Christina Hall still have her wedding ring from Ant Anstead?
While we know Christina Hall kept her wedding ring from Ant Anstead, whether or not she still has the jewelry today is another question. One thing we do know for sure, though? This reality star has two stunning new rings in her collection since she got that 8.5 carat wedding band.
Christina got engaged to Joshua Hall in September 2021, and we're guessing with the gorgeous ring he presented her with, she probably wasn't thinking at all about her old wedding ring. Joshua proposed with a rectangular cut diamond ring, which also featured diamonds on the band, with Page Six reporting it weighed five carats. The jeweler, Benny Hayoun, is actually a close friend of Christina's too, and designed the jewelry especially for her with Joshua's input. "He had in his brain all of what he wanted to do. It took me four or five days to make it happen because he insisted on making it by hand, meaning there's no wax, no computer programming involved," Hayoun shared, telling E! News the ring was worth a massive $200,000.
Christina didn't appear to show off her third wedding ring in the media the same way she did her second, though she proudly wore the band in photos shared via social media from her and Joshua's wedding in September. The snaps from friends and family appeared to confirm the ring is a silver band that sits comfortably with her engagement ring.