Why Meghan Markle Had To Leave Her Dog Behind After Becoming A Royal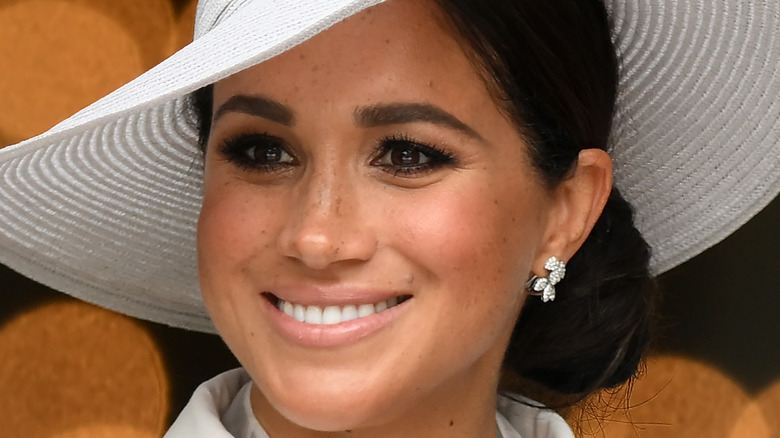 Wpa Pool/Getty Images
Joining the British royal family is no easy task for anyone who hasn't grown up as a member of royalty, and that was certainly the case for the American actress Meghan Markle. The former "Suits" star — officially known as Meghan, Duchess of Sussex, since her marriage to Prince Harry in 2018 — has faced no shortage of challenges. In 2020, the couple revealed some of these battles in a highly publicized television interview with Oprah Winfrey, following their decision to step away from their duties as senior members of the royal family.
One of the stranger requirements of becoming a royal, beyond shutting down her lifestyle blog, The Tig, was that Markle had to give up more than just her privacy and online presence. Sadly, the actress-turned-royal decided to re-home one of her pet dogs with friends ahead of her move from Toronto, Ontario, to the United Kingdom, as was mentioned by ET Canada.
Travel requirements were cited as the reason for the dog's new home
When Meghan Markle was planning her move to the United Kingdom, she owned two dogs, Bogart, a mixed breed, and Guy, a beagle, The Blast reported. Although the latter, Guy, moved with her, Bogart stayed behind (via ET Canada). A statement released at the time by Kensington Palace to The Blast explained, "It takes a toll on an animal to travel so far across [the] Atlantic combined with the hard, long process of getting approval ... It's in the best interest of the animal's well being to stay."
However, there was reportedly a different reason for Markle not bringing Bogart along with her and Guy. "Meghan adored that dog, but the decision not to take him back was based on Bogart's relationship with Harry," a source told The Sun. The same source stated that Markle did not think it would be fair to her dog to have him living with her husband (via The Sun).
Dog Guy was injured in the United Kingdom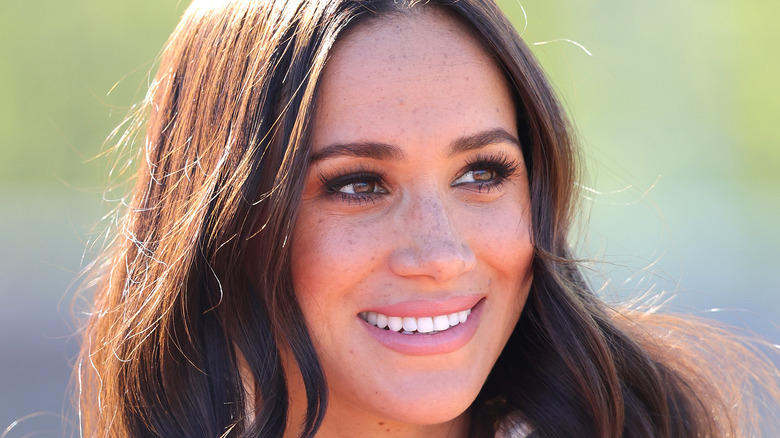 Chris Jackson/Getty Images
After he arrived in the United Kingdom, Meghan Markle's other dog, Guy, was reportedly injured, breaking two of his legs under unpublished circumstances (via the Daily Mail). In hindsight, Glamour speculated that another bit of news related to Guy hinted at Markle and Prince Harry's decision to relocate back to Canada.
In December 2019, shortly before Harry and Meghan stepped back from their royal duties, the couple was spotted hiking with Bogart and Guy during their holiday in Canada. Of Guy being back in North America, one source commented in reference to Markle and the beagle, "She wouldn't have considered a move again for him if it wasn't going to be at least semi-permanent" (per the Daily Mail).
In August 2022, the couple adopted an older beagle named Mamma Mia from the Beagle Freedom Project (via Cosmopolitan). They also own a female black Labrador named Pula, whose name is shared with the currency of Botswana (via Parade). (The Bank of Botswana's explanation clarifies that "pula" means "rain" or "blessing," so the dog might not have been named after the currency itself.)