Inside Robin Roberts' Tense Relationship With George Stephanopoulos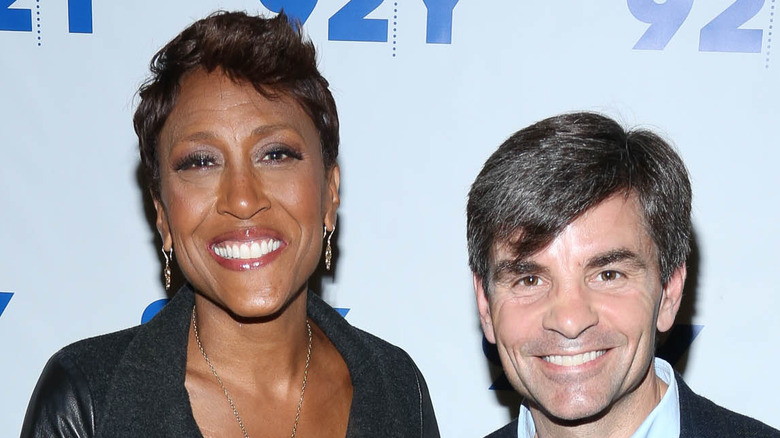 Rob Kim/Getty Images
If there's one thing Jennifer Aniston and Reese Witherspoon's AppleTV+ series "The Morning Show" has taught us, it's that there can be more going on behind the scenes of America's morning shows than we might realize. While the show's anchors usually seem like nothing but great friends and professional co-workers on-screen, there have been plenty of rumors over the years that may not actually be the case.
Two of those who know all about the ever-churning morning TV rumor mill are Robin Roberts and George Stephanopoulos. The twosome have been staples on ABC's "Good Morning America" for many years now, with Roberts making her first appearance as a sports reporter all the way back in 1995 while Stephanopoulos became one of the show's most visible figures a few years later when he started appearing on the series in 2007. The two anchors have always seemed pretty cordial and professional with one another on air — but there have been plenty of rumors to the contrary when it comes to what things are really like between these two behind the scenes.
Robin Roberts and George Stephanopoulos faced feud rumors
Rumors swirled in August 2021 that Robin Roberts and George Stephanopoulos may not actually be as close as they appear on-screen when Daily Beast claimed the two supposedly had falling out over the way ABC handled sexual assault allegations that were made against former "Good Morning America" executive producer Michael Corn. It was claimed Stephanopoulos had allegedly been aware of the allegations for a while, as the accuser worked in his team, while Roberts was apparently really not happy about the situation at all — and made that clear on a conference call with her colleagues. "If this happened to someone on my team, I would have burned the place down," she purportedly said, which it was suggested may have been a dig at Stephanopoulos for allegedly not doing more with his knowledge. But, not so fast, according to ABC News. A spokesperson denied Roberts was making a dig at her co-star, hitting back, "[Roberts] told him personally that she wasn't referring to him and called the team the next day to reiterate that her comment was not about any one individual."
As for the lawsuit, Deadline reported in October 2021 that Corn filed to have the lawsuit dismissed, and Los Angeles Times confirmed in June it had been dismissed. According to The Sun, though, the woman who made the allegations filed an appeal.
But that wasn't the only time it was hinted there may be tension between Roberts and Stephanopoulos.
Did George Stephanopoulos throw shade at Robin Roberts?
Almost a year to the day after the Robin Roberts and George Stephanopoulos feud rumors first began, The U.S. Sun claimed things seemed a little tense between the two on air. It all went down after "Good Morning America" aired a throwback clip of Roberts singing and dancing in a 1980s ABC promo video, and Stephanopoulos made a remark some thought was shady. "You were young and hungry, huh?" he told Roberts, to which the star, who was laughing, responded, "I needed the money George, I needed the money. I can't believe you said that."
Roberts then appeared to get a potential dig in via Instagram, as she shared the clip alongside the caption, "Talk about waaaaay back Wednesday. It was 1984 and yes @gstephanopoulos I was young and hungry!!" Some fans clearly weren't happy about Stephanopoulos's response in the comments section, as one fan commented, "Rude @gstephanopoulos." Another suggested Roberts may not have been happy about her co-star's remark, writing, "I've never seen Robin with 'I'm gonna murder you all in your sleep' eyes before."
However, Roberts and Stephanopoulos have never confirmed the feud reports and have only ever exchanged pleasantries in public. In fact, the latter was very much on hand to celebrate the former's big 20th anniversary "GMA" milestone and sent her a sweet message on Twitter in April to celebrate. "This morning, we are celebrating the heart of @GMA .. @RobinRoberts congratulations on your 20-year anniversary!!!" he wrote.