Source Gives Rare Insight Into Matt Lauer's Ongoing Struggles After Disgraced Today Show Exit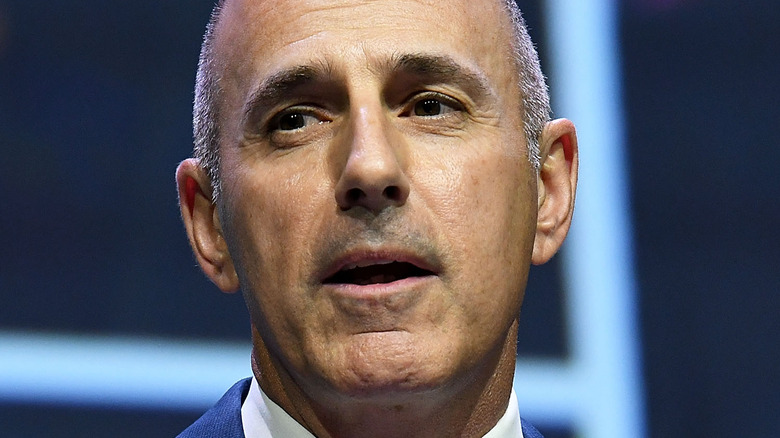 Slaven Vlasic/Getty Images
This article contains mention of sexual assault and rape.
Former "Today" show host Matt Lauer was riding high ... until it all came crashing down in 2017 following allegations of rape and inappropriate sexual behavior in the workplace. In November 2017, NBC Chairman Andy Lack and old friend of Lauer gave the television personality his pink slip and sent him packing, per Vanity Fair. "Our highest priority is to create a workplace environment where everyone feels safe and protected, and to ensure that any actions that run counter to our core values are met with consequences, no matter who the offender," Lack later said in a statement obtained by CNN about Lauer's termination. 
Since then, however, Lauer has more or less faded into obscurity. "People would check up on him for a while, but that's stopped to a degree," a source told People in November 2021. "He just stays to himself, he doesn't really reach out to people very much anymore or engage them and so he's been losing touch with a lot of people." But that's not all. It was also reported that his bank account took a big hit when he walked away from NBC completely empty-handed. "He's presumably sitting on mountains of money but then again, he had a lot of money in real estate," the source dished about how Lauer's extravagant lifestyle and net worth may have exponentially changed. 
But how is the disgraced former news anchor doing currently? And what does his life look like today? The answer may or may not surprise you...
If you or anyone you know has been a victim of sexual assault, help is available. Visit the Rape, Abuse & Incest National Network website or contact RAINN's National Helpline at 1-800-656-HOPE (4673).
Matt Lauer has 'withdrawn from several friendships'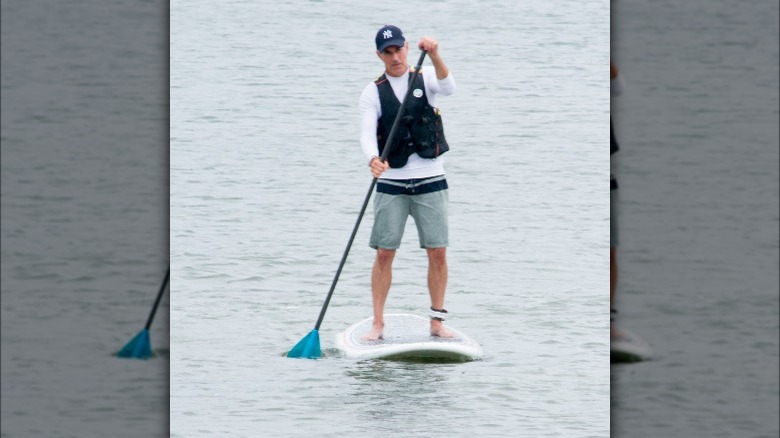 Steven A Henry/Getty
Hashtag no new friends ... and all of the old ones are on thin ice too.
A source told People in November that Matt Lauer is "kind of withdrawn from several friendships in the last year" and that his "level of trust has just diminished with a lot of people he considered friends" following his abrupt departure from the "Today" show. Case in point: Lauer's former colleague and "Today" co-host Katie Couric. As you may recall, Couric has not been shy about publicly expressing her feelings in the aftermath of the allegations surrounding Lauer. "It was really devastating but also disgusting," Couric told "Today" co-anchor Savannah Guthrie during a candid interview in 2021. But that's not all. Couric also released private text messages between her and Lauer in her 2021 memoir "Going There." According to Couric, she included those text messages in her book because she "thought they were very illustrative" of how their relationship "devolved and ultimately deteriorated." Alas, it's safe to say Lauer didn't see it that way. "He was really upset by Katie Couric's book," the insider divulged. "She shared their private text messages and she semi-slammed him. It made him lose trust."
As for now, the source claims that Lauer is in the midst of a "transitional time" and living life as a "semi-empty nester" as his two oldest children are in college and his youngest is in high school. It's also reported that he's "not working."
Matt Lauer does have some friends still despite distancing himself from his past
Debby Wong/Shutterstock
After Matt Lauer was fired from the "Today" show in 2017, he allegedly decided to live a more quiet (and private) life in his house in the Hamptons, per Town and Country. However, the house is now for sale. It was also said that he was "focused on family" following the sexual assault allegations, the firing, and the subsequent split from his ex-wife Annette Roque.
In 2021, it was reported that the former television show anchor found love again amid the allegations against him. Sources told People that PR executive Shamin Abas has been dating Lauer and is "very happy" with him. The two met decades ago and kept their friendship throughout the drama. The insider added that the PR executive is putting her boyfriend's past behind, and supports Lauer "in every way."
Although the former "Today" show anchor has reportedly "withdrawn" from most of his friends and past co-workers, his friendship with Al Roker is apparently slowly being restored, especially after Roker announced he was diagnosed with prostate cancer in 2020. "It is impossible to overstate how close friends Al and Matt were," a source told OK!. "They were friends for 30 years, and it was the most genuine relationship on the Today show." The insider added that although Savannah Guthrie and Hoda Kotb broke all ties with their former co-anchor, the situation was "much more complicated" for Roker.