Why Orlando Bloom Didn't Like Kissing Zoe Saldana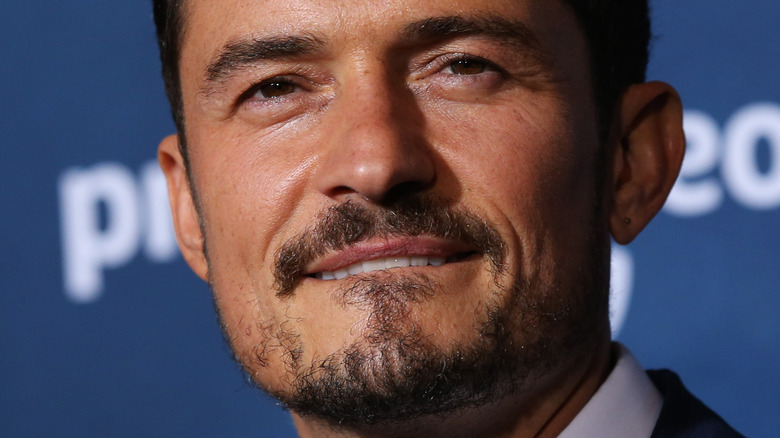 Phillip Faraone/Getty Images
Orlando Bloom and Zoe Saldana are two of the most famous actors in Hollywood. Over Bloom's decades-long career, he's appeared in projects like "Troy," "Lord of the Rings: Return of the King," and "Elizabethtown," to name very few (via IMDb). Saldana, on the other hand, is the only actor to have two $2 billion movies (2009's "Avatar" and 2018's "Avengers: Infinity War") under her belt, according to Yahoo. Twice have Bloom and Saldana professionally crossed paths. Early on in their careers, both actors appeared in "Pirates of the Caribbean: The Curse of the Black Pearl." Saldana, who later admitted to having a bad experience on set, played the role of Anamaria. Meanwhile, Bloom played Will Turner.
Bloom and Saldana also appeared in 2004's "Haven," a crime drama starring Bill Paxton that followed Carl Ridley — a rich, corrupt entrepreneur — and his daughter as they fled the United States for the Cayman Islands. Per IMDb, Carl's journey finds himself unintentionally (and dangerously) entangled in the lives of a group of strangers, including Boom's character Shy, who is involved in a passionate relationship with Andrea (Saldana), the daughter of his boss. Naturally, things become quite dangerous and complicated for Shy after Andrea's brother finds out. 
Even though Bloom and Saldana had scorching hot onscreen chemistry, they actually hated kissing each other in real life.
Orlando Bloom thought kissing Zoe Saldana was 'awkward'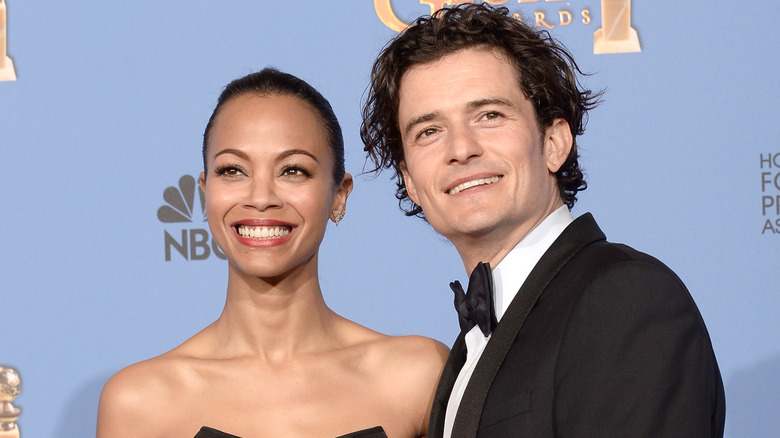 Kevin Winter/Getty Images
As it turns out, Zoe Saldana didn't enjoy all of the kissing scenes between herself and Orlando Bloom. Saldana reportedly described kissing her "Haven" co-star as "gross" to People. Once Bloom got wind of Saldana's comments, he shared his opinion of kissing her and it wasn't at all complimentary. "I hated kissing Zoe too!" Bloom told People in 2006. "I was like, 'Take your tongue out of my mouth, please. Your boyfriend is standing right there.'" Bloom continued, "Most people think kissing beautiful costars must be great. But it's always awkward, man." 
Given that "Haven" came out in 2004, it seems likely that the beau Bloom was referring to is Saldana's ex Keith Britton, a NASA project manager, whom, according to CBS News, she parted ways with in 2011 after 11 years. Despite the awkwardness, both Bloom and Saldana seemingly enjoyed the actual filming process. "We had a lot of fun; we were a bunch of kids playing in the sand really with lots of cameras — not that many, but — it was only a small movie; we had a lot of fun," Bloom said during a 2006 interview with Movie Web.
Zoe Saldana didn't mind kissing one of her co-stars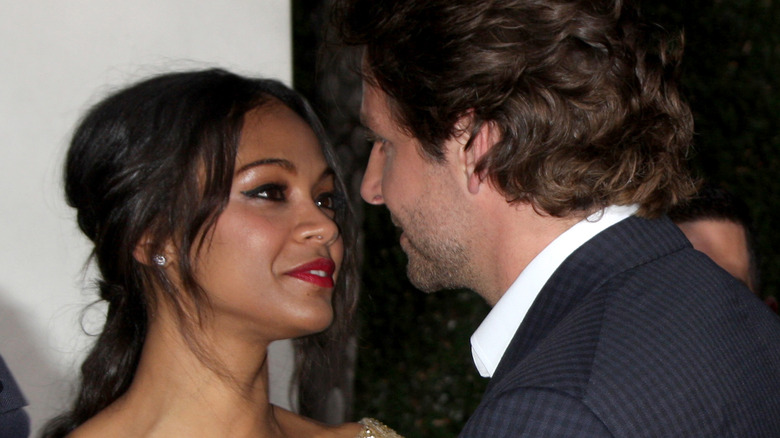 Kathy Hutchins/Shutterstock
Zoe Saldana didn't share the same negative feelings about romantic scenes with all of her co-stars — especially Bradley Cooper, who she teamed up with for 2012's "The Words." Per IMDb, the film follows writer Rory Jansen (Cooper) as he grapples with the fallout of accidentally benefitting from an unknown writer's work. In the film, Cooper and Saldana's characters play a couple in a passionate relationship. While promoting the film, Saldana gushed to The Hollywood Reporter about their onset dynamic. "Bradley is a very dedicated and open professional. It's really good when you can balance that with an actor as opposed to an actor that just comes prepared and just goes, 'don't f*** up my light' and 'this line is my close-up,'" said Saldana. "We didn't care where was the camera was," she added.
However, there was a bit more to that story, as Saldana and Cooper were actually dating while filming "The Words" (via Popsugar). In December 2011, rumors started swirling that the pair were an item. Then, the following month, a source shared with People that the then-unconfirmed couple snuck kisses at the Sundance Film Festival. "They were kissing in front of the fire and being very affectionate," the source told the outlet. Saldana and Cooper called it quits in March 2012 before rekindling their romance in September of the same year. However, it seems that things weren't meant to be, as they reportedly ended things for good just before New Year's in 2012. 
Their real-life romance may not have survived, but their onscreen love affair will live on forever.