Inside Janet Jackson's Long History With Paula Abdul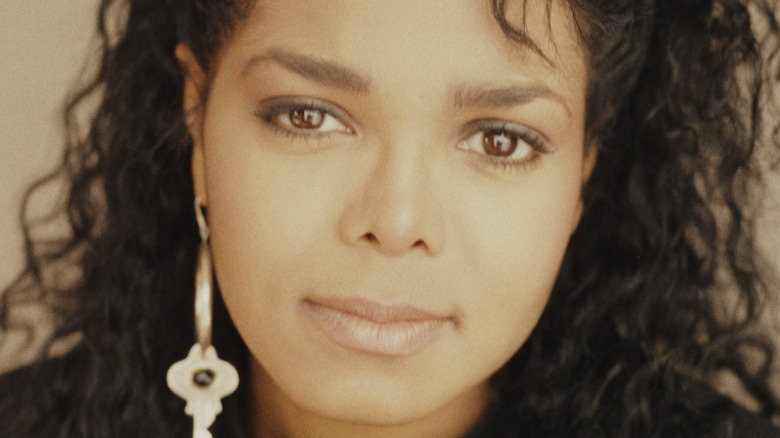 Tim Roney/Getty Images
We may receive a commission on purchases made from links.
Pop legend Janet Jackson has so many mega hits over the decades, including "Rhythm Nation," "That's The Way Love Goes," "Together Again,"  and "Love Would Never Do Without You." She has dominated the charts, all while staying out of the shadow of her superstar older brother Michael Jackson, per BBC. Who among us hasn't at one point uttered her famous verse from her hit song "Nasty," — "No my first name ain't baby. It's Janet. Miss Jackson if ya nasty!" We stan a queen. 
As many know, one of her friends, who just so happens to also be an '80s pop queen, is Paula Abdul. In 2021, when the "Opposites Attract" singer was about to return to the "American Idol" stage, years after leaving her famed judging position on the show, per Yahoo, Jackson made sure support her. "Sending luv to u today @paulaabdul 😘" the "Miss You Much" singer wrote on her official Instagram, including a rare throwback photo of the two. The big hair, the feathered bangs — '80s overload!
Before "American Idol," Abdul released hit '80s and '90s songs like "Forever Your Girl" and "The Way That You Love Me," and  her videos were full of killer dance moves and moving storylines. Her sweet love affair with Keanu Reeves in her "Rush Rush" video had a "Rebel Without A Cause" vibe, per Slate. But as it turns out, Jackson is the reason Abdul became a pop princess because their friendship, well, it goes way back.
Paula Abdul's career took off after choregraphing for Janet Jackson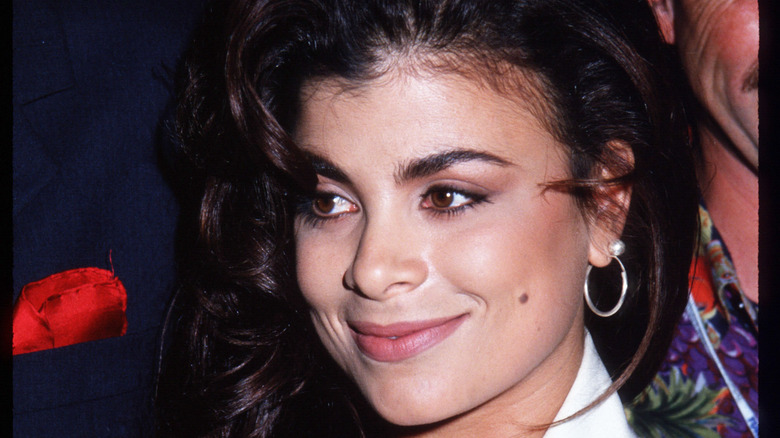 Barry King/Getty Images
In 1986, pop icon Janet Jackson was about to drop her seminal album "Control," which was inspired by a tumultuous time in her life. She had just divorced her first husband, James DeBarge, and she had fired her father Joe Jackson as her manager, per Jezebel. The album is full of songs that show she was more than just Michael Jackson's baby sister. Songs like "Nasty," "What Have You Done For Me Lately?" and "Control" are fierce, feminist, fiery, and in your face. For the accompanying music videos, she was going to need someone to choreograph dance routines that espoused her new outlook, vibe, and stance.
Enter stage right: Paula Abdul. In the '80s, Abdul was not yet a pop star and definitely not yet a judge of "American Idol." She was a cheerleader for the LA Lakers basketball team, and her squad was affectionately known as the Laker Girls. Still a teenager, she had her first brush with the famous Jackson family in 1984 when she was brought in to choreograph The Jackson's "Torture" music video, per The LA Times. That's when opportunity knocked. "I'm very grateful, because this was really the big start to my career," Abdul told Rolling Stone in 2014 about choreographing the "Nasty" music video. "I was really, really excited to work with her." Abdul also acted in the video, and then choreographed, "What Have You Done For Me Lately?" and "When I Think Of You." 
Did Paula Abdul have an affair with Janet Jackson's brother Jackie?
Kathy Hutchins/Shutterstock
We're so glad to see that pop legends Janet Jackson and Paula Abdul have a great relationship today, because for decades there were rumors that there was a huge rift between the two, and it all apparently was due to Janet's brother, Jackie Jackson, famed member of The Jackson 5 and The Jacksons. In 1991, news broke that Abdul had reportedly had an affair with Jackie in the early '80s while he was still married to his wife Enid Jackson, per The Baltimore Sun. This was right around the time the "Straight Up" singer had choreographed The Jackson's "Torture" video. The outlet also reported the affair may have led to an abortion. 
In their 1991 review of J.Randy Taraborrelli's biography "Michael Jackson: The Magic and the Madness," The Washington Post added to the rumors, noting that the biography claimed Jackie's wife Enid was so infuriated by the affair, there was an altercation between her and Abdul, resulting in the "Cold-Hearted Snake" singer being yanked out of a car.  This led to an alleged falling out between Abdul and Janet. In 2012, The National Enquirer reported in their print edition (via Celebrity Dirty Laundry) that Janet still considered the "Rush Rush" singer to be a "homewrecker." It would seem time heals all wounds!