Patrick Mahomes' Wife Brittany Had Her Own Professional Sports Career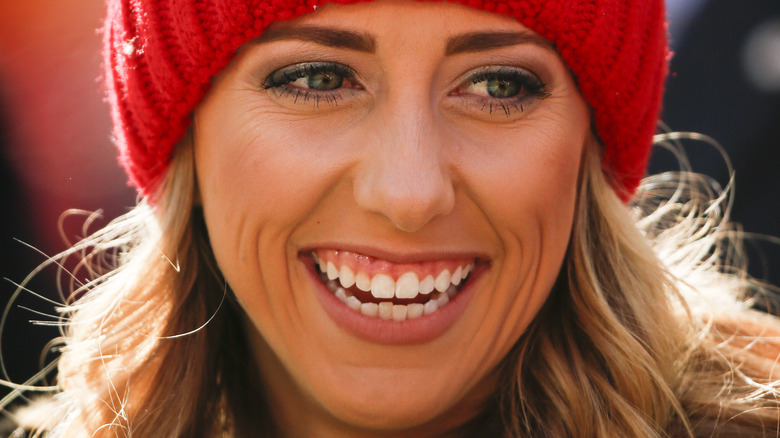 David Eulitt/Getty Images
Today, Brittany Mahomes (née Matthews) is probably best known as the wife of NFL star Patrick Mahomes. Brittany regularly attends her man's games — and her outspoken nature has attracted quite a lot of attention over the years. Case and point? When she got a little overzealous back in October 2021 after Patrick's Kansas City Chiefs played the Buffalo Bills, and she ended up in a bit of a war of words with football fans. It all began when Brittany tweeted, "Refs are never in our favor," which caused plenty to clap back, with some pointing out that referees weren't supposed to be in anyone's favor. That's when Brittany ruffled a few more feathers by doubling down on her claim, tweeting, "I said what I said. Y'all so mad," before hitting back at a fan who asked her to tone things down a little. "In the nicest way possible...Shut up," she then fired back. Woah.
But it turns out there could be a reason why Brittany is so competitive and protective of her man's team. Something you may not know about the controversial football fan is that she actually had a pro sports career of her own that saw her head overseas to play. Who knew?
Brittany Mahomes played professional soccer in Iceland
Yep, it turns out Brittany Mahomes is a talented soccer player, and even headed to Iceland in 2017 to play the sport. The University of Texas Tyler Patriots confirmed the big news, revealing that the athlete (who was then known as Brittany Matthews) would be heading to Iceland to show off her skills. But while many people spend their whole lives practicing their sport to go pro, it sounds like playing professionally was actually never really her plan. "I didn't even see myself playing college soccer when I graduated high school," Brittany revealed, admitting that she began playing because she had a few friends who did and the training ground was close to her home. She did that for four years while at college, which she revealed had reignited her passion for the sport.
The university posted several photos of Brittany signing her professional soccer contract on Twitter. In the snaps, she had her proud then boyfriend (now husband) Patrick Mahomes by her side, as well as her family.
Brittany was clearly pretty excited about the opportunity too, and tweeted at the time, "Just when I thought I was gonna be tan again, I sign a contract to go play pro soccer in Iceland all summer! No better way to spend it."
Is Brittany Mahomes still involved with soccer?
Of course, things have changed quite a bit for Brittany Mahomes since 2017 — including her last name! The soccer star was overseas for one season and then returned to the U.S., where we know things got more serious with her boyfriend, Patrick Mahomes. He proposed to her in 2020 and they welcomed their first child together, a little girl, the following year. Brittany and Patrick married in March and then welcomed their second child, a son, in November. So we're guessing Brittany may be a little busy these days when it comes to getting back out on the field!
But don't think Brittany has totally packed away her sports passion for keeping active. Per Business Insider, after graduating college, Brittany launched her own fitness company and she's still very much involved in women's football — just not as much on the field. Brittany is actually the co-owner of the KC NWSL soccer team and, in June, The Sports Rush revealed that Brittany and Patrick were involved in a $70 million project to build them a new stadium which it's thought could be the first of its kind for a women's team.