Aaron Carter Had A Special Connection To The Backstreet Boys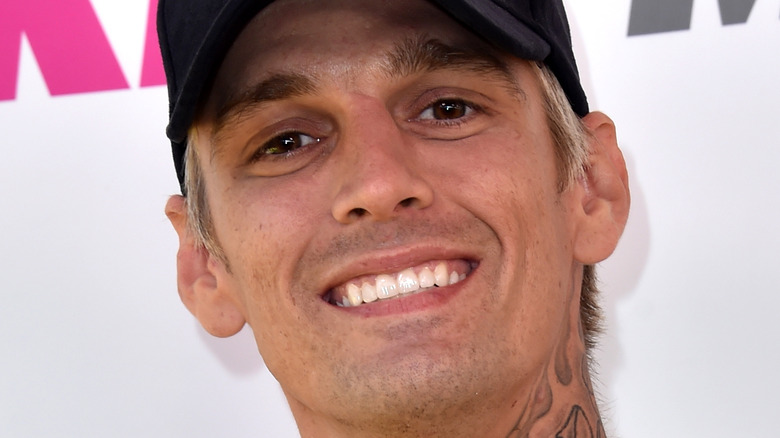 Frazer Harrison/Getty Images
Tributes poured in from fans and fellow celebrities following the news of Aaron Carter's death. From Lindsay Lohan and Hillary Duff to NSYNC and the Backstreet Boys, all of the stars and kids from the 1990s took to social media to honor the late artist.
Carter came to prominence in the 1990s for his catchy bubble-gum pop songs and his good looks. Before finding fame, Carter always knew he wanted to be a famous singer. As Carter grew up watching his older brother, Nick Carter, perform in the Backstreet Boys, there was no doubt what the younger Carter's future entailed. At only seven years old, Carter began singing everywhere he went, before beginning vocal lessons when he was 10-years-old. "The first thing I did is I asked my mom, and she said 'I'll take you to lessons.' So she started taking me to lessons," Carter said in 1998, per Billboard.
The lessons Carter took paid off. From there, Carter kept singing and began songwriting to jumpstart his career. But it wasn't until his big break that Carter saw the career he wanted so badly finally take off.
Aaron Carter sang live for the first time at the Backstreet Boys concert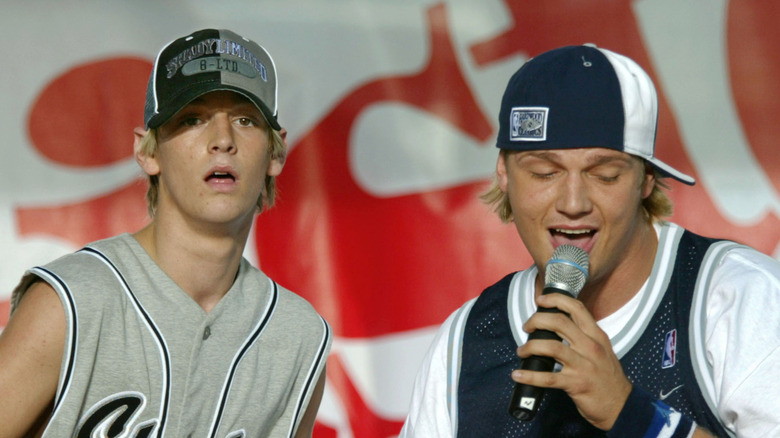 Stuart Ramson/Getty Images
No stage was too big for Aaron Carter when he first started his singing career. Which is a good thing because Carter's first live performance as a solo artist was opening for the Backstreet Boys concert.
Thanks to his older brother, Nick Carter, Aaron Carter followed along as the group performed their "Backstreet's Back" tour in 1997 and 1998. During the tour, the group went across the United States and held multiple shows throughout Europe. For different legs of the tour, the group had different opening acts. One of those opening acts was a young Aaron Carter, per Billboard.
For five months — from July until November 1998 — Carter opened each Backstreet Boys concert by performing his own songs. One of the songs Carter played, "Crush on You," ended up being such a hit on the road, it became Carter's first single as a solo artist. While performing on such a large stage at only 11-years-old isn't an easy task, during the tour, Carter revealed that luckily the Backstreet Boys and his brother Nick were there to help him every step of the way, per MTV.
The Backstreet Boys honored Aaron Carter following his death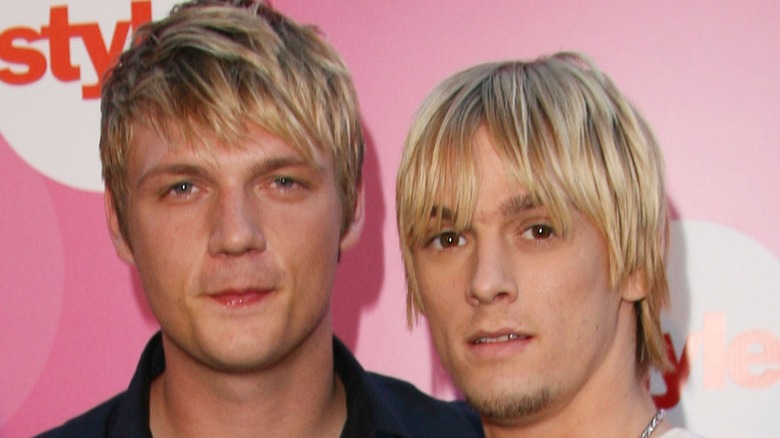 Chad Buchanan/Getty Images
Following Aaron Carter's death, the Backstreet Boys honored him in the same place he found fame with them years ago: during their tour and on the stage.
During the Backstreet Boys' latest concert in London, the group took a break at the end of the show to honor Carter. The moment came right after the group performed the last song of the night. "And that song is very special to us because that song is about family. And everybody in here, we all grew up together," Kevin Richardson said, per Today. "Tonight, we've got a little bit of heavy hearts 'cause we lost one of our family members yesterday and we just wanted to find a moment in our show to recognize him." While Richardson spoke, fellow Backstreet Boys hugged Nick Carter and the audience showed their support with cheers.
While Nick was part of the reason Carter found fame, the two had a strained relationship. Despite their rocky relationship, Nick honored his little brother on Instagram following his passing. "I will miss my brother more than anyone will ever know. I love you Chizz," he wrote. "Now you can finally have the peace you could never find here on Earth. God, please take care of my baby brother."