Why A Psychic Is Responsible For Hugh Jackman Meeting His Wife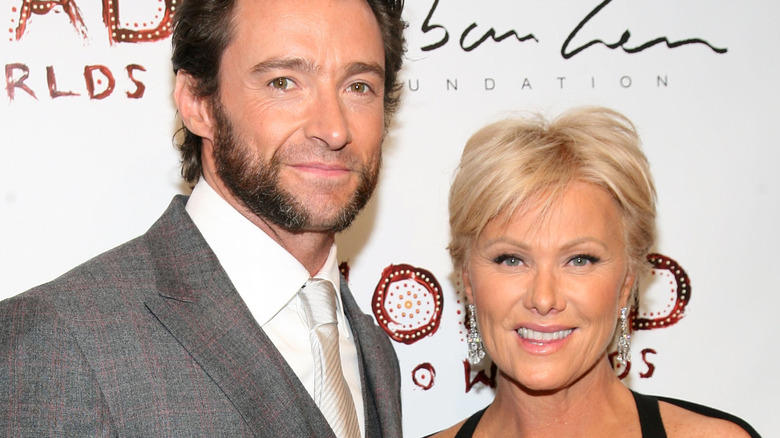 Astrid Stawiarz/Getty Images
Once Hugh Jackman met his future wife, Deborra-Lee Furness, there was never much doubt that the two would end up together. The pair met in their native Australia while working on the show "Correlli," which was headlined by Furness, who was a major star in the country at the time. Jackman, meanwhile, was a newcomer on the scene. Despite the difference between their professional standings — and significant age difference — they hit it off almost instantly. "From day one, we were best mates," the "X-Men" star recalled to Good Housekeeping in 2013. "We just clicked. We were giggling and laughing — we just connected," he added.
Soon after hitting it off on set, the two started dating and were married in 1996 after being together for less than a year, even though Jackman was not the type Furness had hoped to settle down with. "I had just made my New Year's resolution, I said, 'I am not dating any actors, and definitely not under 30,'" she said on the "Aussies in Hollywood" podcast in 2018, via USA Today. The actors were able to transfer their undeniable on-screen chemistry to a real-life relationship. "Professionally, I've never had anything quite like that again," Jackman said of working with his wife.
They fell in love quickly and maintained that spark years later. "So literally from day one, Deb and I had that feeling," Jackman said on Today in 2018. The couple's connection had a feeling of almost being preordained, and a psychic was apparently involved in the matchmaking.
Why Deborra-Lee Furness left America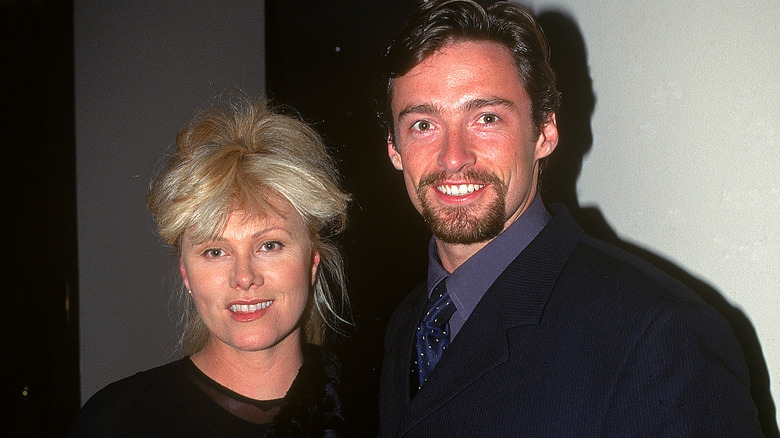 Patrick Riviere/Getty Images
After accumulating a string of acting credits in Australia, Deborra-Lee Furness moved to the United States in hopes of catapulting her career in the 1990s. However, she grew disenchanted with being away from home and sought guidance. "I'd had enough of Hollywood and I saw a psychic and she said, 'you have to go back to Australia,'" Furness said on the "Not an Overnight Success" podcast in April, via the Daily Mail. Once the "Shame" actor returned to her native country, her life started to fall into place, which included meeting her future husband, Hugh Jackman. "So I came back and literally everything the psychic said came true," Furness added. "I got this show 'Corelli' and [Jackman] was my co-star ... And the rest is history."
Although there was an undeniable connection between Furness and Jackman early in their relationship, there were also a few roadblocks, but those just made "The Greatest Showman" star more resolute. "I knew before Deb knew, even when she tried to break up with me, I knew," Jackman said on the "Aussies in Hollywood" podcast in 2018 about wanting to marry Furness early on, via USA Today.
Even though Jackman didn't have the advantage of clairvoyant guidance, he made up his mind about marrying Furness rather quickly. "I knew two weeks in to meeting Deb that we were going to be together for the rest of our lives," Jackman told Today in 2018. Decades later, the couple still believes destiny brought them together. 
The couple defend their marriage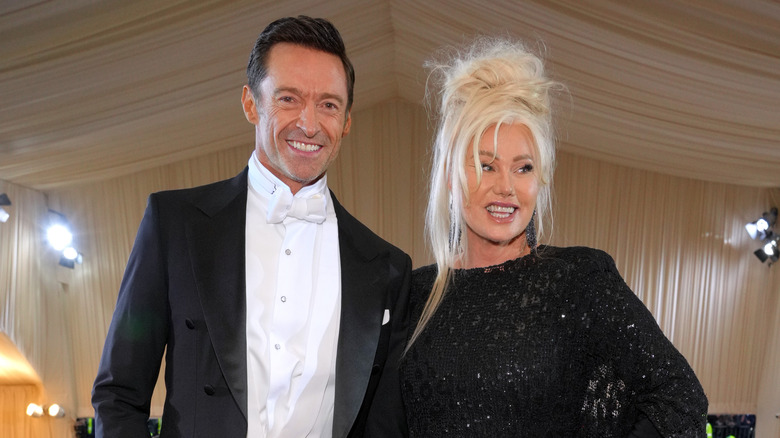 Kevin Mazur/mg22/Getty Images
As Hugh Jackman's career exploded in the United States after nabbing the iconic role of Wolverine in the "X-Men" series, Deborra-Lee Furness found herself on the defensive when discussing their relationship. Many people labeled her "lucky" to be married to a Hollywood A-lister — forgetting that she was the bigger actor when the pair met. "That to me is a putdown ... like you suggesting I won the chook raffle. I think we create our own destiny," Furness told Australia Women's Weekly in 2014 (via Time). She believed the universe would reciprocate positive actions. "If you want something, you put it out there with good intention and you realize it."
Over the years, Furness has also dispelled rumors about Jackman's sexuality, and referred to the gossip as "boring" and "silly." She explained how nonsensical the rumors seemed. "If he was gay, he could be gay. He didn't have to hide in the closet anymore. And he'd be dating Brad Pitt or whatever," she said on the "Not an Overnight Success" podcast in April, via Entertainment Tonight.
After years of marriage, Jackman's love for Furness hasn't waned. To celebrate 25 years of their union, "The Prestige" actor uploaded photos from their wedding in 2021 to Instagram. "Being married to you Deb is as natural as breathing," Jackman gushed in the caption. Once again, he mentioned how fate was involved in bringing them together. "From nearly the moment we met ... I knew our destiny was to be together," he added.