The Age Difference Between Hugh Jackman And His Wife Might Surprise You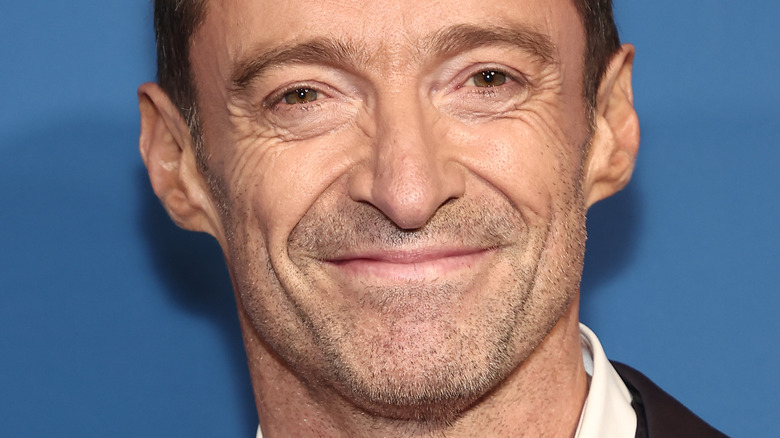 Arturo Holmes/Getty Images
Hugh Jackman is one of the most recognizable names in the industry as one of Hollywood's top actors. The Australian-born star has been in plenty of blockbuster hits like "Wolverine" and "Les Misérables," but his career started from humble beginnings. According to E!, Jackman's "first job out of drama school" in 1995 was a show titled "Corelli," where he met wife Deborra-Lee Furness. They struck up an immediate connection. "I knew very early. I knew before Deb knew, even when she tried to break up with me, I knew," he said on the "Aussies in Hollywood" podcast (via E!). "I managed to talk her out of it, thank God. I'm a very indecisive person; you know this about me, Deb really knows this about me. I can count on one hand the amount of times in my life anything has felt that clear to me."
The pair tied the knot in 1996, per Instagram, and they have been in love ever since. Jackman regularly raves about his wife on social media, and his post in honor of their 25th wedding anniversary is enough to melt your heart. "Being married to you Deb is as natural as breathing. From nearly the moment we met ... I knew our destiny was to be together. In our 25 years — our love has only grown deeper," the actor gushed, adding that they have "only just begun."
But there's one thing about this relationship you wouldn't expect — the significant age difference.
Furness is much older than Jackman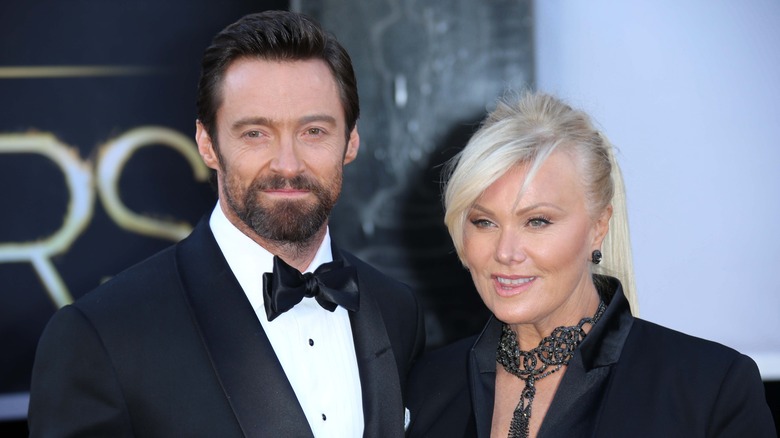 s_bukley/Shutterstock
You know what they say ... age ain't nothing but a number. In the world of Hollywood, there are plenty of couples with large age gaps, like George and Amal Clooney and Blake Lively and Ryan Reynolds. And guess what? Hugh Jackman and his wife, Deborra-Lee Furness, also have a big age gap — 13 years, to be exact. In this case, Furness happens to be the older party, but Jackman doesn't really think of it that way. In fact, he says he is the one who feels a lot older. "Anyone that knows Deb, literally, I am the old fuddy-duddy of the relationship," he told Katie Couric (via News 24). "She has two speeds: stop and go. She is always, 'Let's do this, let's do that.' And she is very funny, very quick." 
Jackman shared the same sentiments in an interview with People. "I'm literally the adult in the relationship. She's just like a little kid. I'm the [one saying], 'Babe, this is not a legal parking spot.' 'Oh, come on, Mr. Goody- Goody,'" he shared. In turn, Furness confessed that though she and her husband are madly in love, she gets pretty annoyed by everyone thinking that she hit the jackpot and making comments about how she landed such a handsome and successful man. "Lucky! Like I won a chook raffle," she said on "Anh's Brush with Fame." "People don't realize it's actually rude to say that." You tell 'em, sister!
Inside Hugh Jackman and Deborra-Lee Furness' family life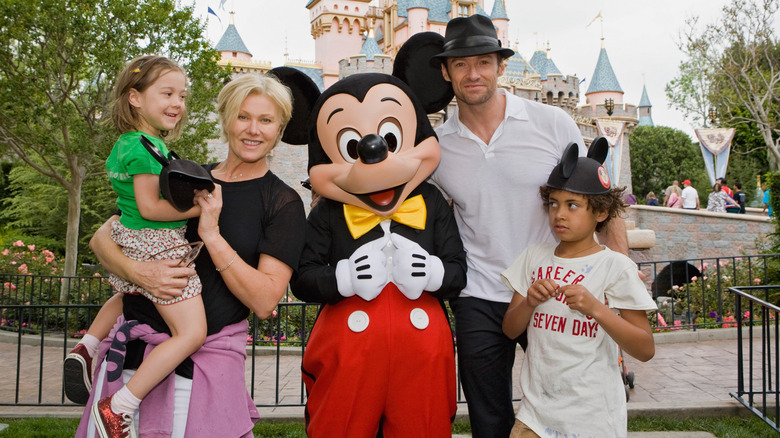 Handout/Getty Images / Paul Hiffmeyer/Disneyland
Hugh Jackman and Deborra-Lee Furness have built a beautiful life together, but one of the things that the pair struggled with early on was having children. According to People, the pair began trying for kids shortly after they got married, due to Furness' age. "We struggled, a couple of miscarriages, IVF — it's not easy, particularly on Deb," Jackman shared. They ended up adopting two children to grow their family. "The biggest need is in mixed-race kids. I want to tell my kids that ... it doesn't matter what sexual [orientation] you are, it doesn't matter what job you do, it doesn't matter whether your hair is straight or curly, if you're tall or short, man or woman, what race you are," Jackman told People. "What defines you as a human being is underneath all that." 
Furness talked about their adoptions with The Daily Telegraph, sharing that it was like jumping through hoops when they tried to adopt the kids in Australia. So, they went through the process in the United States. Furness also told People how she likes to dig into her kid's roots since they both came from different backgrounds. "When my son was younger, he found out he was part Bosnian, so we went and got this Croatian/Bosnian cookbook and he was very proud to carry that around when he was seven years old," she dished. "My daughter has a Mexican lineage, so we've been to Mexico." Ugh, how sweet!