The Special Relationship Anne Heche Had With Harrison Ford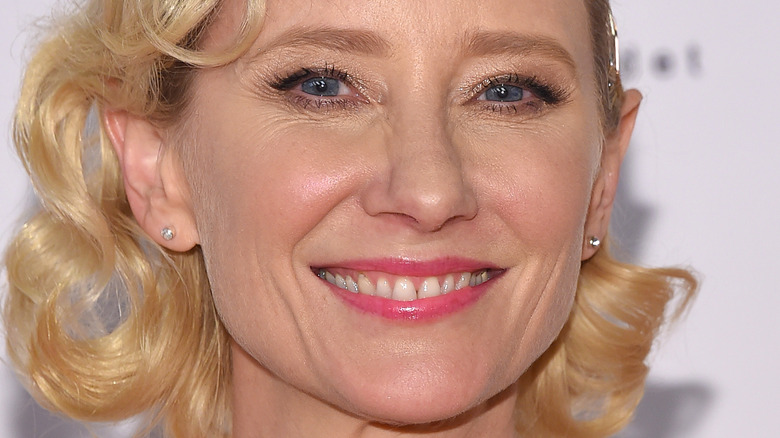 DFree/Shutterstock
Anne Heche rode the highest wave of fame in the 1990s when she took her recognition from the soap opera "Another World" to the silver screen with commercial successes like "Walking and Talking," "I Know What You Did Last Summer," and "Donnie Brasco." By 1998, Heche was sharing the screen with the likes of Harrison Ford, who played her love interest in "Six Days, Seven Nights." The Ivan Reitman adventure comedy was met with mixed critical reception, but Heche and Ford's chemistry was denied by no one. "Heche is plucky and has unforced charm, and does a great job of looking searchingly into Ford's eyes while he talks to her," the late film critic Roger Ebert wrote.
After "Six Days, Seven Nights," Heche's mainstream roles plummeted. Heche, who tragically died in August, spent the following years focused on directing and screenwriting. Heche slowly rebuilt her career, appearing in a number of indie films and Broadway productions throughout the 2000s. But she never found the same level of recognition she had enjoyed the previous decade. 
The timing of Heche's abrupt career decline is no accident. In 1997, the year she filmed her last big flick alongside Ford, Heche had just started dating Ellen DeGeneres — a relationship that immediately put her on Hollywood's blacklist, she told Page Six in 2020. "[It] changed my life forever," she lamented. The extent of the backlash was such that she nearly lost the "Six Days, Seven Nights" role. Heche only starred in it because of Ford.
Harrison Ford stood up for Anne Heche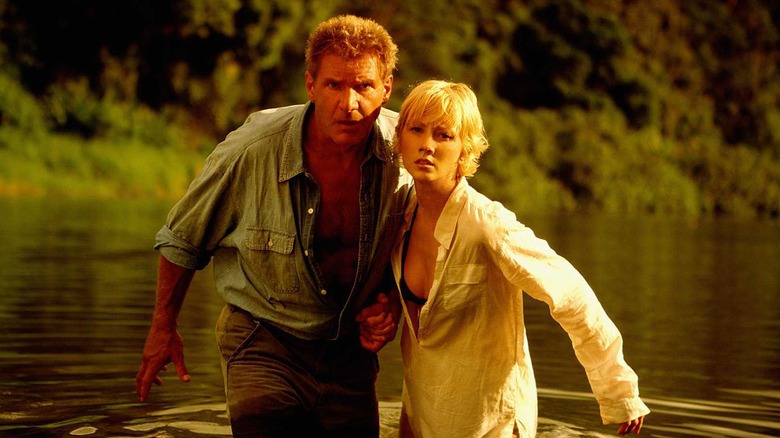 Getty Images/Getty Images
Just one day separated Anne Heche snagging the "Six Days, Seven Nights" role and her going public with her relationship with Ellen DeGeneres, Us Weekly noted. Heche took DeGeneres to the "Volcano" premiere, sending the media into a frenzy. Producers of her upcoming movie had a swift reaction to the news. "I would not have gotten that movie," she told Entertainment Tonight in 2020.
But the star of the movie, Harrison Ford, would have it no other way. "He said, 'Frankly my dear, I don't give a damn who you're sleeping with,'" she recalled. "'We're gonna make the best romantic comedy there is and I'll see ya on the set.'" Because Ford put his foot down, producers had no option but to continue with Heche as the female lead. And Heche was always grateful. "He fought a battle for me and I would be on any desert island with him any day," she said. "He's an extraordinary human being."
It came with a cost, as the studio drastically reduced her pay. "Everyone was like, 'Oh, my God, Harrison said yes, so I don't know, negotiate the deal. Just do it!'" she said on the "Trading Secrets with Jason Tartick" podcast in 2021 (via Us Weekly). But Heche was just happy to have a job. "Harrison Ford truly is my hero. I have done an honoring to him because the truth of the matter is that I owe him my public life," she said.
Anne Heche's fallout affected her relationship with Ellen DeGeneres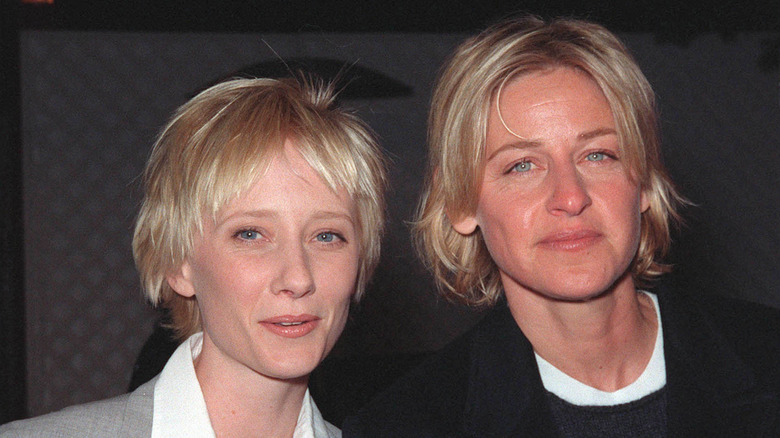 Featureflash Photo Agency/Shutterstock
The industry wasn't afraid to openly express its bigotry against Anne Heche. She felt the consequences immediately after revealing her relationship with Ellen DeGeneres, leaving no room for interpretation. "The stigma attached to that relationship was so bad that I was fired from my multimillion-dollar picture deal and I did not work in a studio picture for 10 years," she told Page Six.
DeGeneres's career also took a hit after she came out in 1997, with her ABC show "Ellen" ending the following year. "Everything that I ever feared happened to me," she told the Los Angeles Times Magazine (via Eugene Register-Guard). "I lost my show. I've been attacked like hell. I went from making a lot of money on a sitcom to making no money." But, according to Heche, DeGeneres valued her career goals about their relationship.
Eventually, DeGeneres's ambition pushed Heche away. "I broke up with her because her goal was to have a lot of money. Mine was to find love, and hers was, 'I want $60 billion,'" Heche said on her "Better Together" podcast in 2021 (via Newsweek). DeGeneres, for her part, has always kept mum about the relationship. "I never have and I won't [discuss it]," she told People in 2003. "At some point, people will stop bringing it up." She did, however, react to Heche's death. "This is a sad day. I'm sending Anne's children, family and friends all of my love," she tweeted.