Why Heather Locklear And Jack Wagner Really Called It Quits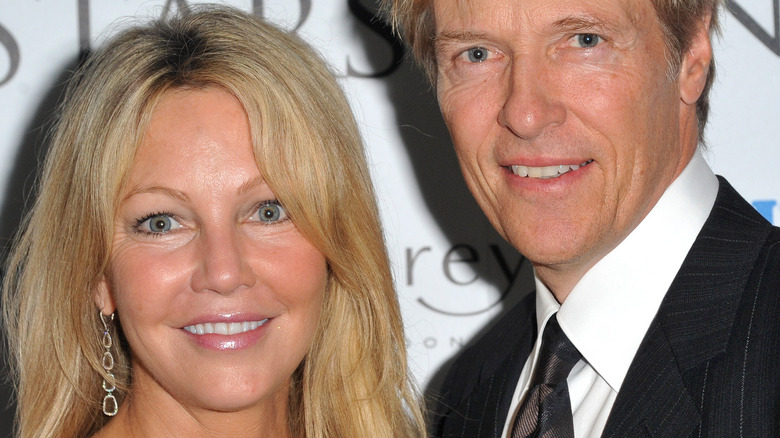 Samir Hussein/Getty Images
Heather Locklear and Jack Wagner played love interests when they starred in the hit 1990s drama Melrose Place. The two sparked dating rumors when they were spotted holding hands in 2007, per People. At the time, Locklear was going through a divorce with Richie Sambora, with whom she shares her daughter Ava. Wagner was previously married to Kristina Wagner and the two finalized their divorce in 2006.
Although Locklear and Wagner initially kept quiet about their relationship, the "Dynasty" actor confirmed the two were dating (via Hollywood.com). "If Jack said, 'Let's get married,' I'd go, 'OK!' But I have a daughter to consider. I'm trying to be a thoughtful role model and not selfish," she revealed.
In August 2011, Locklear and Wagner got engaged but just months afterward, the two broke things off, per The Hollywood Reporter. The following November, Locklear attended a movie premiere without Wagner and her engagement ring. Her rep confirmed that she and Wagner were no longer together, and many fans wondered what led to their split.
Heather Locklear and Jack Wagner chose their kids over their marriage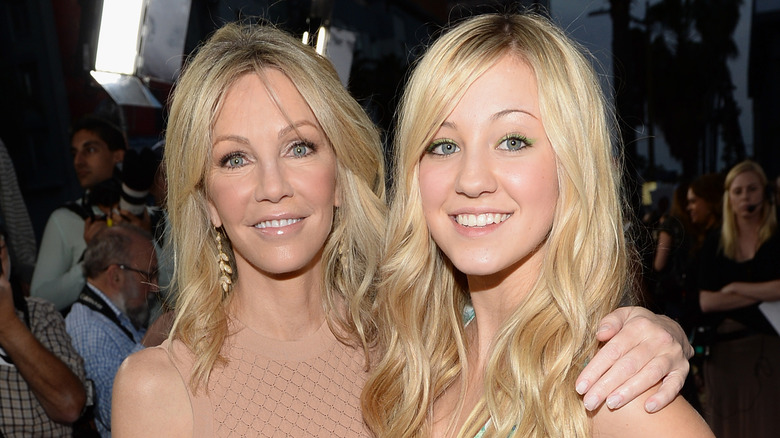 Michael Buckner/Getty Images
Just as news broke about Heather Locklear and Jack Wagner's breakup, the "All I Need" singer opened up about why the two parted ways. He told TMZ that the stress of planning their wedding proved to be too much for the couple and left them with little quality time with their respective kids. Wagner added that combining their two families would be too unsettling for their young children. At the time, Locklear's daughter Ava was 14, and Wagner's sons Peter and Harrison were 21 and 16, respectively. Sadly, Harrison was found dead in a parking lot in June of this year after battling addiction, per Us Weekly.
A few months after calling their engagement off, Locklear was rushed to the hospital. As reported by Yahoo! News, the actor's sister placed a 911 call and Locklear was taken to a hospital in Thousand Oaks. Although it was unclear what she was treated for, Locklear had previously had a scare when it was thought she had overdosed on prescription medication. Years later, Locklear had another overdose incident and Wagner lent her his support during her troubled times.
Jack Wagner offers Heather Locklear words of support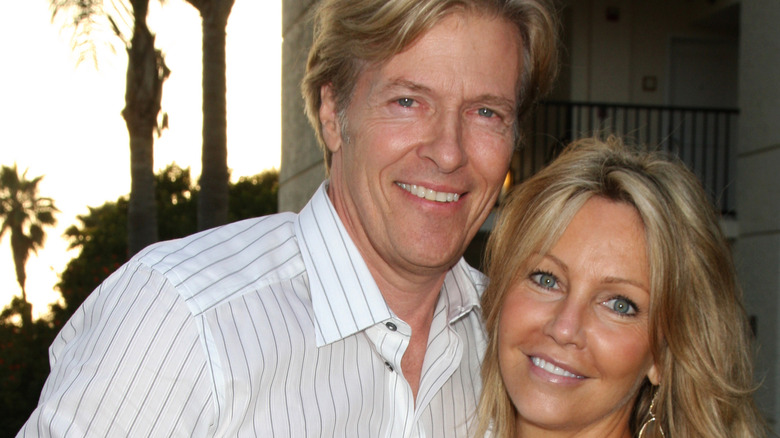 Kathy Hutchins/Shutterstock
In 2018, Heather Locklear was arrested after allegedly attacking a police offer and an EMT at her home after a 911 call was placed, per TMZ. According to the authorities, Locklear was extremely inebriated. The "TJ Hooker" star was charged with two counts of misdemeanor battery and was released upon a $20,000 bail. Hours later, Locklear was hospitalized again after an emergency call was placed regarding an overdose at her house, TMZ reported.
Following the incident, Jack Wagner shared with ET, "I just will stand by what I have said for a while and that is that we all have our struggles ... We either really work at getting well, you know, and it's just about when you make that decision to do it." Locklear's ex added that he loves her and that he had "nothing but loving thoughts and prayers for her."
Locklear and Wagner unexpectedly had a reunion in 2019 when they bumped into each other at a hair salon. Locklear shared an Instagram Story of herself with her hair in foils and her arm around Wagner, who also appeared to be getting his hair done (via Canoe.com). "Look who I ran into!" she wrote. Despite their happy run-in, there won't be any rekindling of their romance. According to Daily Mail, Locklear is happily engaged to her high-school sweetheart Chris Heisser and while it's unclear if Wagner is dating anyone, it's heartening to see the two former flames still friends.