Jameela Jamil Opens Up About The Seriously Strange Job She Had Before She Got Famous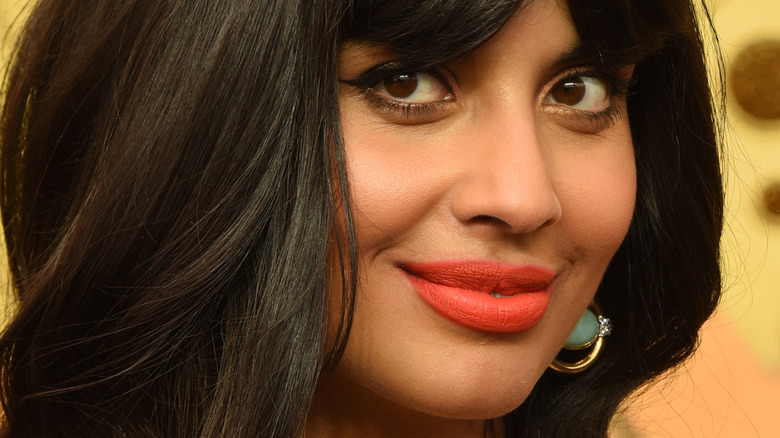 Kathy Hutchins/Shutterstock
Given the plethora of mega-mansions, private planes, and seemingly endless cash flow, it's easy to become envious of the filthy rich celebs who populate Hollywood. So take solace in the fact that many (if not most) celebs came from very humble beginnings. And a few of them had to do some seriously odd jobs before they started making big bucks. 
Take, for example, Brad Pitt, who used to dress up like a chicken at his restaurant job and play cabbie to strippers. "My job was to drive [the strippers] to parties and things," Pitt said of the driving gig (via Mirror UK). "I'd pick them up, and at the gig I'd collect the money, play the bad Prince tapes and catch the girls' clothes." Meanwhile, model Cindy Crawford was a corn shucker, a job she once describe as "hot, dirty work" (via Twitter). Then there was Taraji P. Henson, who used to impersonate Tina Turner on a cruise ship, per Page Six.
And while all of these jobs are enough to pique anyone's interest, actor and activist Jameela Jamil's odd job from yesteryear may be the strangest of them all.
Jameela Jamil was a human test subject
Jameela Jamil recently appeared on "The Jennifer Hudson Show" and shared an amusing (yet slightly disturbing) tale about a job she had fresh out of high school.
 "I left school with no credentials, because I left school... just before my 17th birthday," said Jamil. And because she didn't have any qualifications or degree, and wasn't "talented sexually," ruling out adult films, she became a human test subject, "which is where they, instead of testing on animals, test on humans." However, Jamil soon learned the job came with unwanted side effects. "I would let them test products on my skin and hair and body and I had psoriasis for a decade, so don't do that," she warned, adding, "I was willing to do almost anything for money, because I was 19."
Jamila's enthusiastic recounting of her previous life was met with amusement (and sometimes shock) from Jennifer Hudson. However, the Grammy award-winning singer, actor, and host knows a thing or two about odd jobs herself. Before Hudson was on "American Idol," she worked on a Disney cruise ship, and even made a return to the industry in 2014, per The Hollywood Reporter — though one can assume she had much better accommodations this go around.