Harrison Ford And Calista Flockhart's Age Gap Is Bigger Than You Thought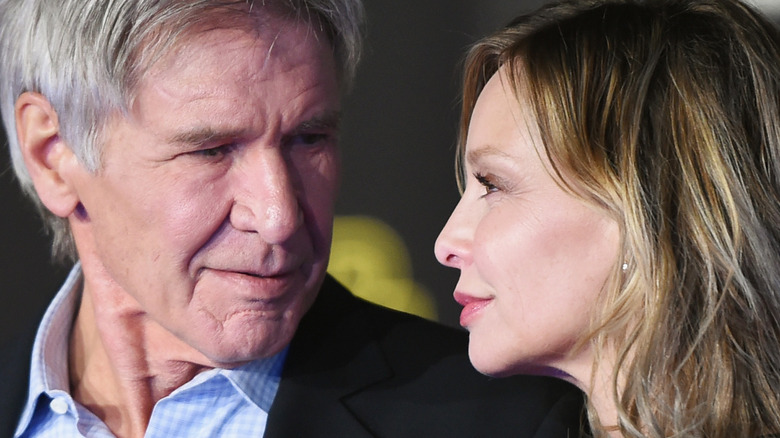 Jason Merritt/term/Getty Images
Having spent the last two decades together, it's safe to say that for Calista Flockhart and Harrison Ford, their age difference has never really posed a problem ... but how big is that gap, anyway? 
As noted by Entertainment Weekly, news of Calista and Ford's relationship first broke back in 2002 — and a year later, the couple confirmed they were an item. Per Entertainment Weekly, Ford couldn't help but gush over his new girlfriend, telling People, "I'm in love." At the time, they already seemed pretty serious. They had moved in together, and Ford revealed to the outlet that he had taken on an active role in Calista's then 2-year-old son Liam Flockhart's life, joking, "I'm good at changing diapers."
Six years after that interview, People reported in March 2009 that the couple was engaged, and in June 2010, the publication revealed that they had sealed the deal in a ceremony in New Mexico. More than a decade later, they're still together, effectively hushing any naysayers who believed their age difference would ultimately work against them. Our question remains, though. Just how big is the age gap between this celebrity couple? 
Harrison Ford is more than 20 years older than Calista Flockhart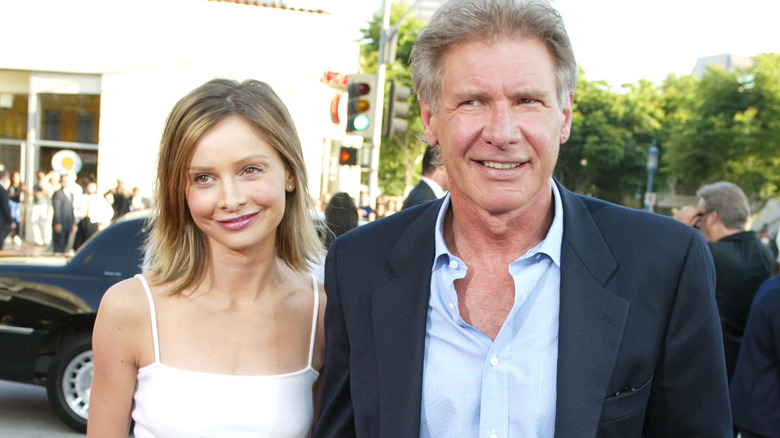 Kevin Winter/Getty Images
As of 2022, Calista Flockhart and Harrison Ford have been together for 20 years ... which is almost as big a number as their age difference. That's right: this couple has a 22-year gap between them. 
It's worth noting, however, that even early on, Flockhart acknowledged the disparity, if only to confirm that it's never been an issue for them. In fact, in their People interview, Flockhart revealed that there were times she forgot about it entirely (via Hello). "It doesn't faze me," she said. The "Ally McBeal" alum added, "It doesn't factor into our relationship at all." Beyond that, Flockhart quipped that, even though Ford was significantly older than her, one of the things she loved most about him was his boyish charm. "I like the way he looks first thing in the morning," she explained. "It's not handsome, it's more cute. He looks like a little boy," she mused. 
Flockhart pointed to her husband's youthfulness once again in 2017. According to Closer Weekly, the actor has often felt a little less spritely than her husband, despite him being 22 years her senior. "The truth is, sometimes I feel very much older than Harrison," she said. Well, given just how busy the now-80-year-old Ford has been of late — from the "Yellowstone" prequel "1923" to "Indiana Jones 5" — we get it.
Harrison Ford and Calista Flockhart's family is their No. 1 priority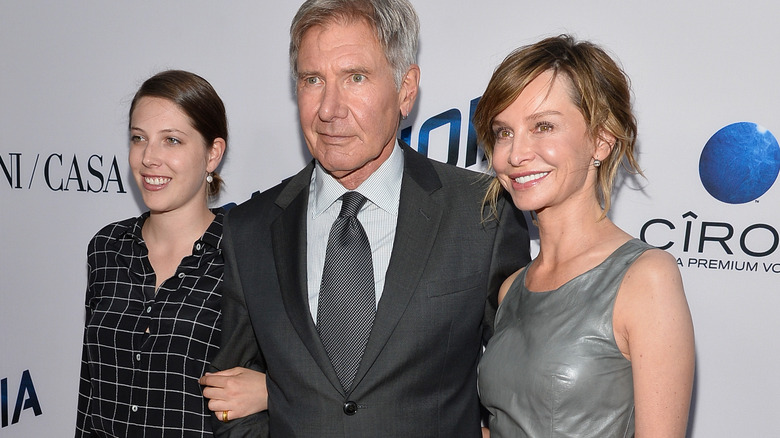 Frazer Harrison/Getty Images
Perhaps the biggest reason these two aren't all that caught up in their age difference is because they're more focused on the one thing that's most important to them. That would be family. 
Calista Flockhart and Harrison Ford have five children between them. And, while Calista came into Harrison's four kids' lives later on — she's only three years older than Harrison's eldest son, Ben Ford, after all — the "Star Wars" actor has known Liam Flockhart nearly all his life. As Harrison told Parade back in 2010, "I think Liam was about 6 or 8 months old when I met him and Calista." It's pretty clear that Calista's impressed by Harrison's parenting abilities. Per Closer Weekly, she previously gushed, "Harrison is a wonderful parent ... He's funny and warm and loving." Luckily, the feeling is mutual — way back in 2008, before they were even engaged, Harrison told Reader's Digest that when it came to motherhood, Calista was, "The best in the world" (via People). And although Calista only met Harrison's kids when they were older, when she has been seen with them, they put on a pretty sweet display. Case in point: for Harrison's 2013 "Paranoia" premiere, the couple was accompanied by his only daughter Georgia Ford — and the stepmother-stepdaughter duo were all smiles, posing together (via Just Jared). 
Calista and Harrison have a significant age gap, indeed, but in this case, age truly is just a number.