Antonio Brown Finds Himself In Legal Hot Water Yet Again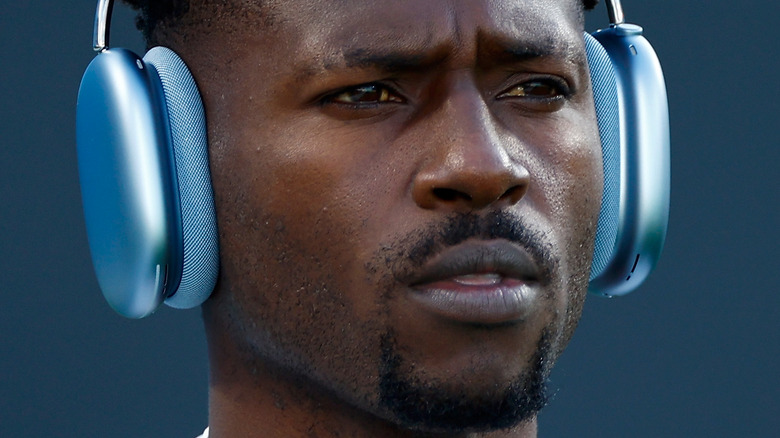 Jared C. Tilton/Getty Images
It seems like Antonio Brown just can't seem to stay out of trouble. The football wide receiver has hit the headlines over the years as much for his personal life as he has for his skills on the field — and he's certainly had plenty of legal issues to contend with.
Brown has quite the rap sheet, with some serious allegations being made against him before. In 2019, Brown's former trainer accused the athlete of sexual assault, allegations he denied. The case didn't go further though after it was deemed the serious allegations fell outside the statute of limitations, though the trainer continued on with a civil lawsuit against Brown, per The Guardian. That resulted in the two parties reaching a settlement in 2021, though, according to ESPN, the terms remained private. But that's hardly the only run-in with the law Brown's had. In 2020, ESPN reported he was charged with felony burglary of a vehicle, misdemeanor battery, and misdemeanor criminal mischief. That resulted in NFL confirming the controversial football player was given two years of probation for the crimes, as well as being ordered to undertake community service, a psychological/psychiatric evaluation, and attend anger management. 
But, as if that wasn't enough controversy, Brown has now found himself in a lot of trouble once again.
Antonio Brown was accused of alleged domestic violence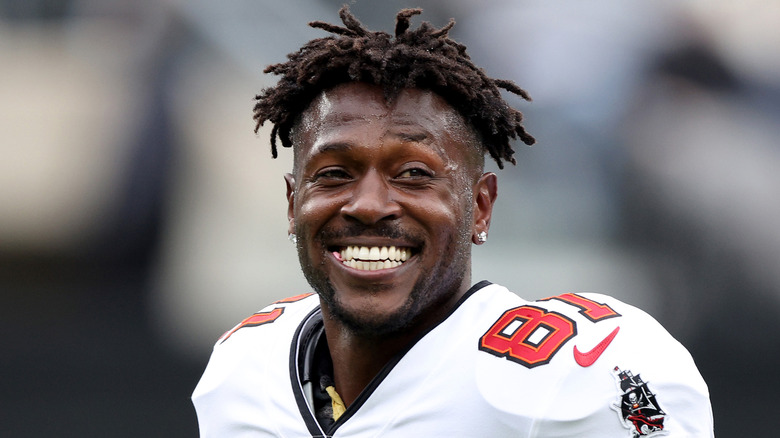 Elsa/Getty Images
News broke on December 1 that a warrant had been issued for Antonio Brown's arrest in the wake of an alleged domestic incident. Fox 13 Tampa Bay reported that a source had divulged that Brown — who hit the headlines in November for trolling his former teammate Tom Brady following his divorce from Gisele Bündchen — had allegedly been involved in a domestic violence altercation with the mother of his children on November 28. Police had not officially confirmed the report, though the outlet claimed law enforcement were called out to a Tampa, Florida, residence on November 28 where a victim had purportedly been hit with a shoe. "The victim had no injuries but believed the shoe was meant for her head," they claimed.
Brown's warrant was reportedly issued on December 1, according to TMZ Sports, and it accused the former Tampa Bay Buccaneers player of alleged misdemeanor domestic violence battery. ESPN also reported that a day after the alleged domestic incident, a petition for a temporary risk protection order that would have stopped Brown from being able to own a gun or ammo if people thought he could harm himself or those around him was denied by a judge.