Who Is Relationship Expert Arica Angelo From Love Without Borders?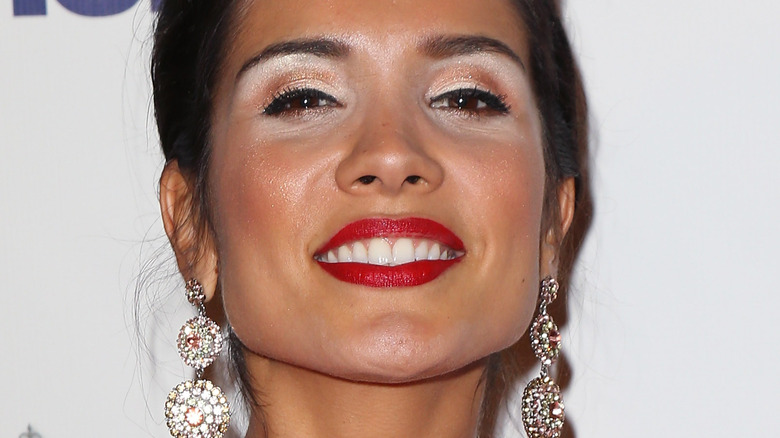 David Livingston/Getty Images
Bravo's latest series is exploring dating with the help of someone who is an expert in love. "Love Without Borders" documents the journeys of five singles from the U.S. who leave their homes with the goal of finding the one, per Newsweek. The contestants are set up with potential partners who live in far-away destinations by dating coach Arica Angelo. In an interview with Variety coinciding with the show's premiere date of November 30, the creator of "Love Without Borders," Chris Coelen, discussed his inspiration for the project.
"At certain points in my life, I was stuck in a rut professionally. I felt like my geographic location was a hindrance to find love, find someone that I wanted to be with," Coelen said. He later added, "I think that's very relatable for people who not only want to find love — who doesn't want to find love? — but also, many people feel like they want to change their lives." Angelo discussed her role leading the show via Instagram on November 6, writing, "What a dream come true to have a show on one of the best networks @bravotv and I can't wait for you to see it on NOVEMBER 30th!" Angelo is an experienced love specialist with a passion for her work.
Arica Angelo is a longtime dating and relationship coach with a strong online following
The recently-released Bravo reality dating show "Love Without Borders" has called upon dating expert Arica Angelo to set up singles. As her website bio states, Angelo has always had a knack for advising others. "When my parents were ministers, people used to call our house needing advice," Angelo stated. "If my parents weren't home, I would say 'Well my parents aren't here right now, but I can help you if you'd like?' Lol mind you I was a teenager!" This eventually led to Angelo pursuing relationship counseling in adulthood. By 2008, she had begun her own company offering dating coaching, per LinkedIn.
In a November 24 interview with the Galveston County Daily News, Angelo revealed her personal path to her current career status. "I was on my own journey and realized that if I could heal me, I could help others," she shared. "I read every self-help book I could and did constant research on boundaries and self-worth, and that eventually led into giving relationship advice." The TV personality has grown her YouTube channel to gain 126,00 subscribers, with whom she shares words of wisdom related to romance. Her informative videos cover subjects such as "Respect Makes You More Attractive," "This Romantic Gesture is Actually a Red Flag," and "You Need to Be Happy Alone Before You Date." In addition to continuing her business, Angelo is ready to bring her relationship expertise to television audiences.
Arica Angelo is 'super grateful' to host Love Without Borders
Relationship expert Arica Angelo is living out her dream as the host of "Love Without Borders." On November 19, Angelo expressed her thanks to those who have been supportive of her role on the new Bravo dating show via her Instagram account. She additionally detailed her journey to earning this accomplishment. "Many of my friends who have known me throughout the years have all commented on how many years, hard work and dedication it's taken to finally get here ... Y'all are right and I'm super grateful that the day came!" Angelo wrote alongside a selfie. "Simple girl from Texas who decided to dream ... Don't you give up on your dreams either!!"
Users then voiced their well wishes for Angelo, with one person writing, "So proud of you and it makes it even more special knowing how hard you've worked for this!" Another added, "Just saw the preview!! Looks awesome! Congratulations Arica!" As the series continues to air its 10 episodes of Season 1, Angelo's philosophy for guiding contestants on the show sounds like it will consist of an enthusiastic, heartfelt approach. On her website, Angelo says, "My heart for my clients is to see them become empowered and restored back to the people they were destined to be."