What We Know About Dominic West's Wife Catherine FitzGerald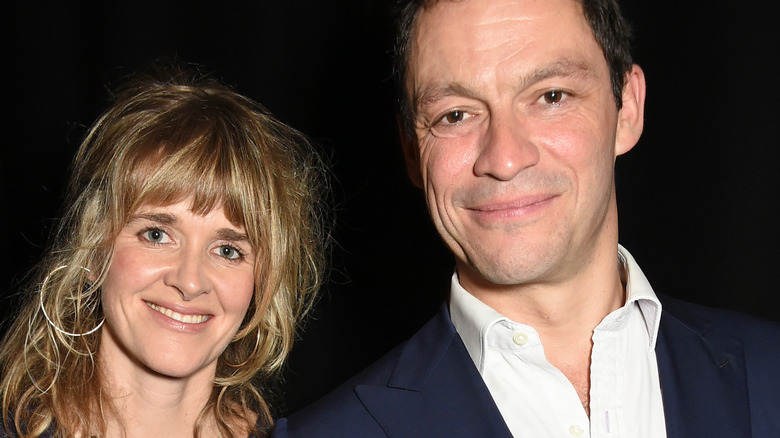 David M. Benett/Getty Images
Dominic West is bringing the charm to King Charles III in "The Crown" for Season 5 and Season 6. However, the actor admitted to Variety that it was a tough decision to take on the depiction of Charles for the popular Netflix series. "Obviously it was daunting playing a character I've never done before who's still alive and one who's so high profile that everyone knows how they look and how they sound," West said. The actor added that everyone has an opinion on King Charles, for better or worse, so that makes the task even more loaded.
Nevertheless, West was up for the challenge, and, adorably, he's joined by a family member on the set of "The Crown." Dominic's son, Senan West, is playing a young Prince William, despite not having any prior acting experience. So, the father and son are playing a father and son on-screen — it's too perfect! Dominic shares his son with his wife, Catherine FitzGerald, along with children Dora, Christabel, and Francis, according to the Daily Mail. The Sheffield, U.K. native also has a daughter, Martha, from a previous relationship. 
Though FitzGerald has seemed supportive of her husband over the years, the couple went through a tough experience when Dominic was spotted getting cozy with Lily James in Rome. It put added focus on their marriage, but Dominic and FitzGerald seem to have weathered the storm.
Catherine FitzGerald was previously married to an earl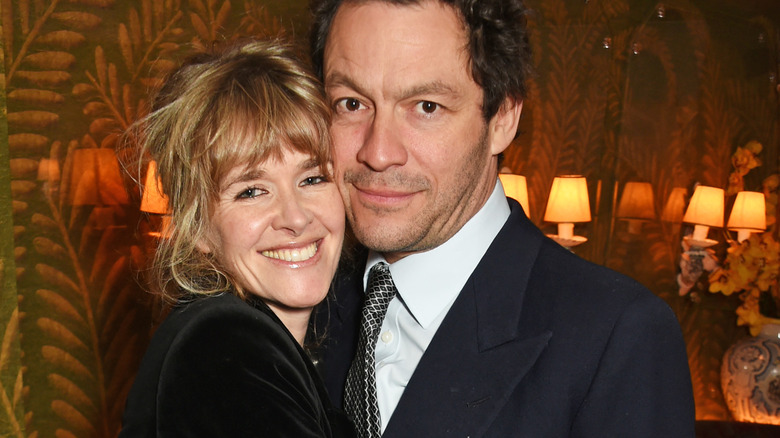 David M. Benett/Getty Images
Catherine FitzGerald comes from an aristocratic family. Her father was the last Knight of Glin, according to Tatler, and she grew up in Ireland at Glin Castle, the family's home. She met Dominic West while they were studying at Trinity College Dublin. "We had a wonderful love affair," she told the Irish Independent, adding that she and West read poetry to each other from the rooftop of his apartment building while they were students. Once, as Tatler notes, West hitchhiked to Glin Castle to celebrate FitzGerald's birthday with her.
Despite this romantic base, they broke up after college and each went on to pursue their own passions. West had a daughter, Martha, with his ex, Polly Astor, according to Us Weekly. Meanwhile, Tatler notes that in 1995, FitzGerald married Edward Lambton and became Viscountess Lambton. However, she got divorced in 2002 and later reconnected with West. They married in 2010, per Us Weekly, and went on to welcome their four children.
The couple faced a rough patch when West was photographed with co-star Lily James in Rome, as outlined by Us Weekly, where they were seen being affectionate with each other. One day after the photos leaked, West and FitzGerald kissed outside of their home in England in front of photographers and shared a note that was signed by both of them. The note read, "Our marriage is strong and we're very much still together. Thank you." That's that, apparently! 
Catherine FitzGerald works as a landscaper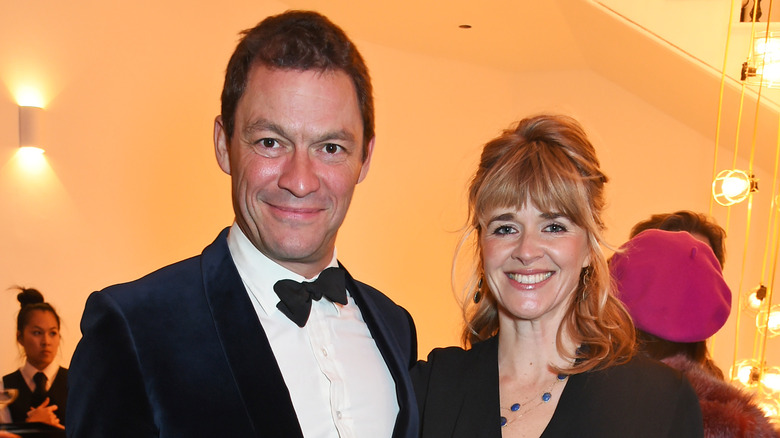 David M. Benett/Getty Images
Catherine FitzGerald's mother, Olda FitzGerald, had to sell the family home, Glin Castle, after her husband died in 2006. The castle had been linked to the Knight of Glin for 800 years, per Tatler, and was passed down along the line, so losing the home was a difficult moment for the family. In a wonderful turn of architectural and familial reclamation, though, Catherine and her husband, Dominic West, bought back the home in 2015. They used the castle to host their wedding and have since made it a venue space.
Glin Castle is a special place for Catherine because of her own career, too. She's a landscape designer in addition to having a degree from Trinity College, and on her official website, she explains how her love of gardening originally started. "My experience comes from gardening at my family home, Glin Castle, on the Shannon estuary in the west of Ireland," she wrote. While she works on her own home, Catherine also said that she works with London-based architect Mark Lutyens, on projects all over the United Kingdom and Ireland.