Sandra Bullock's Ex Jesse James Faces Bold Cheating Accusation From His Current Wife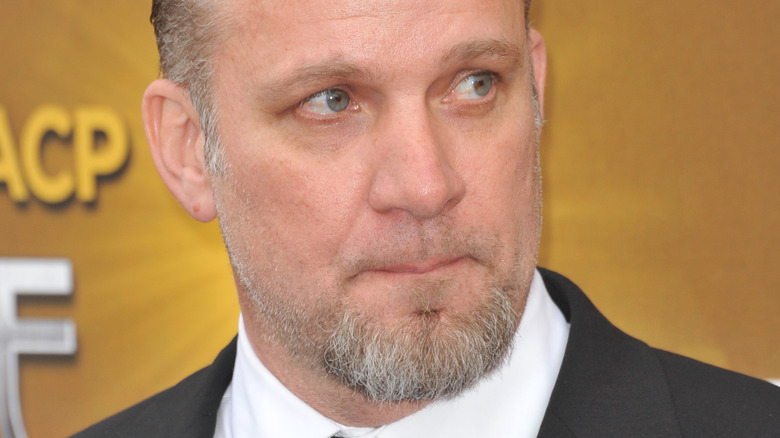 Featureflash Photo Agency/Shutterstock
Sandra Bullock's ex-husband Jesse James has made national headlines once again — and, yes, it's for cheating. For most people, that may not come as a shock considering the television star has a long history of infidelity. Back in 2010 — just five years into his marriage to the "Miss Congeniality" star — a slew of women came forward and accused James of cheating on his then-wife. 
The former couple got divorced within months following the news. "Yeah, I did cheat on my wife, yeah, I stood up and took accountability for it and apologized," the "Monster Garage" host said during an interview with Daily Mail. James also defended his ways by claiming men aren't the only ones who commit adultery. "In general, both women and men cheat," he added. "It's part of life." Shortly after his messy breakup from Bullock, the television personality started dating tattoo artist Kat Von D. Seven months into their romance, the pair got engaged in 2011, per E! News. 
However, their wedding plans were short-lived after Von D revealed James had cheated on her with a multitude of women. "I encountered the 19th girl to add to the list of people Jesse cheated on me with during this last year," she wrote on Facebook (via Us Weekly). "There was a time when I was confident and excited at proving the world wrong, because I believed so deeply in people's ability to change for the better." And, while people can change, James appears to be at it again. 
Bonnie Rotten calls out Jesse James for cheating amidst her pregnancy
Jesse James married former adult entertainer Bonnie Rotten in June after a few months of dating. It hasn't even been a year since the pair said "I Do" and they are already dealing with some serious issues. Rotten, whose real name is Alaina Hicks, revealed her husband of six months is already cheating on her. Following her bombshell confession, she also claimed that she is expecting a bundle of joy. "Jesse is busy trying to f**k other women while I'm pregnant," she wrote on Instagram along with a photo of a sonogram (via Page Six). "I'm so hurt by everything he has done to me. He didn't give a f**k about anyone but himself he's truly a disgusting human being." 
James fired back at his wife and shared a screenshot from a published Daily Mail article regarding their situation. "Jeeeezzzzz my private life suuuure is interesting, he wrote on Instagram. "Tried and Convicted just like that ... No smoking gun, No salacious texts, No other woman coming forward." The television host then attempted to make an unusual comparison of his particular circumstance to an episode of "Love and Hip Hop Atlanta." "Ohhh well all is fair in love and war I guess," he ended his statement.
Hicks is currently James' fifth wife. According to Hollywood Life, he was previously married to Karla James, Janine Lindemulder, Sandra Bullock, and Alexis DeJoria.