Everything We Know About Jesse James' Marriage To Former Porn Star Bonnie Rotten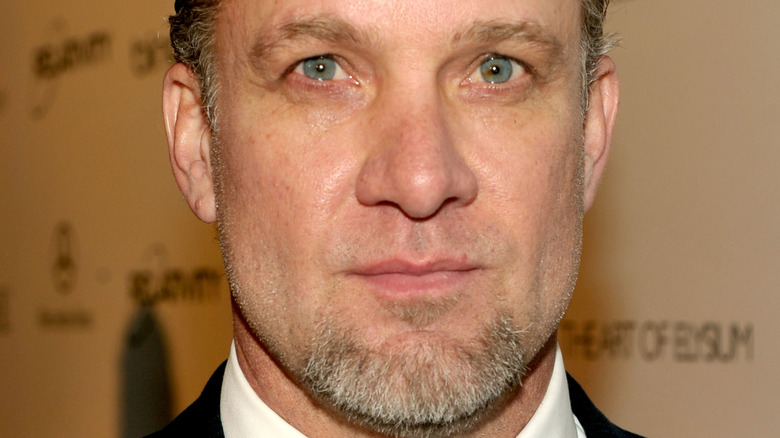 John Shearer/Getty Images
One thing about Jesse James — he's going to get married. The former "Monster Garage" host was married to his first wife Karla from 1991 to 2002 before getting a divorce and marrying former adult entertainer Janine Lindemulder the same year, per Us Weekly. They shared a brief romance before he divorced his second wife after only spending two years together. However, James is widely known for his relationship with actor Sandra Bullock. According to The Sun, the former couple tied the knot in July 2005 and spent five years together. Today reported the two took part in a lavish "vintage western barbecue" wedding alongside over 300 of their closest family and friends. 
Hugh Grant, William Shatner, Regina King, and Jamie Lee Curtis were just a few of the celebrity guests who attended the ceremony. However, their marriage took a turn for the worse when the famous mechanic's infidelity led to the demise of their marriage and forcing Bullock to file for divorce in 2010, per CBS News. "Yeah, I did cheat on my wife, yeah, I stood up and took accountability for it and apologized," he confessed to Daily Mail.
After his third failed marriage, James managed to find love again with drag racer Alexis DeJoria and spent seven years with his fourth wife before getting another divorce in 2020, per Daily News. While James' love life appears to have been a whirlwind over the past several years, it looks like he's finally found the one. 
Jessie gets married for a fifth time
Jesse James shared on Instagram that he is officially married — for a fifth time — to former adult entertainer Bonnie Rotten. To commemorate his big day he captioned the Bible verse 1 Corinthians 16:14, "Let all that you do be done in love." James described that moment as the "greatest day ever" meanwhile his wife felt it was the "most magical day." Rotten, who now goes by Alaina James on Instagram, shared photos from her wedding day and gushed about her experience. "I am so thankful to have those close to us join us for our day of love," she wrote. "All the planets were aligned, figuratively and literally. I found my soul mate, I won't be letting him go." 
According to Page Six, the newlyweds tied the knot in Texas as family and friends gathered for an intimate backyard celebration. The bride wore a beautiful white gown with a pair of white cowgirl boots as she walked down the aisle accompanied by her French bulldog. James went for more of a casual look; rather than wearing a tuxedo for his momentous day, he graced the altar with a grey ensemble, a color-coordinated vest, gold tie and a big hat. 
Jesse and Alaina got engaged back in April and according to Daily Mail, this is the former adult entertainer's second marriage. Hopefully, the pair have found true love with each other.