How Did Sandra Bullock Really Meet Jesse James?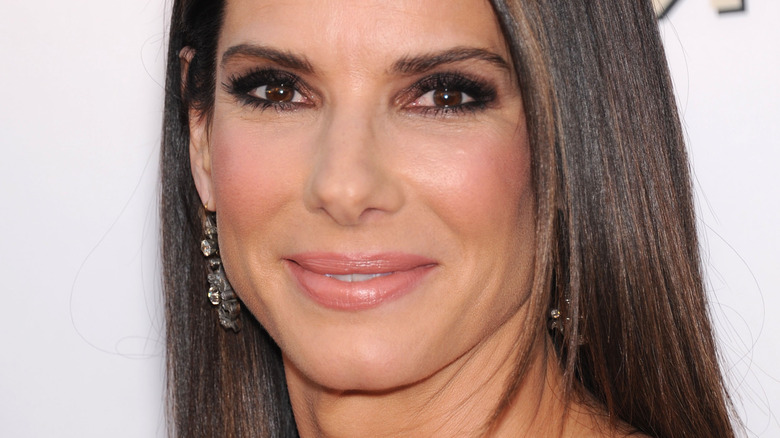 DFree/Shutterstock
Apart from Kim Kardashian's surprise romance with Pete Davidson, and Meghan Fox's bizarre relationship with Machine Gun Kelly, few couples have caught us off-guard since the days of Sandra Bullock and Jesse James. Different in their own ways, Bullock and James were somewhat an unlikely pair — she, Hollywood's sweetheart, who had won hearts with her impeccable acting and infectious smile, and he, most famous as the "bad boy" of "Monster Garage" on Discovery Channel.
Yet, somehow, James and Bullock merged their worlds into one. "There is, inevitably, more of a routine than there was," Bullock told Vanity Fair of their marriage in July 2006. "But that's O.K. People say, 'Oh, my God, you're going to have sex with one person the rest of your life.' I hope I have sex with him for the rest of my life because I like it!"
As though their romance wasn't surprising enough, their separation was even more so. Per Closer Weekly, Bullock filed for divorce in April 2010, following claims that the reality star had cheated on her with multiple women. "Yeah, I did cheat on my wife, yeah," James admitted to the Daily Mail in 2017. "I stood up and took accountability for it and apologized. And that's end of story." But, between all of the love and the drama, one big question remains — how exactly did it all start? How did Bullock meet James?
Sandra Bullock and Jesse James met in an unusual way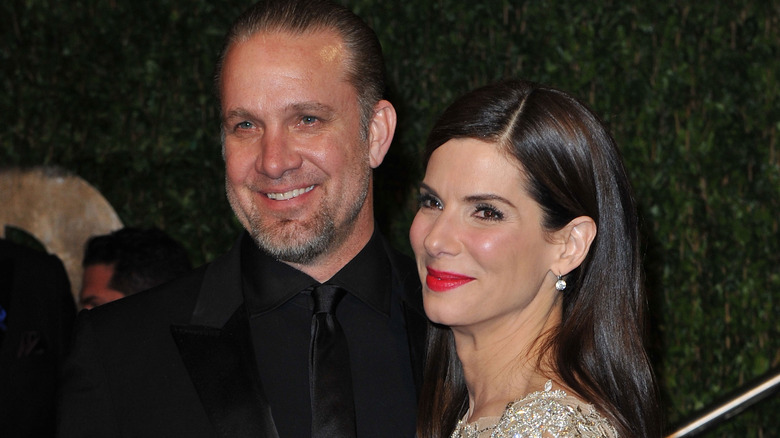 Pascal Le Segretain/Getty Images
Per ABC News, Sandra Bullock met Jesse James in 2003 through her then 10-year-old godson who wanted so badly to visit to West Coast Choppers. Bullock took the tween for a tour of the store and there, she met her future husband. But, while she did not think much of James, he apparently was taken by her, seeing that he called her office that same day. "I said, 'Do not give the man my number — give him my e-mail. I'll politely say, No, I'm not in a place..." she revealed to Vanity Fair.
This was, however, seemingly not enough reasons to deter James, who only kept on pressing until he landed a date with the actor. "It was not something I wanted, needed, or looked for, but because he was a stronger person than I was, spiritually and on a tolerance level, I was lucky enough that he educated me," she added.
Rather surprisingly, James would later reveal that his initial assumption about Bullock was not so pleasant. "I assumed she was a b***h and some Hollywood snob and didn't really give it two thoughts," James admitted in a 2010 interview with Nightline. "And then I talked to her for a couple minutes and it was like getting hit in the head with a brick. Here's a woman I had assumptions about and she couldn't be farther from that."
Sandra Bullock and Jesse James' marriage was a secret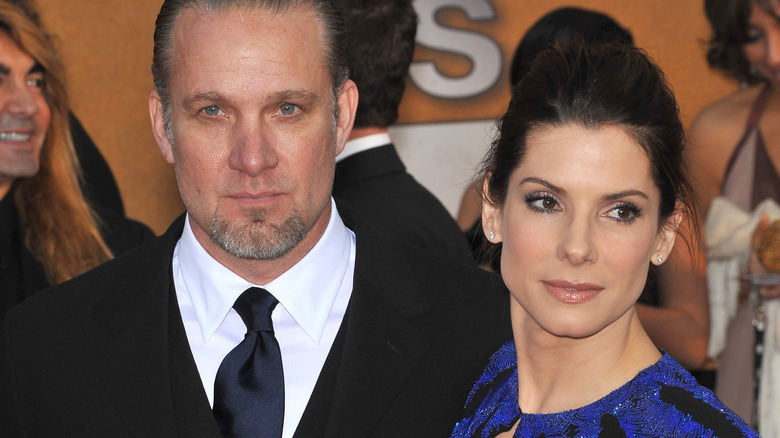 Jaguar PS/Shutterstock
After a whirlwind romance, Jesse James asked Sandra Bullock to be his wife. But, as buzzworthy as their engagement was, so was the reality star's choice of ring. According to InStyle, James proposed to the "Miss Congeniality" star with a vintage Tiffany diamond ring from as far back as 1910. "Someone else had worn it, but how they had it made sense to us, and it wasn't a conflict diamond. It was something historic, and it was about us," Bullock said of the ring in an interview with Vanity Fair.
Following their engagement, the couple decided to have their wedding the following year, but they insisted it be kept a secret. In July 2005, the couple said their vows in front of 300 guests at a ranch north of Santa Barbara, per People.
Sadly, Bullock and James' marriage was simply not meant to be. While the drama surrounding their split was a tad messy — James allegedly cheated on the Oscar-winner — they've both found love, with James now engaged to adult film star Bonnie Rotten, and Bullock enjoying bliss with her longtime partner Bryan Randall.