Are Vince Vaughn And Owen Wilson Still Friends?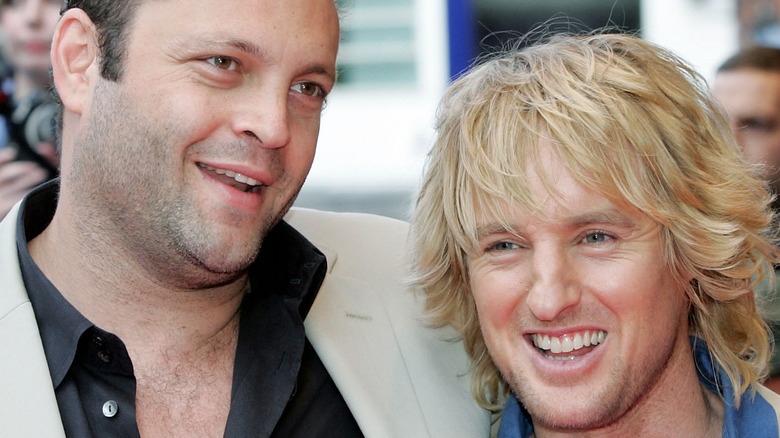 Gareth Cattermole/Getty Images
Actors are often great at what they do: acting. So when you see best friends on-screen, it's normal to want to believe that the actors love working together and are friends in real life, too. However, that's not commonly the case — unless you're talking about the friendship between Owen Wilson and Vince Vaughn. 
The two actors are a part of a group of comedians unofficially deemed "The Frat Pack" (more on that later), but together they've co-starred in "Starsky & Hutch," "Wedding Crashers," and "The Internship." They often play co-conspirators or friends, and their natural chemistry makes these movies entertaining. When the two appeared on "Conan" in 2013, that authentic bond and their genuine banter back and forth seemed like the product of true friendship. But that was when they were promoting their movie "The Internship." They haven't done anything together since, and neither actor is active on social media. So are they still friends today?
Owen Wilson and Vince Vaughn are down to work together again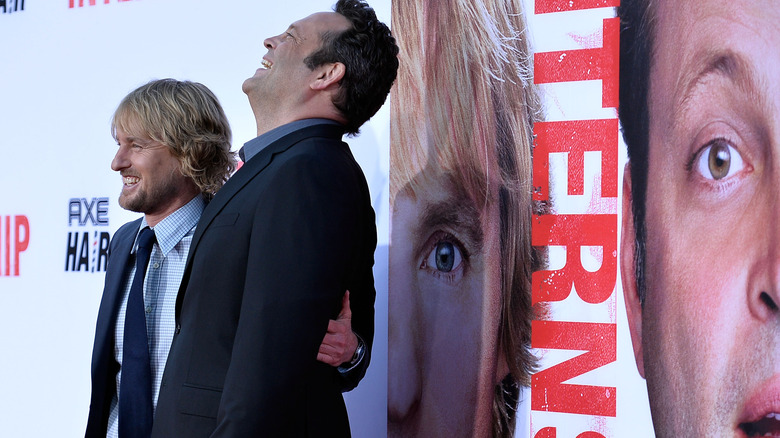 Frazer Harrison/Getty Images
Owen Wilson told Variety in June 2021 that despite rumors at the time of a "Wedding Crashers" sequel already being in the works and close to a filming stage, there were no concrete plans. "Some people are saying that you guys are going to be going in August, and that's not right," Wilson said. But he did divulge that he was in talks with director David Dobkin about "something" including him and Vince Vaughn. Wilson told Variety that for him to make another "Wedding Crashers" movie, it would have to be "worthwhile" since the market for comedies isn't the same.
Later that year, Wilson told Esquire he was open to making the movie. He told the publication, "If the people rise up and demand it, then who are we to say no?" Wilson said he's talked to Vaughn about crashing actual weddings once it was safe to do so during the COVID-19 pandemic. "So maybe we'll get some inspiration from that," he said about this fun film research approach. It's clear the actors are still friendly and want to work together again. 
As ComicBook.com reported, Wilson told Esquire that he met Vaughn through friend and fellow "Frat Pack" member, Ben Stiller, and Vaughn was someone he "just hit it off with" and was "simpatico" with him.
Vince Vaughn and Owen Wilson were a part of The Frat Pack
Okay, about that "Frat Pack." As Insider reported, Owen Wilson and Vince Vaughn were part of an unofficial group of comedians who made movies together. (The name was a play on words of the group of entertainers known as "The Rat Pack.") USA Today named the group in 2004, and it caught on. Wilson and Ben Stiller reportedly starred alongside each other in 12 movies, according to Wired, if you need an example of how legit it was. Stiller, Jack Black, Paul Rudd, Steve Carell, Luke Wilson, and Will Ferrell were members of "The Frat Pack." The group's films include "Bottle Rocket" (usually deemed the Frat Pack's first entry even though it only stars Luke and Owen Wilson), "The Cable Guy," "Zoolander," "Dodgeball," and "Anchorman: The Legend of Ron Burgundy," among many others.
Just as there are members of the "pack," there are also frequent collaborators and directors they love to work with, including Judd Apatow, Adam McKay, and Todd Phillips. However, not everyone embraced "The Frat Pack." As Today reported, Stiller told U.K.'s Heart FM that it's "a weird thing that people come up with a name that doesn't really exist." And even though different parts of the group still collaborate, the concept of "The Frat Pack" died because of the lack of evolving material and poor choices, according to The Guardian in 2015.