Why Chip Gaines Didn't Ask Joanna Out On Another Date For Months
Amy Sussman/Getty Images
HGTV's "Fixer Upper" — which ran from 2013-2018 — was popular for reasons beyond Joanna Gaines' ability to do amazing things with backsplash and shiplap. While the series tracked the Gaineses as they remodeled dilapidated houses into dream-spaces, Chip and Joanna's relationship might have been the real reason viewers tuned in.
Some couples play nice for the camera, but this design duo seemed to embody the ideal partnership. Between the chaos of demo day and staging a house, Chip and Joanna routinely found time to gush over each other. "I'm the prototypical muffin-top body style," Chip joked in an episode, referring to his "dad bod." After laughing over his "muffin top" comment, Joanna affirmed that she "like[s] every bit of that muffin, baby." And while there might be a script for every TV show, Chip and Joanna never hesitated to break character and laugh at each other, which is how you know their love is for real. (Check out their adorable outtakes for proof!)
These days, the pair seem happier than ever. Since "Fixer Upper" went off the air, they've expanded their empire with a breakfast-focused restaurant, launched a home décor line with Target, and debuted a coffee shop — all while remaining devoted to each other and their five children. Their youngest son, Crew, was born in 2018. So, is the secret to a successful marriage lots of kids? A couple's home renovation show? Or is it playing things cool, like Chip did with Joanna after their first date?
Chip Gaines made a risky bet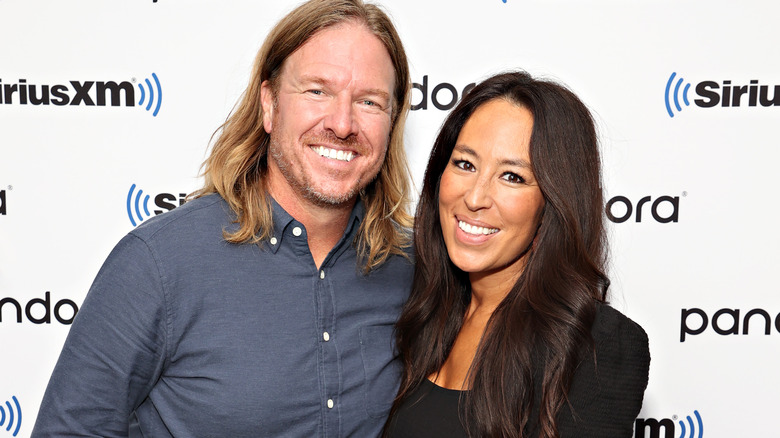 Cindy Ord/Getty Images
In a 2018 interview with PopSugar, Chip Gaines revealed that he always knew Joanna Gaines was the one for him. Her dad ran an auto shop — which Chip frequented — and he'd seen a picture of Joanna hanging on the wall. "I knew I'd marry her one day just by the picture," Chip said. Cue all the feels! Given the instant love, you'd think Chip would have been suave when courting "JoJo" (as he calls her), but this wasn't the case. After their first date, Chip ghosted her. "We made plans to go get coffee the following week, but I had to cancel," Joanna wrote in "The Magnolia Story," their 2016 book. "I hurt my back ... and I let Chip know that. He seemed real concerned and wished me luck — and then he didn't call me again. He didn't send flowers to the hospital. Nothing."
Two months after first getting together, Chip gave Joanna a call. As it turns out, there was a rational explanation for his radio silence (sort of). "I'd made a bet with Hot John to see who could hold out the longest before calling our dates back. I really wanted that $50 from John! That's the only reason I didn't call," he explained in "The Magnolia Story." Meanwhile, Joanna was confused about why Chip dropped off the map, but willing to give him another chance. "I couldn't believe how kind Chip was — he had kind eyes, and made me laugh a lot," she told PopSugar.
Chip Gaines inspired Joanna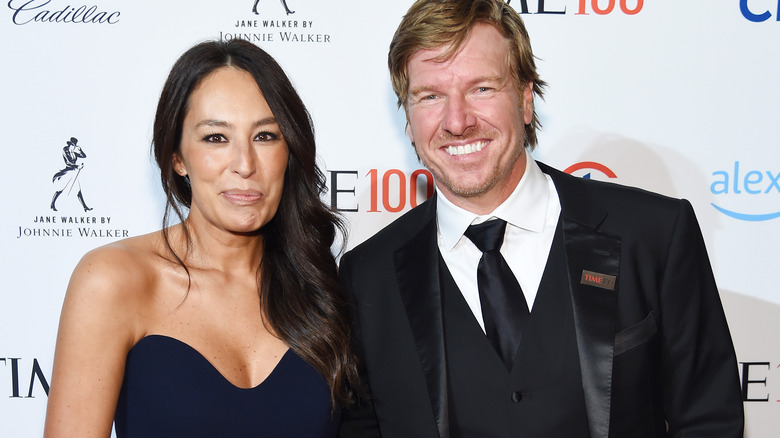 Larry Busacca/Getty Images
Not only did Chip Gaines bungle first-date protocol, but according to Joanna Gaines, he almost ruined their first date, period. In an excerpt of "The Magnolia Story" (published via Today), Joanna revealed that her would-be boyfriend was late to pick her up. To make matters worse, "He didn't even have a plan for our date. He said, 'So, Joanna, where do you want to go eat?'" Joanna wrote. "He didn't apologize for being late, either. He had so much confidence. ... Only Chip could be an hour and a half late and have no one mad about it."
For Joanna — who was typically drawn to quieter guys, as she confessed in a 2020 issue of "The Magnolia Journal" (via People) — Chip was out of her comfort zone. "I was wondering if he was just a bit crazy," Joanna wrote, reflecting on their first date. "In my mind, I somewhat instinctively checked his penchant for risk and chatty nature as two reasons we probably wouldn't go on a second date." OK, so what clicked for her? Perhaps the plans he had for himself inspired big dreams of her own. In "The Magnolia Story," Joanna noted, "[Chip] talked about the world around him through the lens of untapped potential." One massively successful Magnolia empire later, and these two are showing no signs of slowing down. It looks like those big plans of Chip's manifested into something special.