How Many Grandchildren Does Kody Brown From Sister Wives Have Now?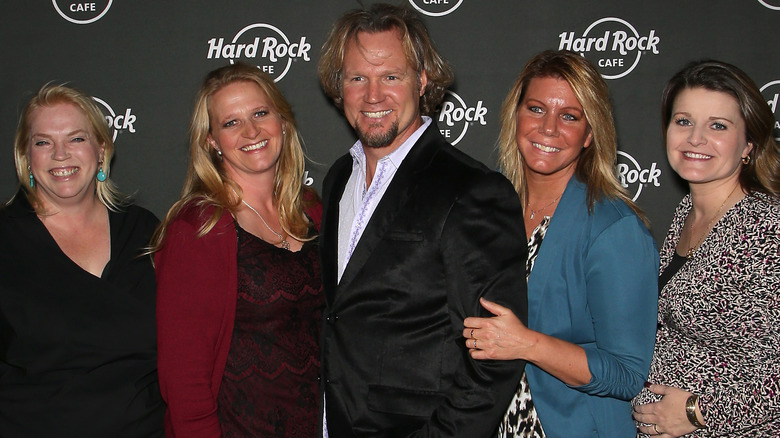 Gabe Ginsberg/Getty Images
There's no question that the Brown family of "Sister Wives" is one of the biggest in reality television. Of course, this isn't surprising, considering they're a plural family. 
Kody Brown has offspring with his three wives, Janelle, Meri, and Robyn, as well as his ex-wife Christine — and he's not too far off from the Duggars when it comes to the number of children. Kody has a total of 18 children: one with Meri, six apiece with Janelle and Christine, and five with Robyn. There are so many kids in the household that Paedon Brown, Kody's adult son with Christine, recently joked that he doesn't want to have any more siblings. "Dear God, I have enough siblings," he quipped to Us Weekly. "Please, no! I want to make this clear. I don't want more kids in the family. Nieces and nephews are fine. No more kids with any wives, please!"
Meanwhile, Kody is open about having a tough time connecting with all his kids, although he does make an effort to do so. "I struggle to do it daily, but I don't struggle to do it," he said on the show (via People). "I feel connected, and they benefit a lot from my being open and kind."
Clearly, Kody has a lot on his plate, with multiple wives and nearly 20 children. He also has a growing number of grandkids, but how many does he have now? And does he also try to connect with them?
Kody Brown has six grandchildren and counting
Kody Brown may have had a lot of experience raising children, but grandkids? Not so much.
The Brown family patriarch became a grandfather for the first time in 2017, when Maddie (his daughter with Janelle) and her husband, Caleb Brush, gave birth to their son, Axel, per Us Weekly. Two years later, Maddie welcomed a daughter, Evangalynn, rounding the little Brown grandbabies to two. Then, in 2021, Mykelti, Kody's daughter with Christine, welcomed Avalon, a baby girl. And in November 2022, she and her husband, Antonio Padron, welcomed twins, totaling Kody's grandchildren to five.
And if you thought the number ends there, Maddie announced in July 2022 that she is expecting baby No. 3. "The picture says it all! The Brush family is growing by one early February [sic], she wrote in an Instagram post, along with a photo of Axel and Evangalynn wearing "Big Brother" and "Big Sister" shirts. And so, come February 2023, Kody will have six grandchildren.
How involved is Kody Brown with his grandkids?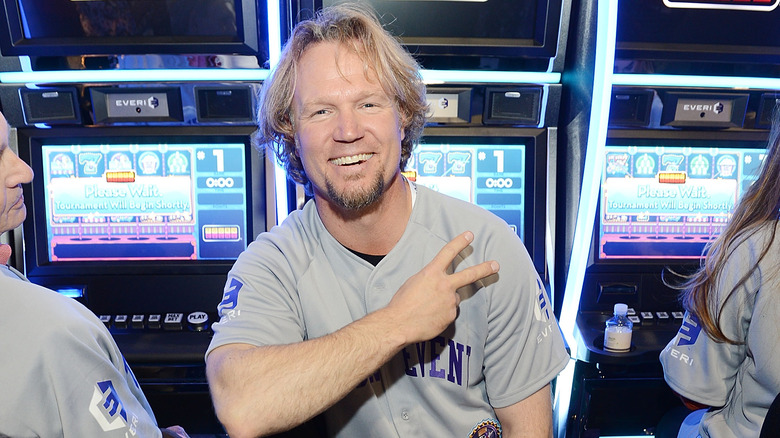 Denise Truscello/Getty Images
Kody Brown couldn't contain his excitement when he discovered that he was having his first grandchild. "Yeah!!! You can call me Grandpa!" he wrote in a tweet in November 2016. When the family welcomed Axel, he and Janelle told People how much they already adored the latest addition to the family. "I think being grandparents hasn't sunk in yet. It's so fun. I can't believe how much we love this baby already."
But while Kody's thrilled to have grandkids, it doesn't look like he's very much involved with their lives. After all, he admitted that he's not fond of looking after children. "I'm good at watching my kids, but I almost never do it. It's easier for me to pay somebody $20 an hour than to lose $200 an hour with the business that I have at hand," he said in a "Sister Wives" episode (via USA Today). "It's not normal for me to babysit my kids."
Some fans think that he's a worse grandfather than he lets on. "Kody is [a] textbook deadbeat dad. He shows up for photo ops, like graduations and award ceremonies, but disappears when it's time for day-to-day involvement," one fan wrote on Reddit. "I'd be shocked if any of his grandkids end up close to him, especially as their parents/Kody's kids seem to distance themselves." Another Reddit user opined, "He cares that they exist because the more there are, the more it massages his ego. That's the extent of his interest."