The Good Morning America Scandal Amy Robach Wants You To Forget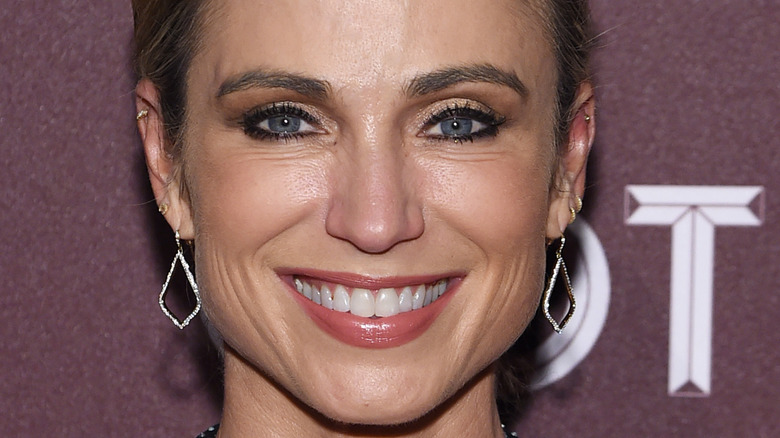 Jamie Mccarthy/Getty Images
On November 3, the Daily Mail reported that "Good Morning America" anchors Amy Robach and T.J. Holmes were involved in a months-long affair. According to the outlet, which obtained photos of the married co-hosts canoodling at a bar, the affair reportedly started six months ago. The two have been spotted at various locations in recent weeks, including after-work bar stops, at-home visits, and a vacation gateway to upstate New York. Sources close to the morning program revealed that the two have been friends since Holmes joined "GMA," and have even gone on double dates with their spouses.
Furthermore, an insider told Page Six that Robach and Holmes were very careful about keeping their romantic relationship private. "They have a very cozy relationship on air, but that is what is expected," the source revealed. They added, "But they were very careful behind the scenes to keep their affair secret. The producers at 'GMA' are shocked to hear they are having an affair." While the secret love affair between the journalists is dominating headlines, some may recall another scandal that Robach was involved in that she'd probably like you to forget.
Amy Robach used a racially insensitive phrase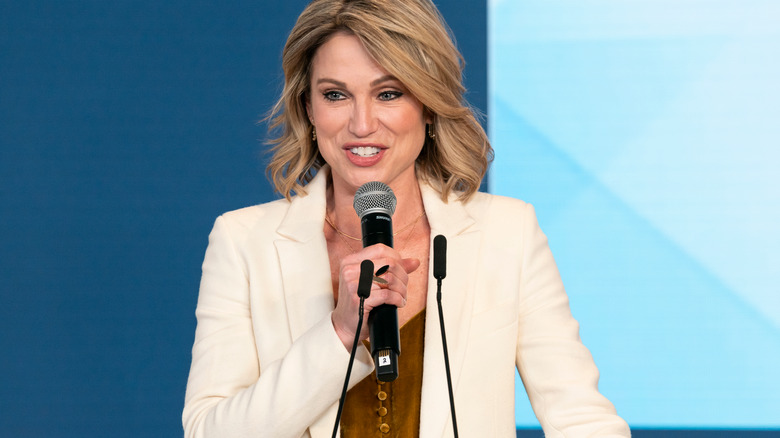 lev radin/Shutterstock
Amy Robach is, unfortunately, no stranger to public controversy. Robach — who originally joined "Good Morning America" as a correspondent — has been an anchor for the popular morning program since 2014. However, a few years after her appointment, the television journalist found herself apologizing for an on-air flub.
During a segment about "Spider-Man: Homecoming," which stars Zendaya in the role of Mary Jane, Robach made a racially insensitive comment. "We all know Hollywood has received recent and quite a bit of criticism for casting white actors in what one might assume should be a role reserved for colored people," Robach said (via Us Weekly). The news anchor's comments immediately drew backlash as viewers quickly condemned her remarks. "Amy Robach ... please tell you [sic] didn't just say "colored people" when discussing roles in 2016," one viewer tweeted. While another wrote, "I hope she meant "people of color."
Hours after the incident, Robach issued an apology. "I mistakenly said 'colored people' instead of 'people of color.' I sincerely apologize," she said. "It was a mistake and is not at all a reflection of how I feel or speak in my everyday life."
The timeline of Amy Robach's latest scandal is questionable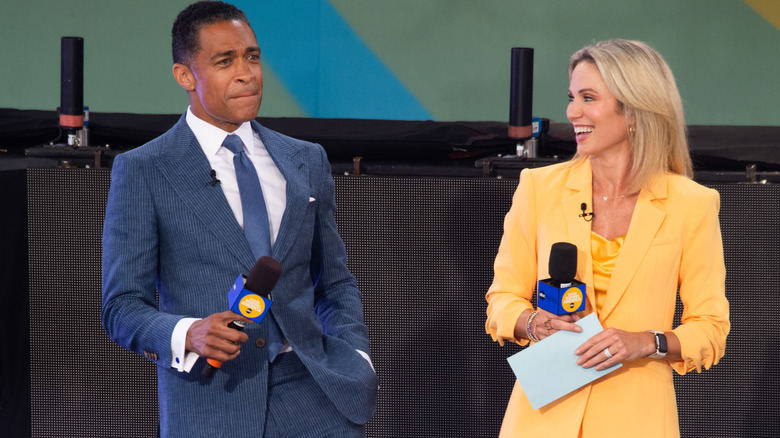 Noam Galai/Getty Images
Amy Robach — who has faced scandals before — and T.J. Holmes have yet to explicitly address their newfound romance. However, sources familiar with the messy debacle suggested that there was no cheating involved. "This was two consenting adults who were each separated. They both broke up with their spouses in August within weeks of each other," an insider told People. They added, "The relationship didn't start until after that."
Despite the assertion, Robach's estranged husband, Andrew Shue, has made a brash move amid the controversy. According to Us Weekly, Shue removed all images of Robach from his social media accounts after the anchor's affair was made public. In addition, Robach and Holmes have both since deactivated their Instagram accounts which were active before their relationship was brought to light. However, it appears the duo has no plans to step away from their duties as the host of the third hour of "Good Morning America." Just one day after the scandal was publicized, Robach and Holmes were back at their posts hosting "GM3: What You Need to Know."