Why You Never Hear Much About Jared Kushner's Sisters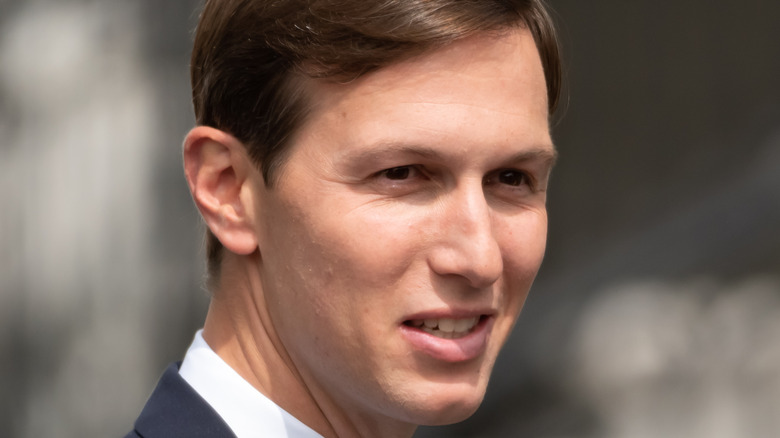 noamgalai/Shutterstock
Those who have followed politics in the last seven years are familiar with Jared Kushner, the husband of Ivanka Trump and son-in-law of former president Donald Trump. A significant member of the former president's inner circle, Kushner and his wife took up unpaid positions in the White House as advisors to the president. Kushner served as a "senior advisor" and the director of the Office of American Innovation, per Politico, an office established at the beginning of Trump's presidency and abolished after it ended. 
Given his previous positions in Trump's administration, many have likely wondered: What is the story of Kushner's background? Although Kushner tends to maintain a relatively low profile and is often known for largely shying away from public speaking, we know quite a bit about his personal life, including that he has several siblings. However, despite their famous name, Kushner's sisters have been even more successful at avoiding the limelight than their brother. 
Jared Kushner's sister Nicole works for Kushner Companies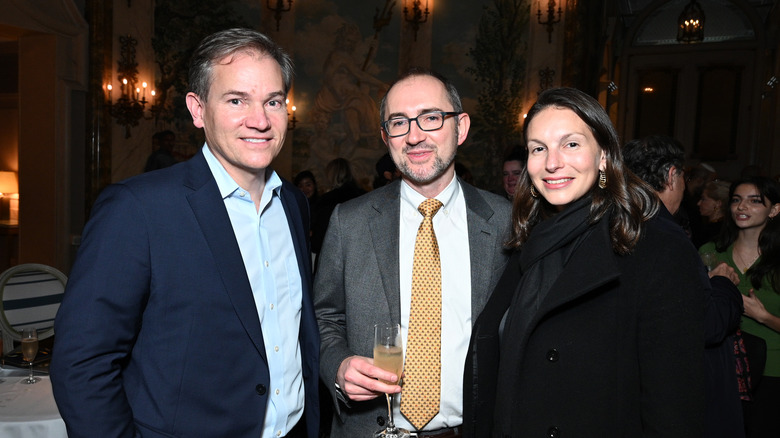 Slaven Vlasic/Getty Images
Jared Kushner was born in 1981 in Livingston, New Jersey, to Charles and Seryl Kushner (née Stadtmauer), per Biography, the second of four children. He has one younger brother, Joshua, one younger sister, Nicole, and an older sister, Dara. 
Nicole is arguably the better-known of the Kushner daughters, though she still maintains a relatively quiet status. According to Town & Country, she currently works for her father's company, Kushner Companies, a Manhattan-based real estate firm. Nicole (now known as Nicole Kushner Meyer) is married to Joseph Meyer, a chairman of Observer Media, per Esquire. Observer Media is an online media company that Jared founded in 2007, per The New York Times. 
Like the rest of her family, however, Nicole has not been able to avoid controversy entirely. In 2017, near the beginning of Donald Trump's presidency, The Washington Post ran an article purporting that Nicole was involved in a Trump- and Kushner-backed scheme in which Chinese billionaires would be offered visas in exchange for substantial investments into Kushner properties. The controversial visa — officially an EB-5 visa — does, in fact, exist and is legal. But Trump and Kushner received substantial backlash for allegedly trying to profit from it while in government. Kushner Companies subsequently issued an apology saying it was "not Ms. Meyer's intention" to "attempt to lure investors." 
Dara Kushner continues to maintain a low profile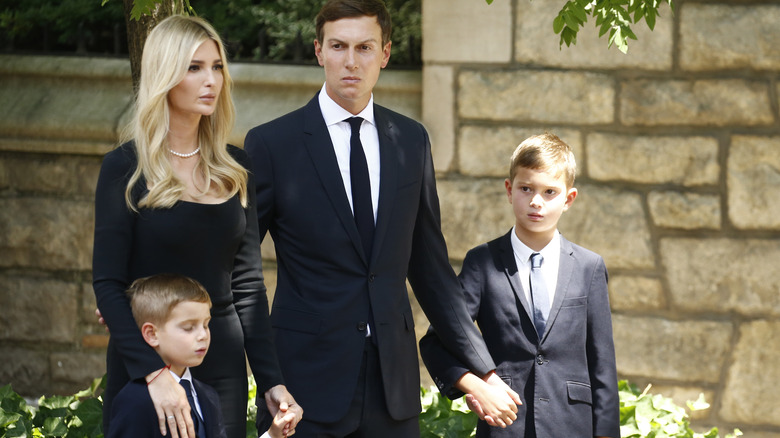 John Lamparski/Getty Images
As quiet a family as the Kushners are, the eldest child, Dara Kushner, seems to outpace all the rest. The lowest-profile of all the Kushner children, Dara is rarely seen in public and, unlike her siblings, does not work for Kushner Companies. According to New York Magazine, Dara continues to live a quiet life in their hometown of Livingston, New Jersey.
In the summer of 2017, the Daily Mail reported that she and her husband, David Orbach, visited her brother and in-laws in Washington as part of a family visit. She and Orbach have four children together, and part of the trip was entertaining them and their three cousins on Jared's side (snapshots were taken of the seven young children playing in the James S. Brady Press Briefing Room). The outlet also referred to Dara as a "homemaker." 
Like Jared and Ivanka (who converted to Judaism upon her marriage), Orbach and Dara continue to practice their Orthodox Jewish faith. According to his LinkedIn profile, Orbach is the chairman of Regal Bank in New Jersey, and has a long history in the banking industry.