Why Ellen DeGeneres Once Hosted Her Show From A Hospital Bed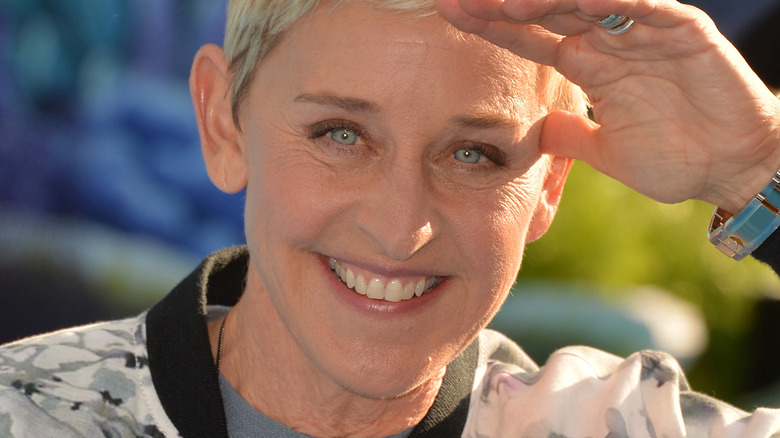 Featureflash Photo Agency/Shutterstock
While her talk show was on the air, Ellen DeGeneres was known as one of the preeminent faces of daytime television. Her daily lineup was consistent and, to many across the country, a source of comfort: dancing with the audience, scaring celebrities, witnessing the transformation of young Sophia Grace and Rosie. Fans also cannot forget any of her well-known regular segments, ranging from celebrity pranks to "Ellen in Your Ear," in which the talk show host convinced virtually any one of her guests to make a fool out of themselves.
Having released daily episodes in syndication consistently for nearly two decades, from 2003 to 2022, "The Ellen DeGeneres Show" became a daily routine for many of her fans, which is why any interruption in the schedule could raise some eyebrows. This was perhaps no clearer than in 2007, when an unforeseen circumstance forced DeGeneres to improvise, leading her to host her show from a hospital bed. 
Why Ellen DeGeneres brought a hospital bed onstage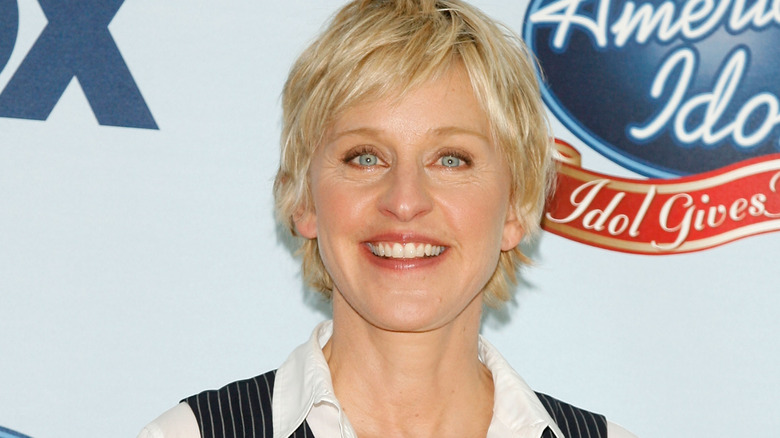 Kevin Winter/Getty Images
Back during her show's fourth season, Ellen DeGeneres suffered a health scare, potentially jeopardizing the status of her show. According to People, in April 2007, DeGeneres hurt her back after bending down to pick up her dog, forcing her to pay a visit to the doctor, who ordered some mandatory rest and relaxation. Not one to let such a setback compromise her job, however, DeGeneres decided to find a way to continue hosting the show (albeit without any of her signature dancing). That week, DeGeneres decided to host each show from a hospital bed, but not by Skyping in from the hospital. In classic Ellen fashion, she actually brought the bed onstage, and did the show from there. 
According to The Hollywood Reporter, DeGeneres was wheeled out onstage in pajamas, and told her audience, "No, I'm not being lazy. I'm forced to bed rest right now." Understandably, the injury was so bad that she said she couldn't "sit, to move or [do] anything." Of course, DeGeneres recovered well, and was back to normal hosting duties in due time. 
Interestingly, this is not the only time the talk show host experienced back pain. In late 2020, after testing positive for COVID-19, DeGeneres experienced similar symptoms. "One thing they don't tell you is you get, somehow, excruciating back pain," she said in a video posted to Twitter at the time. "Didn't know that was a symptom."
Ellen DeGeneres has missed a few shows before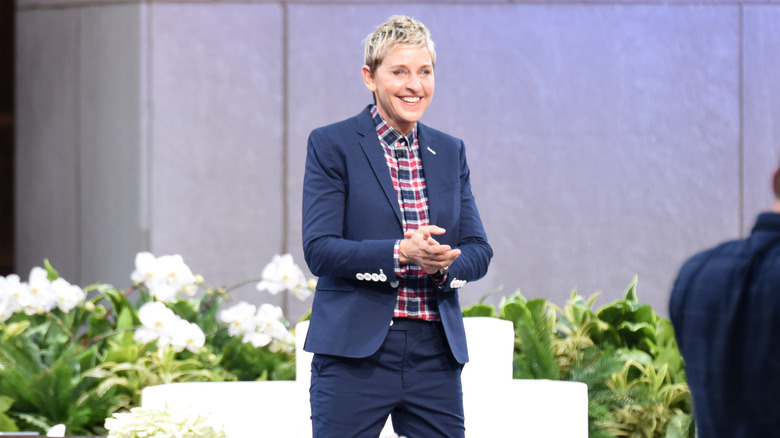 Dave Kotinsky/Getty Images
Ellen DeGeneres' "the show must go on" attitude has been her signature since the beginning, and it might have been demonstrated no better than at a similar event that same year: the 2007 Writers Guild Strike. A member of the WGA, she supported the striking workers, but decided to continue on with her show. "This is a strange show for me to do. It's weird," she announced at the time (via Reuters). "We're in the middle of a strike ... I love my writers. And in honor of them, I'm not going to do a monologue."
However, despite this diehard attitude, DeGeneres did end up missing more than one show in the years after her hospital bed stunt. In late 2019, early in the show's 17th season, DeGeneres had a flurry of guest hosts fill in for her, causing some concern among fans. However, DeGeneres soon cleared the air, even subtly referencing her famous hospital bed experience over 12 years prior, per TVInsider. 
"You know how you can call in sick to work if you don't feel well?" she said at the time. "I can't do that. So for 15 seasons, I have been here everyday, even when I'm sick or have a bad back or get a paper cut. I mean, I'm a hero. I work in day in and day out ... so I decided that once in a while I need to take a day off."