How Barron Trump Reacted To Kathy Griffin's Controversial Photo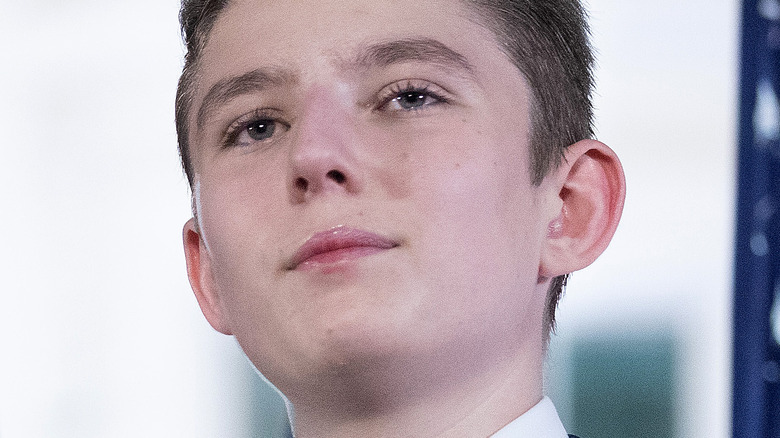 Chip Somodevilla/Getty Images
Anyone following American politics over the past decade will remember how contentious and divided the country was at the height of the controversial Donald Trump presidency. Friends and family members lost contact, dating became more difficult, and a number of celebrities even sparked controversy upon saying they would move to Canada if the notorious businessman were elected (and then failing to do so). 
However, arguably no one provoked more controversy at the time than comedian Kathy Griffin, who made headlines in 2017 for publishing pictures of herself holding a bloody, decapitated head of the president. This prompted a Secret Service investigation, and CNN dropping her from their New Year's Eve coverage, which she did for several years alongside Anderson Cooper. 
Donald Trump, his elder children, as well as conservatives across the country — and even many on the left — made their reaction and condemnation of Griffin's image quite clear. However, many might be wondering, how did Donald's youngest child, then-11-year-old Barron Trump, react to the photo? Well, unfortunately, it may be exactly what you expect. 
Barron Trump initially thought Kathy Griffin's caricature was real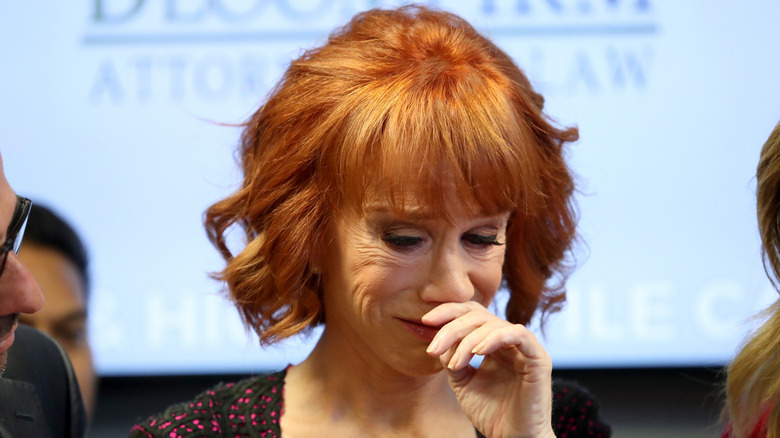 Frederick M. Brown/Getty Images
On May 31, 2017, the day after Kathy Griffin posted a photo of herself holding the bloody head of then-President Donald Trump, the president reacted harshly. At the time, Donald tweeted that "Kathy Griffin should be ashamed of herself. My children, especially my 11 year old son, Barron, are having a hard time with this. Sick!" (via Politico). Although the former president is well-known for his bombastic and exaggerated statements, this seemed to have been entirely true. 
According to a report by TMZ at the time, the young Barron was watching television when the image of Griffin appeared on the screen, causing the 11-year-old great distress. According to a source close to the Trump family, he jumped up and started screaming "Mommy! Mommy!" "[Barron] doesn't know who Kathy Griffin is and the head she was holding resembled his dad," the source told the outlet.
Barron, not exactly known for making public statements, has not spoken publicly about the event. Griffin, however, seems to have realized her mistake, and shortly thereafter made an apology to the Trump family. 
Kathy Griffin thought her career was over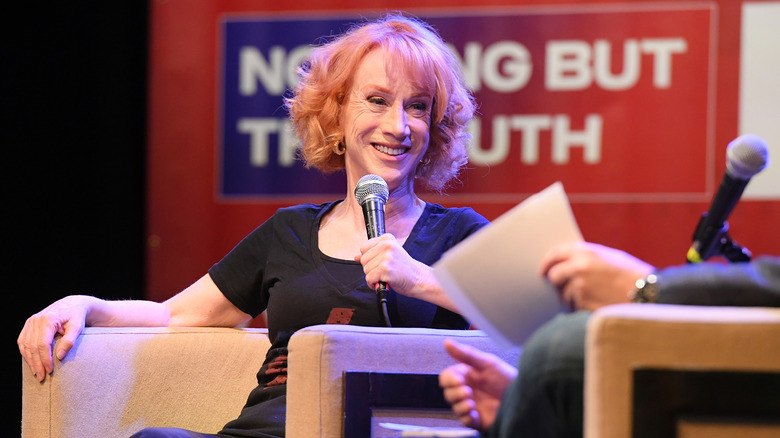 Michael Tullberg/Getty Images
Shortly after Kathy Griffin posted her controversial photo, she removed the image and publicly apologized. While claiming that she was "merely mocking the Mocker in Chief" (via The Hill), she said that she does not condone "ANY violence" to "anyone, ever." In a video posted the following day, she said that "I sincerely apologize ... I'm a comic, I cross the line. I move the line, then I cross it" (via Rolling Stone). "I went way too far ... I made a mistake and I was wrong." 
While Griffin also said at the time that she believed she "[wouldn't] have a career" after the controversy, she did in fact bounce back with a new tour only a few months later. In classic Kathy Griffin fashion, she only proved to evoke more controversy, cheekily titling the tour "Laugh Your Head Off." Furthermore, another tour less than a year later, which she performed at Manhattan's Carnegie Hall, sold out almost instantly, per The Wrap. "I just found out that my Carnegie Hall show sold out in a day," she tweeted at the time. "I'm in shock ... Thank you from the bottom of my heart ... I am so grateful."