For Every Time Kathy Griffin Has Been Controversial, This Moment Stands Above The Rest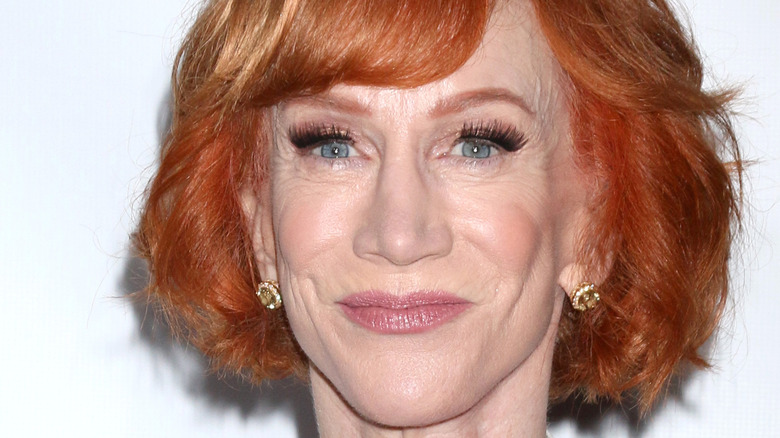 Kathy Hutchins/Shutterstock
Kathy Griffin has made a living out of making fun of some of Hollywood's elite, and we must applaud her for having the guts to say what many people are thinking. Most people know Griffin for her quick wit and sharp tongue, and she's starred in countless comedy shows, touring across the country and filling theaters. Many others know Griffin for her hilarious reality show titled "My Life on the D List." That also happens to be the show where we met her late mother, Maggie Griffin, who shared our love for wine. The comic also counts a lot of Hollywood A-listers in her friend group, including the Kardashians.
Griffin is no stranger to having her name in the headlines. In 2007, she won an Emmy for her reality show, and in her acceptance speech, she turned heads with a comment about religion. "A lot of people come up here and thank Jesus for this award. I want you to know that no one had less to do with this award than Jesus," Griffin said, noting that if it were up to Jesus, Cesar Milan would have won. "S**k it, Jesus. This award is my god now," she added. 
In 2012, Griffin stripped down to her bra and underwear during her New Year's Eve coverage on CNN with Anderson Cooper, despite a sign saying "no nudity." And while she's had more wild moments in her career, there's one that stands out the most. Keep reading for deets.
Kathy Griffin and her controversial Donald Trump photo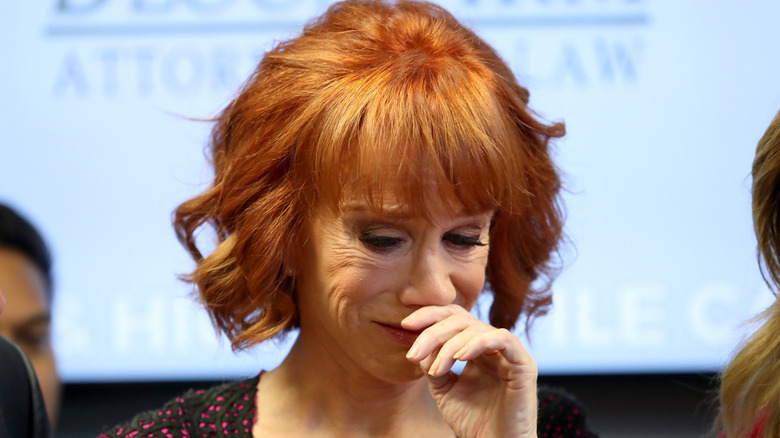 Frederick M. Brown/Getty Images
Kathy Griffin is not afraid to speak her mind or, in this case, showcase a photo. In 2017, the comedian made headlines for posting a photo of herself holding the (fake) severed head of then-President Donald Trump. The image received a ton of backlash and fallout for the star, with many condemning her behavior. The photo even cost her a job at CNN. "CNN has terminated our agreement with Kathy Griffin to appear on our New Year's Eve program," the network tweeted shortly after the viral photo.
Initially, Kathy issued an apology for her actions. "I'm a comic. I cross the line. I move the line then I cross it. I went way too far," she said in a since-deleted video (via Us Weekly). "The image is too disturbing. I understand how it offends people. It wasn't funny. I get it. I've made a lot of mistakes in my career, I will continue. I ask your forgiveness."
But a few months later, Griffin changed her tune, retracing her apology. "I'm no longer sorry. The whole outrage was BS, the whole thing got so blown out of proportion," she said on Australian talk show "Sunrise," per Page Six. "So the picture happened, the outrage was ridiculous, I made an apology, and now in light of all the crazy stuff that [Trump] and this administration are doing....He's unhinged."
It's been a few years, so how's Griffin faring now? Keep reading for deets.
Kathy Griffin's cancer diagnosis seemed to unite her famous friends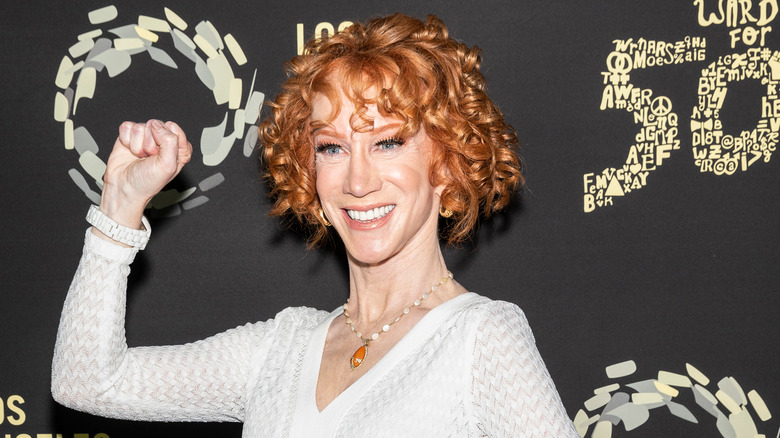 Ovidiu Hrubaru/Shutterstock
There's no doubt that Kathy Griffin's viral photo of Trump caused her tons of backlash and friendships. In a tweet, Anderson Cooper called the shot "disgusting and completely inappropriate" and said that he was "appalled" by Griffin's actions. Griffin also mentioned that the stint caused a lot of backlash. "I lost everybody. I had Chelsea Clinton tweeting against me," she said on "Sunrise," per USA Today. "I had friends – Debra Messing from 'Will and Grace' was tweeting against me."
Later, Griffin shared that all of the backlash really took a toll on her and even had her contemplating suicide. "My age was a big part of it. I mean, who bottoms out and tries to take their life at 59? It's almost a joke, right, and by the way, someday, this will all be a comedy," she told ABC. But despite all of the drama, Griffin's cancer announcement on Instagram seemed to unite a lot of her famous followers. Many celebs commented on the post with words of encouragement. "Kathy !!! Sending you so much love and thank you for your strength," Kristen Davis wrote on the post. "Love you Kathy!!!! You got this!" Amy Schumer commented. Even Gloria Estefan dropped a note. "Sending love, prayers and good thoughts for your complete recovery, girl! If anyone can do this, YOU can!!" she commented.
While the Trump photo may have been the low point in Griffin's career (and life in general), it seems as though she has bounced back.
If you or someone you know is having suicidal thoughts, please call the National Suicide Prevention Lifeline at 1-800-273-TALK (8255) or text HOME to the Crisis Text Line at 741741.