Inside Kathy Griffin's Relationship With The Kardashians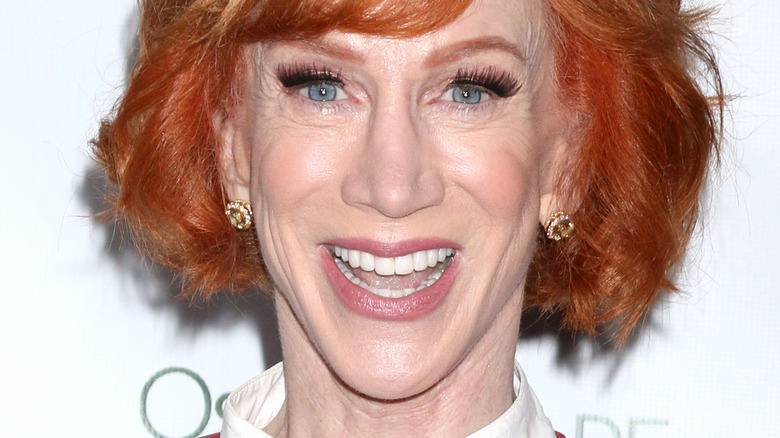 Shutterstock
Kathy Griffin is one of the most outspoken stars in Hollywood and she is never one to hold anything back. The comedian has made a career out of telling stories and jokes about all of her friends and foes in Hollywood and if you've gone to one of her stand-up shows, then you know what we're talking about. She tells it like it is! 
The comedian has made plenty of headlines in her day but nothing else was quite as serious as when she uploaded a photo of herself holding the (fake) severed head of former President Donald Trump in 2017. Griffin received a ton of backlash from the gory photoshoot and she even told Stephen Colbert that Trump put her on the no-fly list afterward. At first, she issued an apology for her actions, stating that she "went way too far, and calling the photo "too disturbing." 
But as soon as she apologized for her actions, she took it all back just a few months later. During an appearance on the Australian television show "Sunrise," she retracted her statement, Griffin called it "B.S." "The whole thing got so blown out of proportion, and I lost everybody," she confessed. "Like, I had Chelsea Clinton tweeting against me. I had friends, Debra Messing from 'Will and Grace,' tweeting against me. I mean, I lost everybody." However, when she said everybody, Griffin didn't quite literally mean everybody. Keep reading to find out how the Kardashians have stuck by her side.
Kathy Griffin loves to tweet about the Kardashians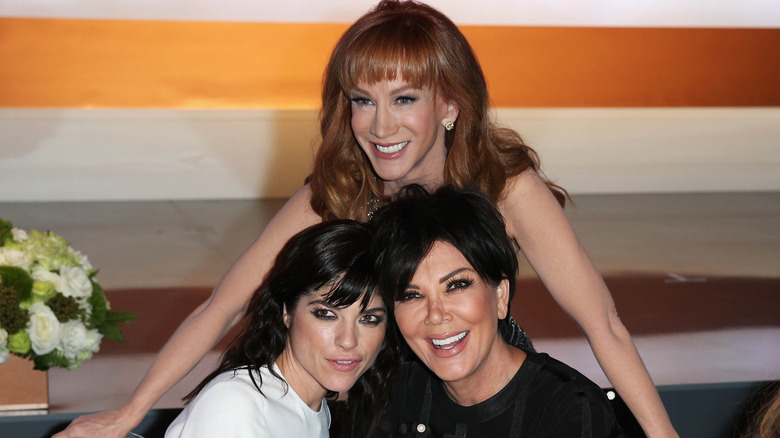 Joe Scarnici/Getty Images
Kathy Griffin can still count on the Kardashian clan to stick by her side through thick and thin. In December 2020, Griffin took to Instagram to share a photo of a t-shirt that read "Kardashian Jenner West Christmas." She accompanied the photo with a sweet caption that expressed her love for the KarJenners and this is a relationship that we didn't know we needed in our lives. 
"Big #merrychristmas to these freaks who had me over to their house on Christmas Eve and treated me like family the last couple years, when others in my field were too 'uncomfortable'. Thank you gurrrls," Griffin wrote, and she obviously feels close enough to joke around with them in her post. She also tagged a few members of the famous squad, including Kris Jenner, Kim Kardashian, Kourtney Kardashian, Khloe Kardashian, and Kylie Jenner.
In addition, Griffin shared a tweet in support of Kimye amid their highly publicized divorce. "I think she really tried. Truly loves him. I like her," she tweeted in January. "He certainly isn't the devil or anything, but I believe she tried everything to make it work. He made her laugh a lot and she embraced his eccentricities. She loves being a mom more than anything. There's my two cents." Aww, these famous figures certainly seem to be the best of friends, and through good times and bad, they've remained close. 
Kim Kardashian and Kris Jenner gave Kathy Griffin a unique gift after her COVID-19 diagnosis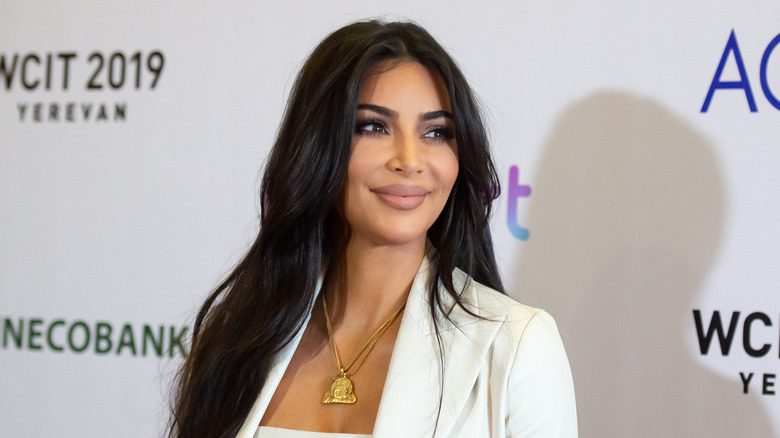 Shutterstock
Kathy Griffin has not been shy about sharing her love for the Kardashians on social media, as you have already seen. In 2018, Griffin replied to a tweet that said that Kendall Jenner and Kris Jenner went into her house and stole wigs from her, confirming that the news was, in fact, true. Griffin also added two more tweets to express how much she loves the family. "Every time I post something related to the Kardashians/Jenners I get lots of hate tweets. Well something you should know is after the Trump photo, when 99% of my liberal anti-Trump Hollywood friends abandoned me, @KrisJenner and @KimKardashian were there for me," she wrote. 
The comedian also tweeted that the Kar-Jenners didn't do anything for the "retweets or attention," but instead did it out of the kindness of their own hearts. "But it's who they are..loyal," Griffin continued. "And don't forget, I make fun of them relentlessly in my act..they also have a sense of humor."
The Daily Mail shares that Griffin lived next door to Kim Kardashian and Kanye West, and she often made jokes that the reality stars like to spy on her. It turns out that Kim and Kris are also pretty fond of Griffin, and when she was in the hospital with COVID-19, they sent her a bottle of KKW perfume, per News 7. This relationship seems random and odd, but we love it.