Kathy Griffin Is 'No Longer Sorry' For Controversial Trump Photo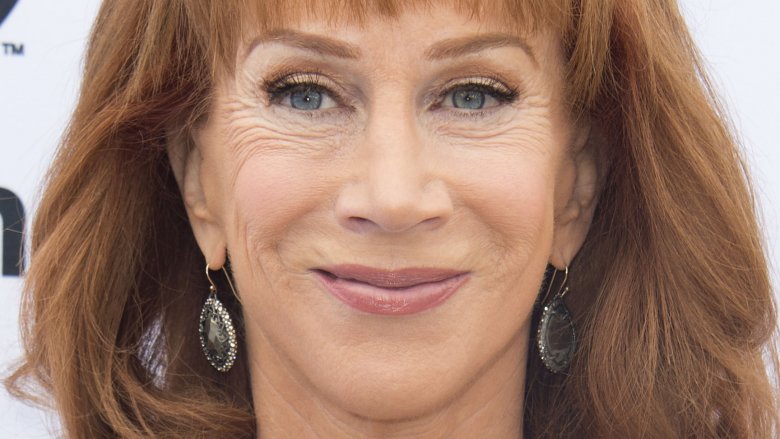 Getty Images
Kathy Griffin is not sorry.
The comedian officially took back her apology for sharing a photo of herself holding a bloody, decapitated replica of President Donald Trump's head, Page Six reported. While promoting her international Laugh Your Head Off comedy tour on the Australian talk show Sunrise on Tuesday, Aug. 29, 2017, Griffin opened up about the May 2017 controversy.
"I'm no longer sorry. The whole outrage was BS, the whole thing got so blown out of proportion," she said. "So the picture happened, the outrage was ridiculous, I made an apology, and now in light of all the crazy stuff that [Trump] and this administration are doing....He's unhinged."
As Nicki Swift previously reported, the My Life on the D-List star had initially apologized for the gory image only hours after sharing it on social media, when it sparked swift outrage on both sides of the political spectrum.
"I'm a comic. I cross the line. I move the line then I cross it. I went way too far," she stated in a now-deleted video posted on Twitter. "The image is too disturbing. I understand how it offends people. It wasn't funny. I get it. I've made a lot of mistakes in my career, I will continue. I ask your forgiveness." 
In June, the 56-year-old, who was fired from CNN in light of the photo shoot, tearfully spoke out against the hate she had received during a press conference. "It's hurtful to me," she told the press. "You don't have to like me, but you shouldn't silence a comic."
While Jamie Foxx and Jim Carrey quickly came to Griffin's defense, her ex-friend Anderson Cooper felt the photo shoot was "clearly disgusting and completely inappropriate." And, after he apparently failed to reach out to her for months following the scandal, the stand-up comedian ended their 17-year-long friendship.
Kathy Griffin is certainly no stranger to controversy. Check out all of the times the comic's shadier side got her into trouble.